Horse-Drawn & Hunger-Driven
Lone Mountain Ranch's sleighride dinner.
As dusk creeps down the southern flank of the Spanish Peaks, the gusty alpine wind subsides and a pervasive calm settles over Big Sky. The day's pale blue sky has turned gray; light snowflakes begin to fill the air. They descend slowly, drifting toward the ground like tiny paratroopers. Within minutes, a white film coats everything: the horses, the barn, the angled roof of the lodge. Our Carhartt-clad driver brushes off his shoulders, gives a sharp YAH! and a flick of the reigns—and we're off, bouncing lightly across the snow. The snorts and whinnies of our massive draft horses punctuate the silence of the forest; the only other sound is our sled's rhythmic slicing through the snow. Our destination: Lone Mountain Ranch's rustic and remote North Fork Cabin, where a hearty dinner and loads of good cheer await. For now, we spread blankets across our laps, sip hot chocolate, and enjoy the ride.
Lone Mountain has long been known as one of the premier cross-country skiing destinations in the country—last year, in fact, Cross-Country Skier magazine voted it the best Nordic ski area in North America—but it's quickly earning itself a reputation for world-class dining as well. As we approach the cabin, the aromas wafting from within give compelling testimony. Looking around the sleigh, I see grinning, eager faces—like me, they're brimming with anticipation for the North Fork's acclaimed culinary delights, all cooked on a century-old wood-fired stove. As the sleigh stops in front of the cabin, we chug the last of our hot chocolate and bound up the walkway, flanked on both sides by snow-draped trees.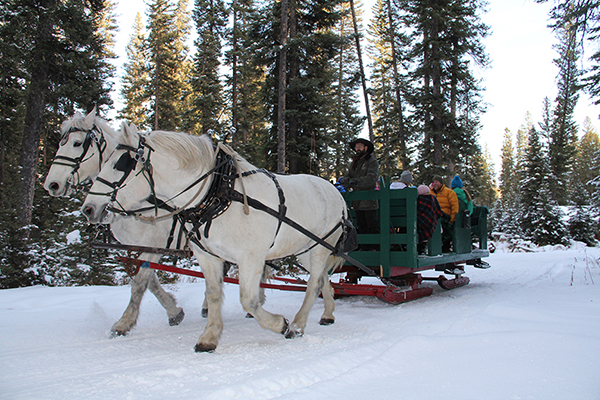 The warm glow of kerosene lanterns greets us as we enter. Shedding our coats, we take in the enchanting ambiance of the decades-old cabin, complete with woodstove, abundant candlelight, and old-fashioned wood tables. Smiling Lone Mountain staff show us to our seats. After a quick welcome and a few ranch stories from our hostess, the food comes—one delicious course after another. First, a healthy dose of soup and bread, followed by some of the most tender and juicy prime rib I've ever eaten. Fried mushrooms and potatoes provide delectable accoutrements. Dessert is cheesecake with homemade whipped cream, and despite the heaping portions of the previous courses, nobody can refuse such a tempting culmination. All the while, Walkin' Jim Stoltz—the renowned folk singer and songwriter—strums his guitar and belts out an eclectic array of tunes, from hilarious parodies to melodic, soothing classics. The crowd sings along, clapping and cheering without inhibition, swept up in Walkin' Jim's inimitable combination of music, philosophy, and irreverent Western humor.
Such a friendly, unassuming atmosphere lends itself to conviviality, and the cabin teems with lively conversation. I'm seated next to a delightful family from Southern California—they've been vacationing at Lone Mountain for several years, finding in the Ranch an irreplaceable respite from the pressures of city living. This is their third sleigh ride dinner in as many years, and they have no intention of missing next year, or the year after. We share wine and laughs between mouthful after mouthful of scrumptious North Fork fare. By the end of the evening, we'll have exchanged e-mail addresses and pledged to get together next time we're all in Big Sky. Looking around, I see other friendships forming amid the energy and ambiance of this secluded mountain environment.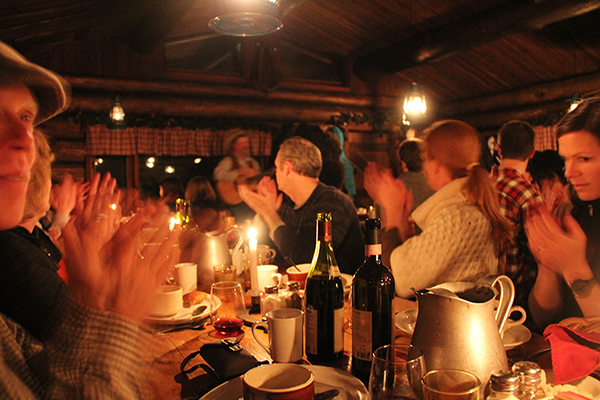 What strikes me most is how real this place is. Like everything else at Lone Mountain, the North Fork Cabin is a genuine Western joint—no artifice, no pretentiousness, and no contrived cordiality. Among other things, I get the distinct feeling that bad behavior is simply not tolerated here. Were I to make some kind of pompous protest, instead of obsequious apologies from the staff, I'd instead find myself face-down in a snowdrift—which, of course, I would deserve.

But in such an idyllic alpine setting, impropriety is as foreign as fluorescent lighting. With Walkin' Jim crooning in the corner, the food and hospitality flowing like snowmelt, and good conversation at the table, this is a place that draws people together, not apart. So as the evening wears on, we ask Jim for one more song, and another. Eventually the yawns begin, and it's time to call it a night. We bundle up and head out the door. As we clamber into our sleighs—bellies full and minds at ease—we exchange smiles of shared experience, shared contentment, and a shared appreciation of this place called Montana.
---