Summer book-review roundup. 
Bozeman summers are jam-packed, making it hard to carve out sufficient reading time. But, just as we exercise our bodies, it's important to exercise our brains—even just a little. Here are some light reads for around the house or around the campfire.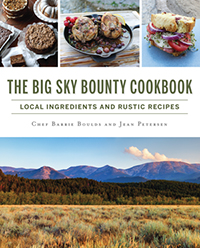 The Big Sky Bounty Cookbook
As a cook, I often find recipes that turn me off with their lengthy ingredient lists and overly-complicated prep styles. That's why Montana-born Chef Barrie Boulds's recipes are so great—from the names of dishes to the finished products, recipes in The Big Sky Bounty Cookbook (The History Press, $25) only seem intricate. Boulds and co-author Jean Petersen have compiled a range of recipes that appeal to both novice and professional cooks. The book includes everything from bucolic basics ("Wigli Un Kagapi," aka, Fry Bread) to quirky cuisine ("Rattlesnake Cakes with Roasted Red Pepper Remoulade").
Insta-worthy photos and charming historical context accompany the 75 Montana-made recipes. But perhaps the best part of Big Sky Bounty is how readily available the ingredients are—from trout to antelope to morels, you'll hardly need to hit the farmers' market to create a distinctive dish. With her focus on regional ingredients, Boulds has created a uniquely locals-only cookbook that anyone can use.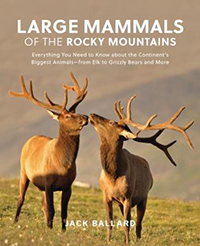 Large Mammals of the Rocky Mountains
Recreating in southwest Montana, you likely fall into one of these categories: a wildlife watcher, an educated hunter, or an animal enthusiast. Nationally-recognized naturalist Jack Ballard's latest Falcon Guide, Large Mammals of the Rocky Mountains (The Rowman & Littlefield Publishing Group, $35), is a fascinating keepsake for anyone who lives in the Rockies. When you think "Falcon Guide," you probably think pocket guide; this guide, however, is 430 pages (making its $35 price tag all the more impressive). The comprehensive book is packed with more than 400 photos of large mammals living in our pocket of paradise.
Ballard has given his readers an outstanding reference book that's enlightening and easy to navigate: each of the book's 12 chapters offers expansive information on 12 large mammals, including grizzly bears, mountain goats, and whitetail deer. Did you know that wolf pups are born deaf? That grizzlies, like armadillos and seals, become pregnant through delayed implantation? Or that bighorn rams kick each other in the belly to provoke an alpha challenge? 
Whether you flip through its pages, employ its impressive index, or read from cover to cover, this guide can be a quick read or an ultimate study.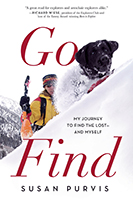 Go Find
Susan Purvis, armed with a degree in geology from the University of Montana in Missoula, follows her husband to the gold mines of the Dominican Republic. However, she knows something is missing in her life, and she sets out to find it. She chronicles this journey in her first book, the excellent autobiography Go Find (Blackstone Publishing, $28).
In Colorado, Susan finds Tasha, a head-strong, full-of-energy lab that Susan trains as an avalanche-rescue dog. She and her dog are met with skepticism, harassment, and discrimination, but they persist; in 2003, Susan and Tasha receive a congressional recognition award for their search-and-rescue efforts. Not only is the book about the love between a woman and her dog, but it also offers insight into the dangerous world of mountain snow search-and-rescue. Training Tasha was not easy, but the book describes the successes and failures of the process; it's especially interesting when Susan trains Tasha to ride a ski lift.
Reading Go Find is like sitting down with a good friend and listening to her story, and although it is Susan's autobiography, Tasha is the star. Susan and her dog find a new life, test their limits, and go against the odds to succeed, and in the end realize what—and who—are important to them.
While the book doesn't take place entirely in Montana, its themes are relevant to any mountain town.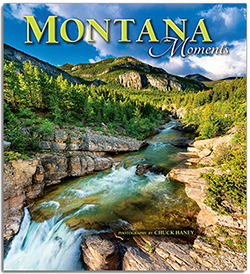 Montana Moments
Famed Rocky Mountain-based photographer Chuck Haney gives us the gift of more than 25 years of his work in Montana Moments (Farcountry Press, $33), a colorful coffee-table topper. In his 120-page book, Haney shares nearly 150 photographs: mostly landscapes, but including wildlife, recreation, and historical landmarks. You can sense the immense appreciation for his subjects in Haney's work.
"I cherish documenting my adventures with friends," he writes in the book's foreword, "as we mountain bike, hike, paddle, fish, and ski to celebrate our passion for living a robust life in Montana." Among the pages of Montana Moments, you encounter a striking panorama of autumn-crisp Hell Roaring Creek, a tiny pika foraging for grasses to dry in the sun, and a quiet fly-fishing moment on the Madison at dusk. Haney makes good on his promise to capture Montana moments—those peaceful, surprising, wonderful sights that make this the Treasure State.