Reviews for the season.
With cooler temperatures and the first sprinkling of snow, curling up by the fire seems like a pretty attractive option. Here's a sampling of nostalgia to prepare us for the Bozeman winter ahead.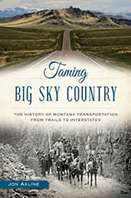 Taming Big Sky Country: The History of Montana Transportation from Trails to Interstates
This is a fascinating journey via Montana's trail, road, and rail network that will transport you through the breathtaking historical scenery of the state from the 1860s to the 1980s. The photographs alone are enticing, and road-trip screams at you. Jon Axline's travels start with the evocative "snapping of bullwhips," the "creaking wagon wheels," and the yelled profanities of muleskinners and stagecoach drivers as they made their treacherous way cross-country along rutted dirt tracks, that "growed" into todays' modern four-lanes. There's a lot in here, but it's hard to put down. Axline has done a great job at providing an entertaining—warts and all—look at progress through our transportation system. Highlights include the impossible-to-build 1936 Beartooth Highway, the history of the white-cross fatality markers, the Vigilante trails of the 1920s, and lots more. Available at Country Bookshelf; $20.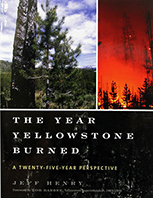 The Year Yellowstone Burned: A 25-Year Perspective
One cold, snowy evening last year, while holed up in a little wooden cabin in Yellowstone, I talked with Jeff Henry about this soon-to-be-published book over a glass (or three) of firewater. We were neighbors for the winter at Old Faithful. Needless to say, I was excited to see this classic published. There have been a several publications about the infamous Yellowstone fires of '88, from varying perspectives. But Henry's photographic journal comes from a perspective of having spent years living and working in the Park, and being on the ground at the time. He nicely weaves conversations and recollections into simple, straightforward accounts of the fires, the Park, and the people. The photographs alone are enough to keep you coming back, but you'll want to keep dipping in and out of this well-written and understated book, time and time again. Available at Country Bookshelf;  $25.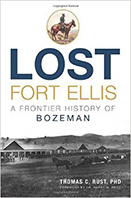 Lost Fort Ellis: A Frontier History of Bozeman
This slim volume is densely packed with history about the settlement of Bozeman and the nearby military post of Fort Ellis in the late 1800s. And I mean packed. Native Montanan Thomas Rust explores the complex love-hate relationships between the early white settlers' dependence on the army for protection and their desire for autonomy and freedom. If you enjoy gritty detail about early American politics, you'll love this book. Be warned: this is not a military drama about the conquering of the American West. "Readers will smell only the faintest whiff of gunpowder," as the intro states. But they'll certainly smell plenty of liquor and feel the beat of blood in a bar brawl, all set against the strains of a military ball. Available at Country Bookshelf; $22.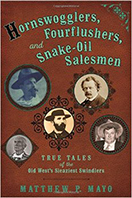 Hornswogglers, Fourflushers & Snake-Oil Salesmen: True Tales of the Old West's Sleaziest Swindlers
Matthew Mayo continues his tales of the West with this latest collection of stories about charming bandits, conniving conmen, and all-round shady characters. It is a rip-roaring yarn, and most will find something to love, or loathe, about the real-life characters in this book. It comes complete with a swindling-lingo glossary to try out on your mates, or not, as the case may be. Missoula's Old West madam, larger than life, Mary Gleim, who brutalized men and women alike, is not someone you'd want to meet on a dark night. On the other hand, it turns out that there were plenty of good professional women gamblers, like Alice Ivers, in part, because of the certain charms that male dealers couldn't offer. There's also the quack doctor who implanted goat testicles into "libidinously lax folks," and became the wealthiest surgeon in the U.S. This is a great read and a good one to talk about at your local saloon. Available at Country Bookshelf; $19.