Film Review: Not Yet Begun to Fight 
Warriors on the water.
For the last decade, thousands of men and women every year have left their homes to experience the horrors of war in Iraq and Afghanistan. When they come back, they often need help healing their wounds and rebuilding their spirits. Imagine if more small communities around the country took in our nation's wounded soldiers and treated them like the significant, strong people they felt like before they went into battle?
Montana-made documentary Not Yet Begun to Fight is a perfect example of how well this model can work. The documentary focuses on five warriors who join retired Marine Colonel Eric Hastings for a week of fly fishing in Montana through the Bozeman-based Warriors and Quiet Waters Foundation (WQW). Filmmakers produced the film independently from the organization, looking to share stories of the warriors' journeys once they returned home from war. 
Hastings, who flew missions "high above the death and destruction" in Vietnam, returned home to Montana in 1969 battling dark dreams. His solace was fly-fishing: "When I came back from combat, I found I needed relief, and the more I went fly-fishing, the more I knew I needed more of it," Hastings says. "It became an absolute desperate physical and mental need, and I had to do it, or I was going to kill someone." 
Each year, May through October, WQW brings nine groups of wounded warriors to Bozeman for six days of fly-fishing and therapeutic recreation. The organization outfits them with everything they need to fly fish for the rest of their lives, hosts them together in a family setting, and has professional outfitters teach them to fly fish, taking them out on area rivers and on a guided trip through Yellowstone National Park. After the trip, many of the wounded warriors head back to the hospital or Wounded Warrior battalion. 
During the film, Montana-based directors Sabrina Lee and Shasta Grenier shadow Colonel Hastings as he reaches out to a new generation of traumatized combat veterans returning home from Iraq and Afghanistan. He leads five remarkable, intense, and vulnerable young men (three marines, an army soldier, and a Navy SEAL) to the quiet waters of Montana. His mission is to help them find their way through the space between the war they have just left behind and the new battles they face.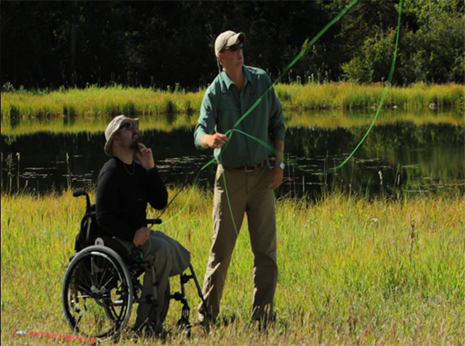 "The hardest thing, and this probably goes for just about any wounded warrior out there, is having to learn every little thing all over again," says Elliott Miller, a Navy SEAL who lost the ability to speak and now communicates with the automated voice of an iPad. "Only this time, where you were once an able, barrel-chested freedom fighter and proud, now you are broken and weak and humble. And so it just adds a whole new level of difficulty to it."
Hastings knows too well that the war is never over for those who fight. On the rivers of Montana, with a fly rod in hand, he shares the balm that soothed his wounds. "Fly-fishing is a series of opportunities for hope," he says. "This river healed me."
Not Yet Begun to Fight airs on the following dates/times:  
MontanaPBS:
-November 11: 7pm
-November 13: 4am & 12pm
-November 17: 3am
PBS World channel:
-November 11: 6pm and 11pm
-November 12: 7am and 1pm
-November 16: 3am
-November 17: 11am
Check out the trailer, documentary info, and how you can help this amazing program by visiting the official website.
Want to learn more about Warriors and Quiet Waters? Check out this article from our Fall 2011 issue for an in-depth look at the program.