O/B Hit List – Summer 2019
Get out. Explore. Take photos. Maybe win some stuff. Definitely have fun. 
Perhaps the most popular O/B contest of all is the Hit List, a roster of iconic Bozeman-area activities and rites of passage. It's been a few years, so we're bringing the Hit List back—sort of. For this summer, we've compiled ten outdoor activities you should try—or re-try, if it's been awhile. No rules this time around, and your only reward is time spent outside in beautiful country. There may be some official awards, but no prize is as valuable as bagging a peak, running a rapid, climbing a cliff, or biking to new heights under the wide Montana sky.
Be sure to take photos and tag us on Facebook and Instagram so we know how you're doing.
Good luck, fellow outdoor fanatics, and stay tuned for more info.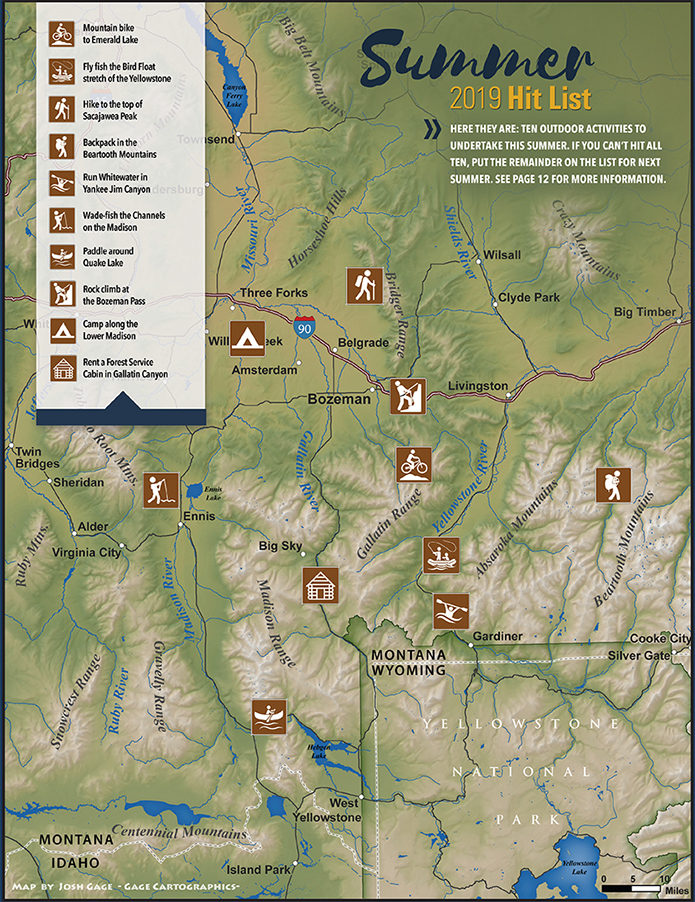 • Mountain bike to Emerald Lake
• Fly fish the Bird Float stretch of the Yellowstone
• Hike to the top of Sacajawea from Fairy Lake
• Backpack in the Beartooths
• Run Whitewater in Yankee Jim Canyon
• Wade-fish the Channels on the Madison
• Paddle around Quake Lake
• Rock climb at the Bozeman Pass
• Camp along the Lower Madison
• Rent a Forest Service Cabin in Gallatin Canyon