Learning to skate ski at Bohart Ranch.
by Amy McMahon
Deep in the Bridger Mountains, just 15 miles outside of Bozeman, is a world-class ski area. No, I'm not talking about Bridger Bowl. Sure, there's nothing quite like sliding off the lift and plowing through powder—but among the countless ski bums around here are those who frequent flatter paths, who take pride in the small but high-class and well-groomed Bohart Ranch.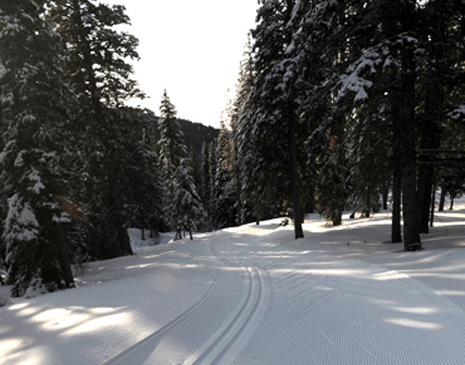 Bohart boasts 30k of groomed trails
When I headed up last winter for an hour-long skate lesson, I expected a fun day, an easy day—I've cross-country skied most of my life and am fairly competent. A half-hour later, I was repeatedly falling down—and being picked up again—by master skier Doug Masterleo, who seemed quite skeptical that I've ever strapped on skis or have any athletic ability at all.
The private lesson, available for $45 for both classic and skate, included several basic skills, an overview of skate skiing, and some free time, which I spent trying not to further bruise my rear end. The best part about a private session is having it tailored for your individual needs—in our lesson, we covered how to stop, get up, and the V2 alternate, which is the technique used for most ski conditions. Group lessons are also available for varying prices, although I found the private lesson ideal, as they are offered every day at several different times, depending on whether you need classic skills or decide to jump into the skating realm.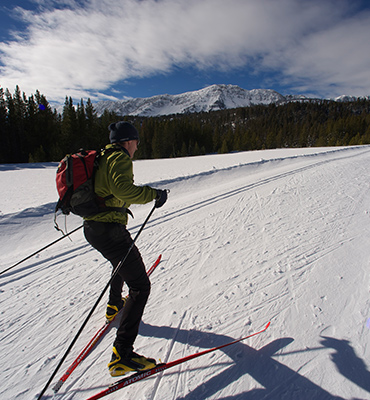 Jumping into the skate-skiing realm
Bohart, created by Jean MacInnes in 1987, has built an international reputation as "the best Nordic skiing this side of Norway," and even hosted the U.S. National Championships Olympic Qualifier in 2002. Boasting 30k of groomed trails and impeccable mountain scenery—accompanied by the occasional glimpse of wildlife or the amazing skills of Mr. Masterleo—Bohart is a great way to get outside and experience natural Montana in a peaceful setting while getting a respectable workout.
Bohart Ranch is open for winter use from December through March, 9am-4pm daily. For more information visit bohartranchxcski.com or call 586-9070.