What goes into the daily GNFAC forecasts.
If you're a backcountry traveler, every morning, all winter long, a life-saving tip arrives in your email inbox. You open it, review its contents, take note of its particulars, then delete it. Despite its import, it's gone as instantly as it arrived.
It's the avalanche forecast, and while little effort goes into reading and digesting it, maximum exertion, both mental and physical, goes into preparing it. In the following pages, you'll meet Dr. Jordy Hendrikx, professor of snow science and the director of the Snow and Avalanche Laboratory at MSU, whose work is instrumental in understanding local snow conditions. And you'll tag along with the forecasters at the Gallatin National Forest Avalanche Center, the producers of the daily forecast, to learn more about their process, the people behind it, and how forecasting works.
With any luck, you'll come away with a renewed appreciation of that email. While we won't fault you for deleting it, after reading it of course, we implore you to weigh its contents against the effort involved in its production. It's quite possibly your most vital avalanche-safety asset.
In the Lab
by Bay Stephens
An old paradigm of approaching natural disasters is this: if humans develop an understanding of the phenomenon, be it earthquake, tsunami, or avalanche, lives will be saved.
While this has rung true in many cases, when it comes to avalanches, the ringing stops short of the absences left by people who knew a lot about snowpack, weather, and terrain, but whose lives nonetheless came to an end beneath the snowy rubble of a slide.
When deciding whether a slope is safe to ski or board in the backcountry, humans don't weigh information without personal and social biases. As this reality has become increasingly clear, one snow scientist has taken a different approach to the avalanche problem.
To more effectively save lives, Dr. Jordy Hendrikx, head of the Snow and Avalanche Laboratory in the Department of Earth Sciences at Montana State University, studies an often-overlooked part of the avalanche equation: people.
This "human factor"—how we make decisions in the backcountry—is something at which experts worldwide are taking a closer look, and around which Hendrikx is changing the paradigm.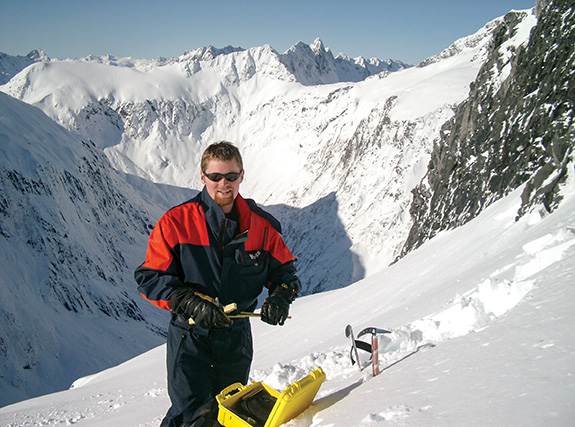 Hailing from New Zealand, Hendrikx speaks with the charming accent and quirky vocabulary of his homeland. He's friendly and straightforward, with a large stature and red beard. He's a straight-talker and doesn't work to fit molds. Admired by his students and respected by professionals throughout the field of avalanche study, Hendrikx has worked everywhere from his home soil to Antarctica, Switzerland, the Arctic, and across North America. "If snow falls, this guy's been there," says his colleague Jerry Johnson. 
Yet a career in academia, much less one as anthropocentric as his, wasn't the original plan for Hendrikx. It was more a matter of seeking to abide in the mountains. Much of Hendrikx's teen years were spent mountaineering. Saving up from a part-time job, when "holiday" rolled around he'd catch a ski plane or helicopter to base out of the New Zealand mountains for six weeks, skiing and climbing.
During his junior year of college, an opportunity arose to be a field assistant for a research project in Antarctica. Ten weeks on Antarctic ice keyed the young alpinist into a career option he'd never considered. Science, it turned out, could be his avenue to a life in the winter wilds he so enjoyed.
It all came down to avalanches for Hendrikx, though. They had an element of uncanniness that his curiosity couldn't shake. Completing his master's degree in New Zealand, Hendrikx worked for almost a year at the Avalanche Research Institute in Switzerland (SLF) before returning home to begin his doctorate at Canterbury University. He focused on the Milford Road, a highway that looks as if it were cut through a snowy legend—the perfect place for him to hone his understanding.
He then spent six years as "the go-to snow guy" at NIWA, a government-funded research organization in New Zealand. During this period, Hendrikx visited Bozeman to work with U.S. National Forest Avalanche forecaster Karl Birkeland. It was a place he didn't forget.
When a position in Earth Sciences, with an emphasis on snow science, opened at MSU in 2010, he was quick to apply. Eight years later, he has built the Snow and Avalanche Lab to its current standing, and his work is nothing short of the dream he had as a 19-year-old.
Hendrikx teaches courses in snow science, weather and climate, and mountain geography, training his students to read the mountains, the snowpack, the skies, and extract data for the best decisions. However, an incident four winters ago led him to question whether teaching these skills was enough, and ultimately altered his approach to studying avalanches.
On January 6, 2015, Hendrikx received a phone call. Olivia Buchanan, one of his brightest students, died in an avalanche at the age of 23.
Buchanan wasn't a reckless backcountry skier. In fact, by all accounts, she was the opposite. A star student with a passion for snow science, Buchanan wanted to teach avalanche safety down the road. She made sure her professors knew her, fostering a relationship with Hendrikx and others.
Her passion started young. Before even graduating from high school, Buchanan had earned both her Level 1 and Level 2 avalanche-safety certifications.
Her Durango Herald obituary includes the following: "Charming and persistent, she secured an internship at the Silverton Avalanche School and soon impressed so many who couldn't believe that this young girl was so knowledgeable and interested in snow science." In a nutshell, Buchanan was the last backcountry enthusiast anyone expected to be caught in an avalanche. The news hit Hendrikx hard. 
"When you see someone who, by pretty much all measures is taking the right approach to this [field] and is getting educated and is getting mentored, spending time building up her resume… and then dies, it really shakes you to the core," Hendrikx says. "It makes you think, 'What are we missing?'" 
Though he maintains that basic avalanche skills are as important as ever, Buchanan's passing drove home for Hendrikx that knowing the data wasn't enough. Something impedes humans from making the clear-headed decisions that guard against waking the tempest of an avalanche.
He began asking a different set of questions. He began looking at the human factor.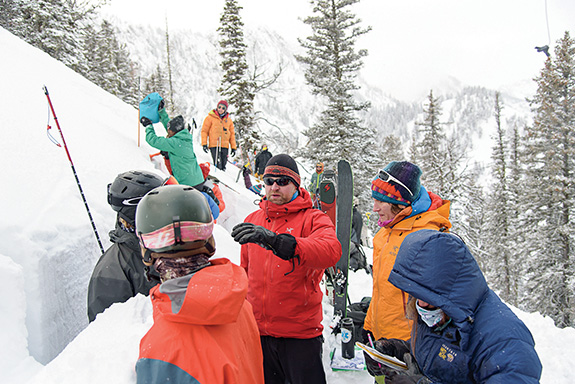 Avalanches aren't like other natural disasters, Hendrikx routinely points out. Unlike earthquakes or tsunamis, in 90 percent of avalanche accidents, the victim or a member of the victim's party triggers the avalanche. The percentage of human-triggered earthquakes is somewhat lower.
Therefore, understanding the human role in avalanches is crucial to effectively saving lives.
A skier and engineer named Ian McCammon made a seminal impact on the human side of avalanche research, identifying what are called heuristic traps in backcountry travel. These traps are mental shortcuts used to rationalize the decisions we make. Ranging from familiarity—e.g. "I've skied this run a hundred times"—to excessive commitment to a goal, these shortcuts lead to poor decisions in the backcountry. Hendrikx continues breaking the trail that McCammon started.
"We're seeing that we can't ignore the social side of decision-making," Hendrikx says. He teamed up with Jerry Johnson, a professor of political science at MSU, and together began investigating the finer details of human decision-making in situations of high consequence.
Over the past five years, the pair has used an app called Ski Tracks to crowdsource data from backcountry riders. It's a geospatial approach that allows backcountry users to send the GPS track of their ski day to Hendrikx's computer. Combined with an initial demographic survey, plus pre- and post-trip surveys on how decisions were made throughout the day, the tool stands to provide powerful insights into the decision-making process.
"Your track is the ultimate geographic expression of your decision-making," Hendrikx explains. Though he can't witness skiers' mental processes as they make their decisions, Ski Tracks allows him to see the final choice at every critical juncture during a day in the backcountry.
"One of the most striking things we've seen so far, in terms of which terrain one uses, is that the group you're with is probably more important than the avalanche hazard that's being posted," Hendrikx said.
He cited how some groups ski equally steep terrain regardless of avalanche danger. A group that might exhibit this behavior, he points out, would be one in which several individuals categorize themselves as "expert" skiers in the demographic survey.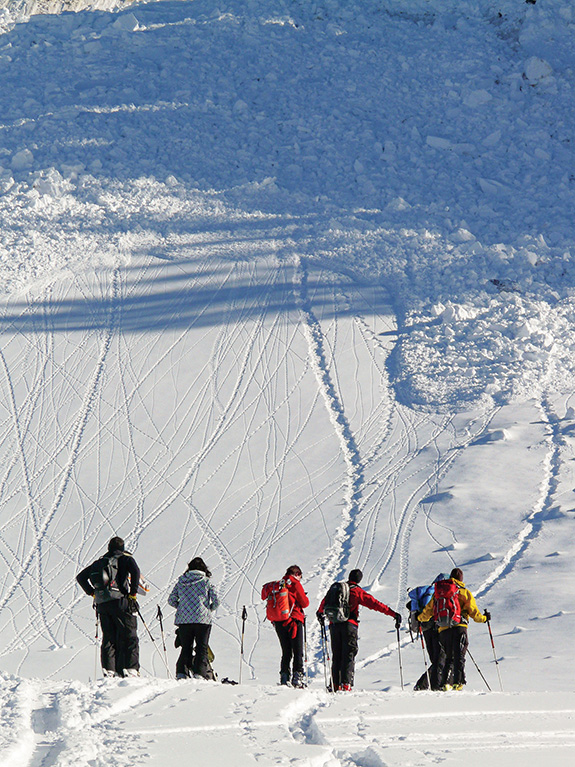 "Obviously, the avalanche knows they're experts, so they're safe, right?" Hendrikx quips. It goes without saying: be careful with whom you ski. Analysis of the data also revealed that young, all-male groups ski significantly steeper terrain than all-female groups under the same conditions of hazard. The team is currently crunching the mountain of Ski Tracks data to tease out more nuanced findings and the deeper story they tell.
In the spring of 2018, Hendrikx and Johnson began working with behavioral economist Andrea Mannberg, based out of Tromsø, Norway, on a project called White Heat. The goal is to leverage the theory of behavioral economics to further illuminate the social aspects of decision-making in the backcountry, while also granting the world of behavioral economics a sought-after glimpse into the perilous extremes of cost-benefit scenarios.
Currently, the team is applying a tenet of the field called "positionality" to the realm of backcountry travel. It's the idea that one's satisfaction is relative to what others have. For instance, if you purchased a shiny $40,000 Toyota Tacoma, yet felt less well off when your neighbor rolled up with the same year and model, only with $10,000 more in tires, lift kit, roof rack, and snorkel air intake, you'd qualify as positional. Surveys have uncovered that about a third of backcountry skiers are positional. That means they have a great day in the backcountry, yet feel less satisfied when a stroll through Instagram reveals that acquaintances skied more challenging terrain, and vice versa. Make you think of anyone?
Positional backcountry users were more likely to be swayed to ski a slope they wouldn't initially be comfortable dropping in on, so long as someone else in the group said, "It's good to go." In economics speak, those who got value out of doing more than their peers, and lost value by doing less, were more willing to make the riskier choice. The next step in this area of research is determining whether survey results align with real-life decisions, a piece for which the Ski Tracks data will come in handy.
Hendrikx and his colleagues have many other irons in the fire—such as a study investigating the effect of "powder arousal" on decision-making, and using a time-lapse camera trained on Saddle Peak to document backcountry terrain use—but the ultimate hope is to develop educational tools in addition to backcountry knowledge that clue enthusiasts into the social dynamics influencing their decisions.
Just as a ski track is the ultimate geographic expression of one's decision-making in the backcountry, Hendrikx's career path expresses a lifetime of decisions. From a love of austere and mountainous environs to a fascination with the science of snow, followed by a deep-dive into the social sciences as part of the avalanche problem, what story does this career path tell? For Hendriks, it's all about saving lives, and setting a track to where science can make the biggest impact. In his eyes, any death in the backcountry is one too many.
Visit whiteheatproject.com to learn more about Jordy Hendrikx's research.
On the Snow
by Dan Ventura
It's a Saturday morning in late winter and I'm sitting in a white government SUV next to Alex Marienthal, a forecaster with the Gallatin National Forest Avalanche Center (GNFAC). We're heading north out of Bozeman on our way up to Bridger Bowl. Our plan is to use the lifts to gain the Ridge and then head south toward Saddle Peak into the backcountry adjacent to the resort.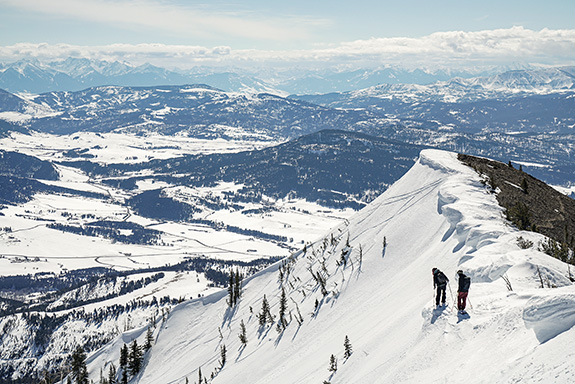 The GNFAC is a tremendous resource for our backcountry community and I'm stoked they're letting me spend a day in the field with them. As an active reader of the Center's daily forecasts, I'm interested to see how the cake is made, so to speak. I know they're in the field gathering data, and then compiling daily avalanche forecasts, but beyond that, I'm a blank slate.
The Bridger Mountains, rising 3,000 feet from the valley floor, are bathed in yellow light and flank us to our left. I ask Alex general, get-to-know-you type questions. We've met a handful of times, but have never really talked beyond pleasantries at various events.
"I wanted to ski, I wanted to be in the mountains," he explains with a smile, when I ask how he got into forecasting. He cuts himself off mid-sentence and scans the ridgeline. "There's a little fresh wet slide." He pauses and regains his train of thought. "Out of high school, I was fortunate to find the snow-science program at Montana State, and went through that as an undergrad and then into the master's program."
He runs me through the science-heavy coursework, the professionals that the program is graduating out into the field, and how lucky he was to get on with the GNFAC. During college, Alex worked with the Bridger Bowl Ski Patrol and taught avalanche-awareness classes for the Friends of the GNFAC, the nonprofit arm of the Center. One year after he finished his coursework, he had the opportunity to join the GNFAC. Today, we're meeting the Center's intern Andrew Schauer, who's following the same path as Alex. He's currently in the master's program at MSU, with a goal of becoming a forecaster.
Andrew's waiting for us at the base area and we immediately jump on a lift. Alex and Andrew begin going through the plan for the day.
"Every day we're looking for a specific avalanche problem," explains Alex. "We have a good idea of what that might be, based on the recent weather and conditions. We're trying to observe this problem so we can report back on where we found it and how people can identify and avoid it."
When Alex had first mentioned heading out to Saddle Peak, I was disappointed. I had thoughts of sledding deep into some remote basin, promising sweeping views and a new adventure. I quickly got over this, knowing that the lift-accessed backcountry near the resort is an important zone for these guys to cover. "We go where the people are going," Alex explains. "Sometimes that means deep into mountains in our forecast zone, but frequently, it's right out the gates at the resort."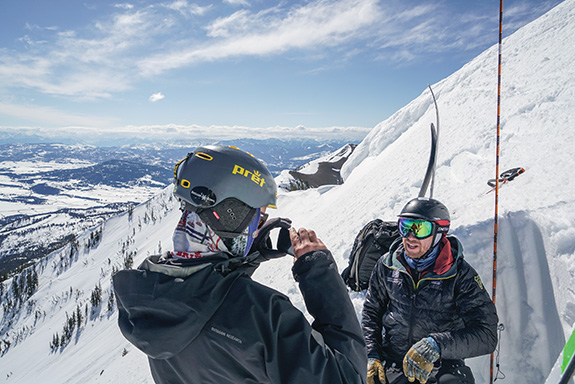 "It's slide for life up there," the lift operator informs us as we hop on Schlasman's. I nod but am already aware. It's a bit colder out than expected, and I had to heel-slide my way down from the mid-mountain lift to the base of this one. The snowpack's firm.
Schlasman's isn't open to the public yet, but we check our beacons and head up. At the top, Alex pops into the lift shack to let ski patrol know what we're doing before we begin our icy traverse south along the Ridge and up toward our destination. The morning is crisp and the light still soft as we skin up the north ridge of Saddle Peak, one of the more iconic and accessible summits in the Bridger Range. Thousands of feet below, Bozeman sprawls across the Gallatin Valley.
The guys beat me to the top and when I reach the peak they're nowhere to be seen. I snap a couple of photos like a tourist and I'm about to scooch my way toward the edge when Alex throws his arms up over the ridge and climbs up. He and Andrew were both already getting after it and assessing how quick the sun was baking the once-frozen snow. It's warming up fast—time to find an appropriate spot to dig a pit and begin gathering data.
We slide down into Argentina Bowl, a wide-open snowfield with a few scattered trees that's just south of Saddle. Below the ridgeline, Alex finds a spot he likes and the two get to work digging.
I step off my board and immediately sink up to my hips, and not in blower pow—an hour ago it was solid ice. It's now isothermal, meaning the snow is wet and near freezing. I'm thinking back to many of the avalanche-safety presentations I've attended and the general rule of thumb is this: if you're sinking into wet snow past your boot top, it's time to get off that slope. I'm post-holing down to the pit and they seem unconcerned. Normally, I'd be a bit freaked out, but being out with an avalanche forecaster and a snow-science grad student has a way of calming one's anxiety. They've assessed our location carefully and have measured the slope angle a couple of times where the pit is dug. They're comfortable, so I am as well.

The two work like scientists, precise and efficient. They both make observations, but in the actual snowpit, there's only room for one, so Alex is doing the testing and Andrew the recording. They speak quickly and sparsely in a language that I mostly understand, a dialect of numbers and abbreviations. Alex performs multiple tests to gather the information he needs. Based on the time of year, he already has a good idea of what's going on in the snow, but he doesn't skip any steps.
He performs an extended column test to look for any funky layers in the snow that could propagate. He prods the side of the pit with his hand, observing the hardness of the snow at different depths. He even sticks a thermometer in the snow and takes readings from top to bottom.
The last step, which is familiar to many followers of the Center, is to shoot a quick video. All this info must get out to the public and short videos are one of the best ways to show and explain the current conditions. Alex whips out a smartphone and hands it to Andrew.
I chuckle at a few of the outtakes as we stand on the side of a mountain. I know how hard speaking in front of a camera is, so it was reassuring to see another person fumble through the first couple of tries. After a couple attempts, Alex gets a take he's good with and we're ready to go; we cave in the snowpit and push south.
The day before joining Alex in the field, I visited him at the federal building downtown. I arrived before sunrise; it was dark, cool, and quiet as Alex let me in the side door. Though just past 6am, he was already a couple hours into his morning routine.
When not headed into the field, a forecaster's day starts around 4am, with research and data gathering. Each forecaster has his preferred websites, but they're all checking roughly the same stuff: weather stations that measure the previous night's temperatures, wind direction and intensity (very important), and precipitation amounts; forecast models that provide a foundational understanding of what kind of weather may be coming into the area over the next week; observation submissions from the local community; and the Observation Doc, a well-organized Google Doc that records all the forecasters' observations and summaries from throughout the winter.
Alex spends a solid hour and a half each morning simply gathering information as he prepares to write the forecast for the day. Ultimately, the daily forecast is the single most important piece of information the Avalanche Center produces. It contains a weather summary, links to current videos from the field, recent avalanche photos or observations, general color-coded danger levels, and most importantly, a snowpack discussion.
The snowpack discussion is broken down into the various regions of the forecast area and covers what avalanche problems readers should be most aware of and where these problems are most likely to be found. It is based on each forecaster's personal observations, user-submitted observations, and of course, the observations of the other three forecasters, which are cataloged in the aforementioned Observation Doc.
"We [the forecasters] are communicating daily about the upcoming forecast and current conditions," explained Alex. "Sometimes over the phone, sometimes in person. When conditions change, and specifically, when the danger level rises or lowers, we are all in even closer contact with one another."
Satisfied with what he has written, Alex dove into the more routine aspects of the early program. He called into a local radio station to record the forecast summary and made his own recording for the GNFAC website at the same time. He laughed while admitting that if you don't get it the first time, it is almost guaranteed to take at least three more tries. I smiled, remembering my days as a snow reporter when I'd have to record the snow totals for a call-in line every morning. Then it was on to copying and pasting the summary into the proper locations, mainly the website and social-media channels. As long as the forecast is up by 7am, all is well.
"We have five levels of avalanche danger," Alex explained. "Green is low, then moderate, considerable, high, and extreme. When conditions in our forecast area or specific ranges in our forecast area reach high levels of avalanche danger, we'll issue an avalanche warning through the National Weather Service. This amplifies our voice and helps drive home the urgency and dangerous conditions that currently exist in avalanche terrain." 
Today, the entire forecast area held a rating of low. Late winter brings generally stable snow, but it's not without its own unique problems, problems that Alex and the GNFAC team are constantly looking for and explaining how to avoid to a grateful user base.
The sun filtered through the big glass windows as Alex finished up his work for the morning. He examined his checklist closely. Even after doing the forecast over a hundred times, it's important to scan the list to make sure nothing slips through the cracks.
For Alex, it was time for second breakfast, a Sunday morning nap, and maybe an afternoon of turns up at Bridger Bowl. In a few days, he's headed to Cooke City, the farthest extent of the forecast area and a popular ski-and-snowmobile destination. As he articulated on Saddle Peak, the forecasters go where the people are going.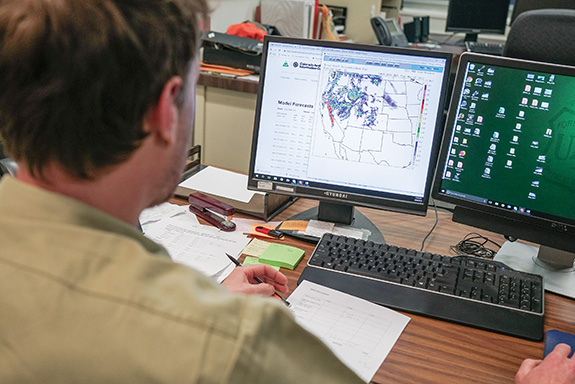 Back on the Ridge, the snow is warming quickly and I'm struggling to keep up, sinking up to my thigh every third step. Alex and Andrew are not sharing my struggle. With their skis on, they can distribute their weight a little better. I debate transitioning my splitboard back to tour mode but decide it's ultimately faster, if not a bit more annoying, to just keep walking.
On the far end of Argentina Bowl, we find a northerly aspect with drier snow and we drop in. In order to compare the two slopes we've been on, the guys shoot another quick video before we actually ski and ride. We make fun if unspectacular turns down to the bottom of the basin. I know Alex and Andrew had fun, but they make it obvious this is work. No high-fives at the bottom, no fist bumps, just a mild acknowledgment that the descent didn't suck.
There's a long traverse back to Bridger Bowl; it's annoying on skis and pretty crappy on a snowboard. My day is done, but Alex's is just beginning. A forecaster goes into the field to make observations, but he needs to share those observations with the skiers, snowboarders, and others who will use them to make informed decisions in the backcountry. So back he goes to the office, to edit and post his videos, and to do all the other things that the GNFAC does to help keep us safe out there, every day, all winter long.