Taking a mini-vacation to Red Lodge. 
You wake up and check the snow report. Nothing at Bridger, and Big Sky's reporting a trace, again. It's Thursday morning and you're bored of the same old low-tide skiing without any change of scenery. And then you have an idea—why not call in sick and take a mini-vacation? There's plenty to see just two hours from Bozeman in any direction, but where to?
This excursion isn't about getting the goods—just good times. Which means you'll need a proper town in which to imbibe (drink) and indulge (eat). And there's no better town for both than Red Lodge: two and a half hours southeast of Bozeman, full of bars, breweries, and burger joints. Plus, there might be some untracked turns laying in wait. So, it's settled, and just like that, you're rounding up a crew for a mid-week winter road-trip.
Caravanning out of Bozeman, the snow starts to fall as you turn south at Columbus and approach Red Lodge. The flakes are remnants from an overnight flurry, or so you thought. But they don't let up and as you climb the final winding road into Red Lodge Mountain's parking lot, it's clear there's more here than reported, and today's going to be a good day.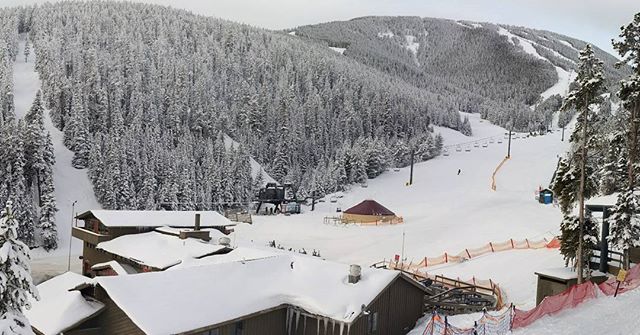 Fresh snow, no crowds—perfect combination.
You pick up your tickets as a loose-lipped employee lets fly a secret: a certain run in a certain part of the mountain is untracked and will remain so due to a key lift being closed. Basically, a sweet stash of powder awaits—provided you're willing to tackle the long, flat cat-track back out. You are, of course, so that's where you go—and your impulsive mini-vacation immediately proves its worth. The shots are short and skating out is tiresome, but you and your friends are the only ones there and the snow is shin-deep. Nothing kicks off a day of skiing like first tracks.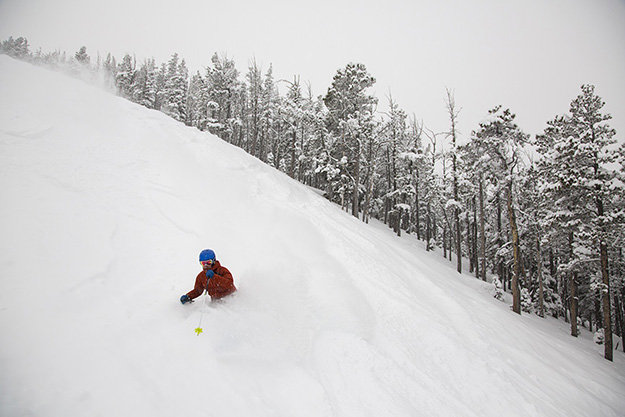 Plenty deep and plenty steep.
Several runs later, with freezing toes and burning quads, you decide it's time for a beer—hey, you're on vacation. The bartender at the mid-mountain lodge is happy to oblige (he doesn't even mention the time; it's 5:00 somewhere), and the local on the stool next to you bends your ear with stories of the golden age, before the trust-funders and affordable-housing challenges. You listen, out of respect, knowing that that will be you one day: the embittered old-schooler grousing about the good ol' days. The cycle continues.
The local brew from Red Lodge Ales cools your throat while warming your fingers and toes, giving you courage to head back into the frosty environs—at last look, your comrades' beardsicles still hadn't thawed. Back on snow, you decide it's time for hot laps over on Coal Creek—a high-speed quad that with steep chutes and powdery tree runs, which you mine time and again until your quads shake and your back aches.
                                                         There will be no complaining about soft snow and empty slopes.
Happy with your dose of downhill, you remember there's a Nordic center with beautifully groomed cross-country trails. This is the perfect way to wind down the day, and as luck would have it, the clouds have cleared and the trails are basking in sun as you take off across an open meadow.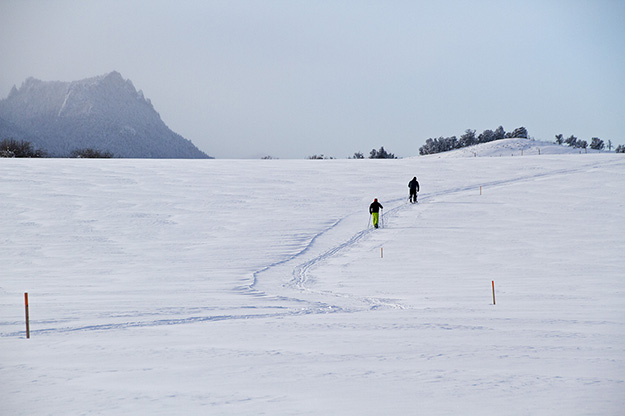 Walking in a winter wonderland.
At this point, you've indulged only your inner powder hound. But Red Lodge, as you'll find out, is much more than skiing—there's carousing to be done, as well. Your first stop is the aforementioned brewery, whose namesake ales will quench any thirst. You order a Ring Shank Rye IPA and gulp it down. The twang of country music releases the tension in your legs as you sink deeper into your stool. As is the case with any tavern worth the peanut shells its floor is covered in, the fridge doors at Sam's Tap Room (the brewery's public bar) are covered in stickers from near and far, a sign of weary travelers whose hopes and dreams led them to Red Lodge.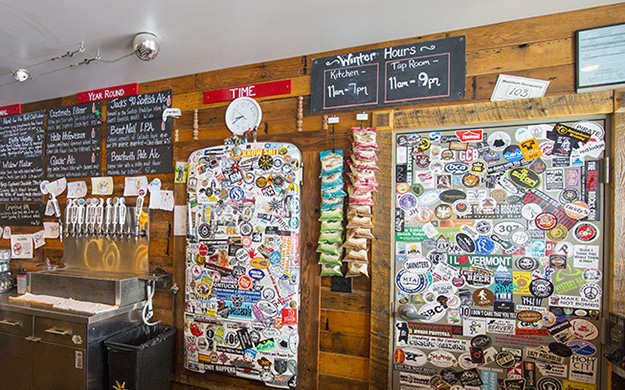 Better than a campfire for mindless entertainment.
Sufficiently lubricated, it's time for food, and lots of it. You wander down Broadway, Red Lodge's main artery, and stumble in to Foster & Logan's. Long wooden bar? Check. Taxidermy? Check. Big, juicy burgers? Check. After a second local lager and a buffalo wing or two, you begin to buzz and finally understand where the term comes from. You aren't shaking, necessarily, but a low-frequency vibration runs up and down your spine. You haven't thought about low-tide turns at Bridger all day; you haven't thought about much at all, in fact. A satisfied grin spreads across your face and the faces of your ski partners. Someone's fish tacos arrive and are hoovered down while someone else orders another round.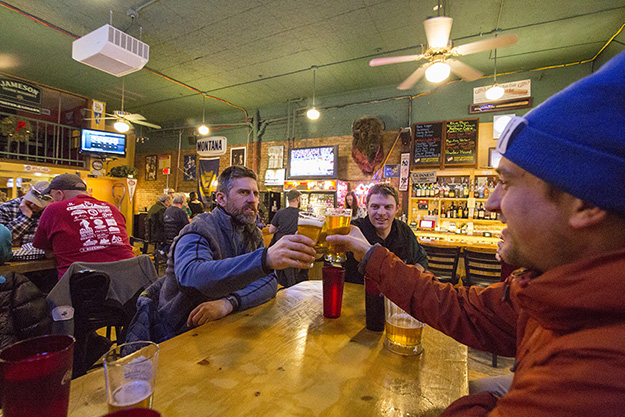 Cheers to a good day.
It'll be a long, slow drive back to Bozeman, but a good one. Conversation will flow, not sprightly and scattered like the way over, but subdued, reflective, philosophical. You've had good times with good friends, sharing a day of vigorous outdoor activity and epicurean indoor delights, all in a cool little town amidst the mighty Beartooth Mountains in the greatest state in the Union. As you lean your head back and gaze out the window, a thought floats through the vehicle, unspoken but clear as the starry sky above: Ain't life grand.