Even as a longtime winter-hater, after three years of watching Bozemanites cry tears of joy into their SmartWool at the first sign of snowflakes, curiosity got the best of me, and I decided to give winter activities a chance—as long as they were affordable and with minimal risk of debilitating injury. That took downhill skiing and ice climbing out of the running, so it was either ice skating, cross-country skiing, or snowshoeing. Random choice gave Nordic skiing the honor of getting me out of the gym and into the icy winter air.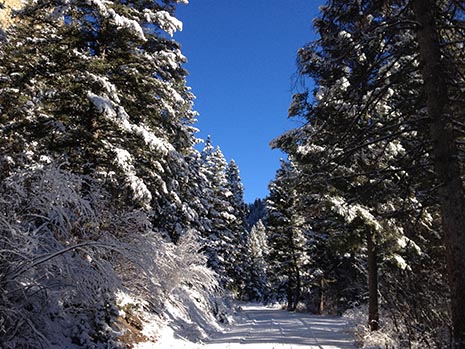 For my inaugural gear as Someone Who Likes Winter, I snagged a pair of Cadenza 100 touring skis from Madshus, and a pair of spacesuit-looking Amica 100 boots. Bindings were inexpensive and installed in five minutes at REI, and poles were easy to find at Second Wind Sports. For those with commitment issues, the entire setup can be rented or bought secondhand at stores around town as well.
Nervous that someone might see me wobbling around like a newly hatched duckling, I took the skis to the closed-off road heading up Storm Castle drainage, and practiced inching up and down the road. It took some experimentation, but the motion is reminiscent of running, with a glide (or stumble) between strides.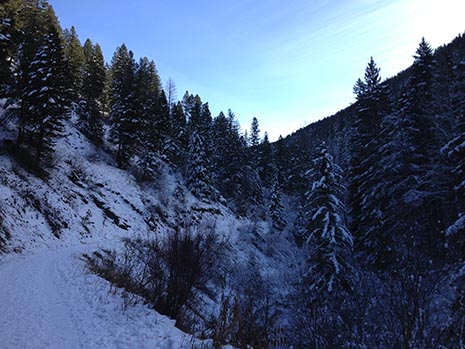 While often snubbed by backcountry and alpine junkies, it turns out "shuffle skiing" is nothing to scoff at. Compared to other winter activities, it's inexpensive to gear up for, the venues are accessible, and it offers quite a workout while still being family-friendly. Take your pooch, take your kids. In my first foray on the trail I saw dogs, tykes of all ages, and a mom plowing up the trail like an Arcteryx-clad sleigh horse harnessed to a baby buggy on skis.
The Storm Castle endeavor was successful, so I headed out to Bozeman Creek Trail, which was listed as freshly groomed on the Bridger Ski Foundation (BSF) website. The difference between Bozeman Creek Trail and the Storm Castle drainage is that Bozeman Creek Trail comes with hills—in both directions. Moving uphill was a shuffle-shuffle-push-push motion—think duckling with broken kneecaps using crutches on an inclined ice rink. Downhill was a prayer and flailing poles, with me careening at one point towards a nice-looking family, bellowing "I'm sorry I've never done this before... please get out of my waaaayyyy."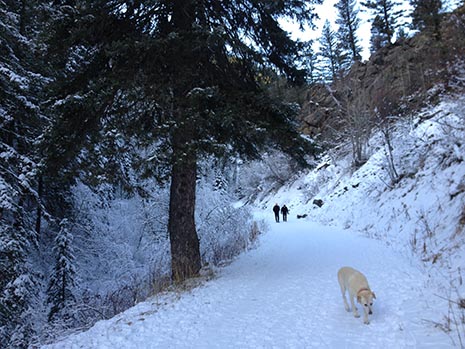 After only falling three times and having a nice gentleman help me out of the bindings, I decided the trail outing had been thoroughly enjoyable. Fresh snow softened the lines of rocks and branches, and the contrast between glittering white on the ground and the cerulean sky was breathtaking. The familiar trail was an entirely new experience under a blanket of snow, and it only took a base layer, a fleece, and a hat to stay warm.
BSF maintains 70 kilometers of groomed trails in our area, including Bozeman Creek Trail (with hills!), Hyalite Canyon, the Bridger Creek Golf Course, and lunchtime-accessible trails at Lindley Park.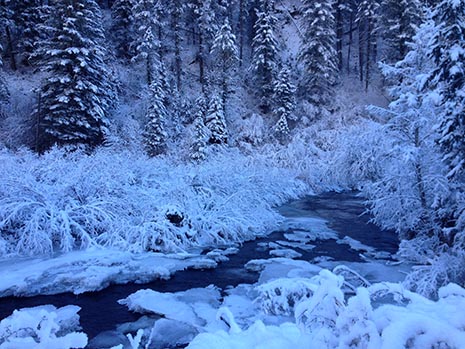 Thanks to BSF and community sponsors, Bozeman's trails are free to enjoy, but skiers are encouraged to purchase a Community Nordic Trails Pass to help finance the grooming effort. Passes can be picked up at Bangtail, Montana Import Group, and Northern Lights Trading Co. For the more advanced Nordic enthusiast, Bohart Ranch grooms 30 kilometers of trails, and holds citizen competitions throughout winter. Really into it? Take a weekend trip and hit up trails around West Yellowstone, Cooke City, and throughout Yellowstone National Park for solid exercise in a truly beautiful setting.