Making the most of spring. 
Spring means many things: migrating birds, swelling rivers, the emergence of wild fungus, green valleys lined with white-capped peaks, dry(ish) trails, and the appearance of antlers dropped by elk, deer, and moose. Among Bozeman's outdoor crowd, spring also means multi-sport—a chance to ski, bike, and float in a single day. Or run, morel hunt, and soak. Kayak, fish, and camp? Climb, swim, hit the Pony Bar? Whatever the medley may be, it's these rich, fun-filled days that allow spring to enrapture the soul.
On a clear, crisp morning in early May, my friend Steve and I set out to execute one of these Montana medleys. Our main goal: to descend an aesthetic mountain face we'd been eyeing for years. During the tour, we'd be keeping an eye out for sheds in a new zone that looked like good elk habitat. We'd be sheddin' and shreddin', so to speak. The only thing better than carving up a new line in fresh snow, we decided, was going on an adult Easter-egg hunt along the way.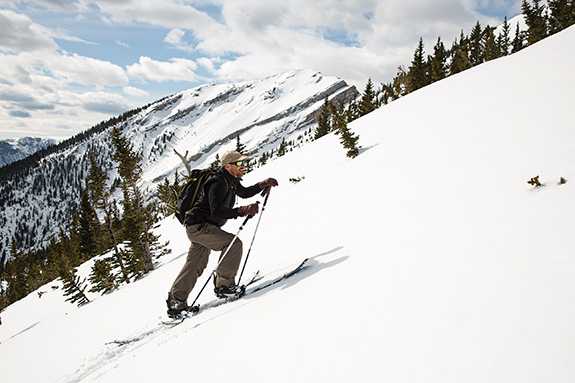 Steve Ritter nearing the summit
At sunrise, after hoofing it up a steep wooded slope with intermittent bands of deadfall, we crested a ridge and entered a clearing that prompted an affirmation from Steve: "This is real elky. I can almost smell it." Moments later, we stumbled upon a shed. It wasn't the biggest, nor the nicest-looking shed, but it certainly quenched our thirst as treasure hunters. After a quick look around the meadow for more glamorous racks, Steve decided to keep the antler for his kiddos. At the end of the meadow we hit the snow line, applied skins, and cut a moderate skintrack up to the sunny summit where we took in spectacular views of a familiar landscape from a vantage point that was new to both of us.
With the antler snugly attached to Steve's pack and two of the tines protruding above his head, forming "horns," we alternated arcing big, open turns down the mountain in creamy boot-top powder, just before the sun baked the snow into goop. We stopped near a constriction of dense trees at the bottom of the slope to gander up at our tracks and soak in the sublime descent, as well as the successful treasure hunt.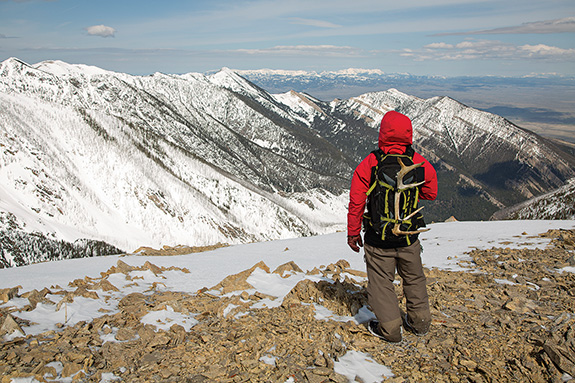 Utilizing the topography to our advantage, we exited via a different drainage, then walked along the national forest boundary and meandered back down the steeps to the car. Near the bottom, we realized that we were being watched by the neighboring landowners who sat perched atop a hill on their ATV. Their demeanor made it seem as though they were there for entertainment rather than to make a statement, so we comically contemplated what their dialogue might be as we floundered through the woods in full ski gear and wondered if someone had actually witnessed our shed-and-shred glory.
After snacks and refreshments at the trailhead, we set off—naturally—toward Livingston for burgers at Mark's In & Out. A couple miles down the road we ran across one of the landowners, who gave a friendly wave and tip-of-the-cap, securing a unique Montana experience and prompting us to further relish in the magnificent multi-sport medley.