Hiking to Sioux Charley Lake. 
The Stillwater River is a major drainage in the Beartooth Mountains. The river's headwaters begin in an expansive basin high atop the Beartooth Plateau west of Crown Butte and Daisy Pass, just north of Cooke City. The river travels over 70 miles southeast to its confluence with the Yellowstone River at Columbus. This hike follows a dramatic section of the Stillwater River through a narrow, steep-walled canyon at the boundary of the Absaroka-Beartooth Wilderness. The river puts on a spectacular display of waterfalls, cascades, and rapids as it rages down the drainage. The trail emerges into a pristine valley surrounded by majestic mountains. Sioux Charley Lake, a long, slow-moving section of the river, lies nestled in this valley along the eastern base of Cathedral Peak. The trail begins just past the Woodbine Campground at the end of County Rd. 419.
Vitals
Hiking distance: 6 miles round-trip
Hiking time: 3 hours
Elevation gain: 600 feet
Maps: U.S.G.S. Cathedral Point, Beartooth Publishing: Absaroka Beartooth Wilderness, Rocky Mountain Surveys: Mount Douglas–Mount Wood
Driving Directions
From I-90 in Columbus, drive 15 miles south on Hwy. 78 to Absarokee. Drive through town for two miles to County Rd. 419, the Fishtail and Nye turnoff on the right. Turn right (west) on County Rd. 419 and continue 28.3 miles, passing through Fishtail, Dean, and Nye, to the road fork. Take the right fork 0.4 miles to the parking area.
Hiking Directions
From the far end of the parking area, head south and follow the Stillwater River upstream along its north bank. Within minutes the trail enters a steep-walled, glacially-carved granite gorge with tumbling whitewater. At 0.5 miles, emerge from the canyon into a lush valley meadow. Moderately gain elevation through the valley, and curve north to a rocky knoll. From this overlook are views of the Stillwater drainage and the north end of Sioux Charley Lake. Across the valley to the east you'll notice the burn area from the 1988 Storm Creek fire. Descend through the meadow past aspen groves and cross a series of streams to Sioux Charley Lake. Return along the same trail.
To hike farther, the trail continues parallel to the Stillwater River for another 23 miles to its headwaters near Lake Abundance Road and Cooke City. From Sioux Charley Lake, it is eight miles to a junction with the West Fork Stillwater River Trail, which leads up to Lake Plateau.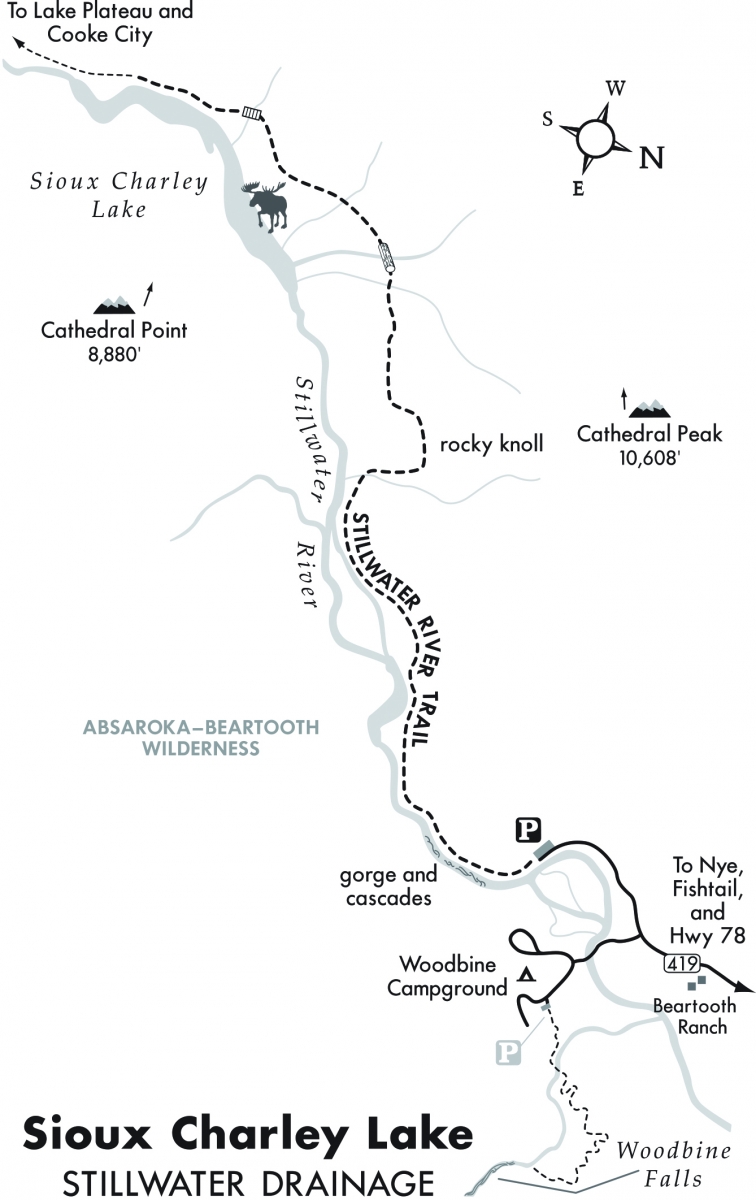 ---
This article is an excerpt from Day Hikes in the Beartooth Mountains by Robert Stone.