Hiking the Beehive Basin trail. 
Beehive Basin sits in a bowl surrounded on three sides by 10,000-foot mountains in the Spanish Peaks Primitive Area. The picturesque basin is a glacial cirque with a small lake. The lake sits beneath the rock walls of Blaze Mountain, Gallatin Peak, and Mount Chipperfield at 9,200 feet.
This top-of-the-world hike includes alpine meadows covered with wildflowers, a tumbling creek, and tall stands of Engelmann spruce and subalpine fir. At the trail's end is a lake and wide-open vistas into the Lee Metcalf Wilderness. Moose frequent the area. 
Vitals
Hiking distance: 6.5 miles, round-trip
Hiking time: 4 hours
Elevation gain: 1,200 feet
Maps: USGS: Lone Mountain; Beartooth Publishing: Bozeman, Big Sky, West Yellowstone; Rocky Mountain Surveys: Spanish Peaks 
Driving Directions
From Four Corners, take Hwy. 191 south to Big Sky and turn right at the light. Continue about ten miles to Beehive Basin Rd. (It is located 1.3 miles beyond the Big Sky Mountain Village turnoff and 30 yards before the Moonlight Basin entrance.) Turn right and drive 1.6 miles to the posted trailheadparking area on the left. 
Hiking Directions
Walk north to Beehive Creek. Cross a primitive log bridge over the creek, and head up the grassy meadow rimmed with evergreens. Cross the east slope of the meadow, overlooking the serpentine creek and Blaze Mountain along the jagged ridge of the Spanish Peaks. Cross a fork of the creek, and zigzag up three switchbacks on the open slope. The vistas extend down-canyon to pyramid-shaped Lone Mountain, the Sphinx, and the Madison Range. The path reaches a posted T-junction at one mile. The right fork leads two miles to the North Fork Trail. 
Bear left into a large meadow and three creek crossings. After the third crossing, begin a second ascent to another meadow and a pond, passing limestone rock formations. After crossing the second meadow, begin the final ascent. The trail flattens out at an unnamed, crescent-shaped lake in a steep-walled cirque, surrounded by a grassy basin marbled with streams. The views are breathtaking. Return on the same trail.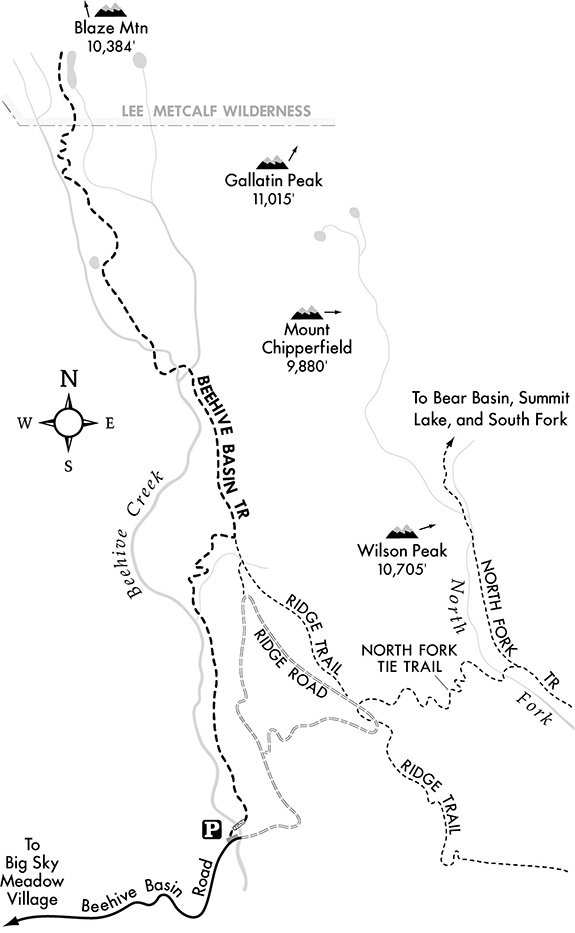 ---
This trail description was adapted from Day Hikes Around Bozeman, Montana by Robert Stone.