Climbing the Madison Range's highest peak. 
The highest peak in the Madison Range is also the highest peak in Montana outside the Beartooth Range. Its position within seven miles of the southern tip of the Madisons demonstrates the intensity of normal faulting there. Concurrent to uplift, alpine glaciers vigorously scoured all aspects of the southern range leaving Hilgard Peak as a sharp horn at the heads of Papoose Creek, Hilgard Creek, and the middle fork of Squaw Creek. Although these Pleistocene glaciers have melted entirely from Hilgard's flanks, fantastic moraines show a once-active past.
Hilgard Peak was probably named either by Ferdinand Hayden or Allen D. Wilson for geologist professor E. W. Hilgard, who worked with the USGS in the mid-to-late 1800s. Wilson used this prominent peak as a triangulation station during his primary triangulation for the Hayden Survey in 1877 and 1878, but did not attempt an ascent. Early surveyors including John Renshawe, Edward Douglas, and Frank Tweedy also sighted on Hilgard Peak, but did not make the ascent. The first published map to contain the name, other than Wilson and Douglas' triangulation maps, was the 1923 Gallatin National Forest map.
Not until Memorial Day of 1948 did Dave Wessel ski alone up Hilgard Creek's south fork to make the first ascent of the peak via its southeast side from Lake Eglise. Wessel made this round-trip in one day! Wessel returned in 1955 to make the second ascent with fellow Montana climbing pioneer Ed Anacker, and again in 1962 and 1973. On July 14, 1956, Anacker came back with Bob Witters and Fred Cartan for an ascent of the east ridge from Avalanche Lake. After resting on the main summit, Witters and Anacker were intrigued by the sheerness of Hilgard's north peak, which is slightly lower and separated from the main peak by a sharp notch. Leaving Cartan behind, they scrambled down into the notch and studied the meager route possibilities. Witters later wrote of his effort to reach the top on the east side of the summit tower:
I spied a jam crack that looked as if it would "go" if we could just get to it. I managed to reach a horizontal down-sloping ledge less than two feet wide, the wall at the back rising vertically, but bending outward a little below my shoulders. This forced my head forward, thus requiring me to look downward—down, down, down. The exposure was really breathtaking. I slowly inched myself along in this awkward position, and about halfway along the ledge something just above me on the rock wall knocked my hat off. The sight of the hat sailing off into oblivion had a profound effect on me. I believe the effect was greater after the ordeal was over than as it was happening. Even this many years later, occasionally in bed I remember that scene and break out into a cold sweat.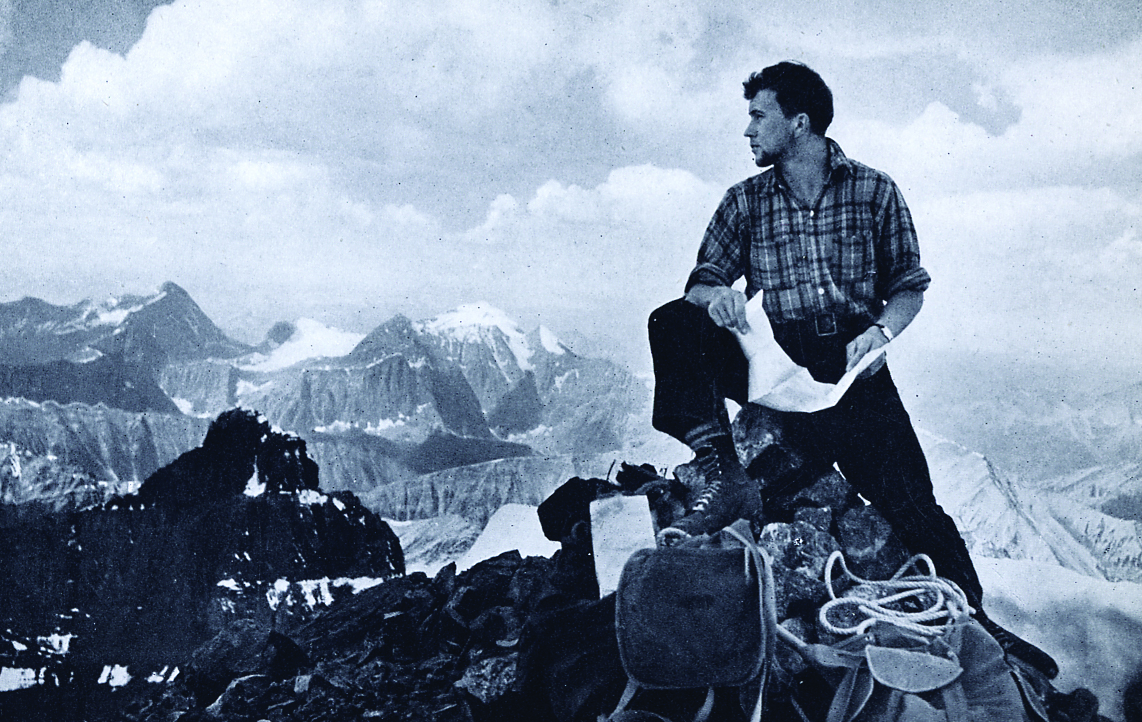 Dave Wessel climbing the Taylor-Hilgards in the '40s
Noticing Witters's uneasiness, Anacker found an easier route around the west side and met Witters on the top to make the first ascent of the north peak. Witters returned the following year to repeat his ascents of both the north and south summits of Hilgard with Fred "Fritz" Schilling. Growing up in Cheyenne, Wyoming, Witters acquired his adventurous scrambling skills at Vedauwoo. At college in Boulder, Colorado he honed his skills on the Flatirons. After a stint in the military, Witters enrolled at Montana State College and began a long climbing and ski-mountaineering partnership with one of his professors, Ed Anacker. Their first outing together was an ascent of Koch Peak in early summer of 1956, during which Witters discovered the usefulness of his army combat boots for climbing. He later discovered that basketball sneakers worked even better.
Being lower and more challenging, Hilgard's north peak sees few ascents. It nonetheless contains the most interesting features from the perspective of the alpine climber. Rick Reese and Beaverhead National Forest ranger Wayne Phillips made an early ascent of the aesthetic north ridge in June of 1979. From their camp at Hilgard Lake, they scrambled up to the base of the ridge and reached the summit after surmounting one 5.7 step and several easier pitches. They then continued to the main summit as well. In addition to that ascent, Reese made other forays to Hilgard Peak in July 1973, August 1975, winter of 1977-78, and August 2001. His winter attempt from Squaw Creek began in late December 1977 with Phillips and Ron Knoshaug. While they approached the mountain in below-zero temperatures with low-cut touring boots and skinny skis with climbing wax, Knoshaug slipped gradually into advanced hypothermia. When they finally diagnosed the problem at 2pm, Reese and Phillips quickly set up the tent, put Knoshaug in dry clothes, and brewed numerous hot drinks. Knoshaug finally showed signs of improvement by midnight. On New Year's Day, the trio moved camp 1,000 feet down Squaw Creek so Knoshaug could rest while Reese and Phillips attempted the ascent on January 2. Not wanting to leave their ailing partner alone for too long, Reese and Phillips climbed only to the base of the great couloir on the west face. The accolade of first winter ascent would go to Bozeman mountaineer and Forest Service employee, Joe Gutkoski and partner Barry Frost, only a week or two later.
Gutkoski and friend Terry Johnson were prolific in climbing and skiing throughout the Madison Range in the 1960s and 1970s, as well as being important figures in the campaign for wilderness in the Madison Range. Johnson placed summit registers on many peaks of the Madison Range, including Hilgard Peak on July 15, 1967, when he noted no evidence of previous ascents. On Rick Reese's second visit to the top of Hilgard Peak with Phillips on August 16, 1975, he tallied 25 ascents in Johnson's register. During that climb, they approached from Hilgard Lake to climb the northeast face, which ascends steep and loose class-4 terrain to the summit ridge between the two summits. A violent thunderstorm near the summit forced them to seek a quick descent on the west side via a couloir that plunges loosely into the head of Squaw Creek from the second notch south of the summit. They scrambled down and right, staying out of the steep and narrow part of the lower couloir. Then, where the couloir dropped off, they stepped around a corner into a chimney to find a perfect rappel flake, which took them 75 feet to class-3 terrain and talus under the west face. While belaying Phillips on the rappel, Reese was struck by a lightning ground current and was thrown to his knees and tight against his tie-off. On August 26, 2001, Reese returned to Squaw Creek with Ted Wilson to climb the west face of the north peak finishing with a traverse to the south peak. This Y.D.S. III 5.7 route lies north of the great west couloir and south of a large gendarme on the west face of the north peak. To return to their camp in Squaw Creek, the pair retraced Reese's descent route from 1975 and found the worn sling he left 26 years earlier.
Ascent: At least five approaches have been used to access Hilgard Peak, including Papoose Creek, middle fork of Squaw Creek, west fork of Beaver Creek, south fork of Hilgard Creek, and Sentinel Creek. The most direct canyon route to the peak follows Hilgard Creek's south fork from Potamogeton Park, but a Forest Service trail in this thickly forested and swampy drainage was abandoned in the early 1950s. Instead, the preferred approach follows an excellent trail in Beaver Creek's west fork from a signed trailhead one mile south of Potamogeton Park. From Hwy. 287 between Earthquake and Hebgen lakes, turn north onto Beaver Creek Road (Forest Road #985). Drive three miles on the well-graded dirt road and park at a pullout with trailhead markers on the left side of the road. Follow Forest Trail #222 as it crosses Beaver Creek and makes a high traverse into a stunning canyon. After four miles, the trail crosses the creek and climbs a shallow forested grade in several switchbacks. Watch for a trail junction in a marshy meadow and turn right toward Avalanche Lake and excellent campsites—a total of six miles.
Once at the lake, cross the outlet on cobbles and walk off-trail following moraines, gullies, and meadows toward the lowest point in the distant ridgeline to the north. At tree-line, look for broad talus ramps leading up and left. Near the top, climbers may encounter steep snow and scree. This ridge is a 1,300-foot climb from Avalanche Lake, and it provides a commanding view of Hilgard Creek and the south side of Hilgard Peak. Drop 400 feet on steep snow or scree into the glacial basin below, skirt past the ever-shrinking Lake Eglise, and climb to a wonderful campsite on a bench with a lake directly below Hilgard Peak.
From the scenic bench below Hilgard, climb 400 feet of snow or scree to the col immediately east of Hilgard's steep east ridge. Ascend the slabby south side of this blocky ridge adjacent a snow or scree gully. When the ridge steepens to class-5, traverse left for a few tricky moves into the gully, which steepens and becomes terribly loose. After about 100 feet, work up and right on solid blocky rock back to the ridge. Farther up, a 30-foot 5.2 hand-traverse along the knife-edge summit ridge is not terribly exposed on the east side, but is very exposed on the west side. To avoid the knife-edge, traverse under a slab on the east side of the ridge on steep snow or loose dirt, rock, and grass. An easy crack then leads back to the summit ridge a short scramble from the summit. Experienced mountaineers will not need a rope for this climb, but novices would be in danger without.
---
This is an excerpt from Select Peaks of Greater Yellowstone: A Mountaineering History and Guide, published in 2003 by Thomas Turiano, who writes and guides from his home in Wilson, Wyoming. His latest books are Jackson Hole Backcountry Skier's Guide: South and Teton Pass Backcountry Guide. Turiano is currently working on the long-awaited revision of Select Peaks. Order your copies and subscribe to book updates at selectpeaks.com.