A few of Bozeman's piscine practitioners. 
As many famous writers have noted, fishing is religion to Montana anglers. And few churches are more well-attended than the Temple of Bozeman, where congregants receive the word of trout daily. Devotion is so strong here, in fact, that many have decided to use this holy land to spread the gospel, by way of trout-oriented products and services. Here are a few of their stories.
Damsel Fly Fishing: Lady Anglers on the Rise
More women than ever are heading to Montana's rivers with hopes of baiting a big brown or rainbow trout. They know what they're doing, and they look good doing it. Sisters Kara Tripp and Lynae Axelson might have something to do with that. 
Passionate anglers, the born-and-raised Montanans own Damsel Fly Fishing, which makes women's fly-fishing accessories while also promoting education, community, and adventure among women anglers.
"Just because you're fishing doesn't mean you don't want to look cute," says Lynae, co-founder of Damsel. "You're still a woman out there on the river."
The idea for Damsel Fly stemmed from a frustrating shopping experience when company founder Kara, now 35, bought her first pair of waders back in 2002. She was hoping to find something fun and fashionable but, much to her dismay, the only waders available were designed with men in mind.
"They were plain and boring," Kara recalls, "and I had a fight at the register with my boyfriend over who should pay for such ugly but functional boots!"
On the drive home from her next fishing trip, Kara toyed with the idea of starting a women's fly-fishing company. She quickly landed on the name Damsel Fly Fishing.
"There's the damselfly, and we thought it was so perfect because it's a nod to women and a nod to fly fishing," explains Lynae.
It wasn't until 2015, however, that they moved back to Bozeman to open Damsel Fly. Having both attended Montana State University and fished the surrounding rivers, they felt Bozeman was the ideal home base.
"Bozeman is perfect place to start a company like this," Lynae says. "It has everything: there's the community and the support; the fact that we are 'Trout Capital USA'; and that we are surrounded by other great businesses in the outdoor industry."
Damsel Fly Fishing accessories are designed to translate from the river to happy hour. Their most popular product is called a Snood, which Lynae describes as a marriage between a buff and a bandana. "Our accessories are inspired by what we need when we're out fishing," Lynae says. "We're always thinking, 'Hey, I wish I had that…' Then we go and make it."
The sisters hope to expand into designing apparel as the company grows, however, Damsel Fly is about much more than designing fishing gear. At its core, it's about empowering women to become self-sufficient anglers.
"We're really invested in the education of women anglers," Lynae said, adding that a lot of local females have expressed interest in becoming more self-reliant on the water. "People here want to be able to do things by themselves."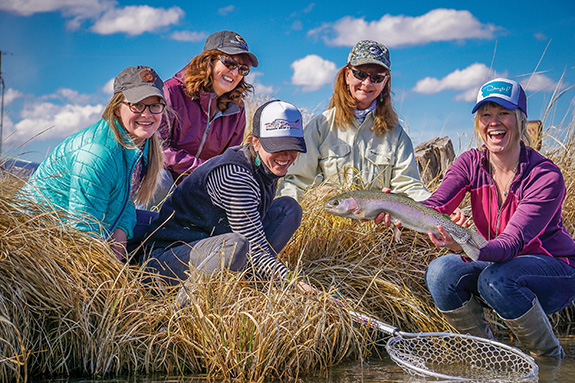 Those interested in learning more about the sport can book one of Damsel Fly's all-inclusive retreats, which are similar to hosted fly-fishing trips, but geared for the novice angler. Kara, who does most of her guiding through Gallatin River Guides in Big Sky, also runs clinics, private lessons, and a Fishing 101 class that covers skills such as casting, knot-tying, and reading the water.
Kara attributes much of the rising interest among women both locally and nationwide to social media. "It's much easier nowadays to find other like-minded women to fish with," she notes.
As more women partake in the sport, both Lynae and Kara hope an increased desire to protect the rivers they're fishing on comes with it.
"I hope that with more women picking up fly rods, that we will see an increase in more families fishing together," Kara says. "If more youth are exposed to the positive benefits of fishing, then maybe there is hope for our rivers and streams to remain healthy and open to the public." —MARIA MACVEAN
Tom Morgan Rodsmiths: Perfection Through Tradition
Can an object both symbolize and demonstrate a philosophic ideal? Capture a heritage and allow a person to experience that heritage in a physical action? Can an aesthetically captivating work of art be functional? Yes, yes, and yes again.
All of the above takes shape in the building of a Tom Morgan Rodsmiths (TMR) fly rod. The word "building" is appropriate here because Bozeman-based TMR doesn't "manufacture" rods; they craft them, one at a time. "Tom didn't believe that high-quality craftsmanship was a secret," says co-owner Matt Barber. "It just takes the commitment to slowing down and doing things right."
Barber, of course, is referring to rod-making legend Tom Morgan, who sadly left us last June at age 76, after succumbing to pneumonia. Morgan owned the R.L. Winston Rod Company from 1971 to 1991, moving the company to Twin Bridges where it remains an icon to this day.
At the time Tom sold Winston, he was just developing the first signs of multiple-sclerosis. Regardless of what would become a lifelong battle with MS, Tom dedicated himself to his small custom rod shop in which he would build the perfect fly rod regardless of cost. With the invaluable assistance of his wife Gerri Carlson, and a devoted team of craftsmen, Tom set to work.
Today, Tom's philosophy and commitment to quality rod-making has been passed along to Joel Doub and Matt Barber, lifelong anglers with a passion for carrying on Tom's legacy. Originally from Denver, Joel and Matt moved their families to Bozeman where they own and operate TMR with the goal of being "stewards of Tom's philosophy."
A TMR rod may be made of graphite, fiberglass, or bamboo, with the most being four-piece graphite rods. While a serious collector of bamboo may place his TMR fly rod in a vault for safekeeping, Matt makes it clear that their rods are made to be fished: "Tom believed that there was an aesthetic to be appreciated with the rods, but wanted them to be fished as often as possible and not hung above the mantle."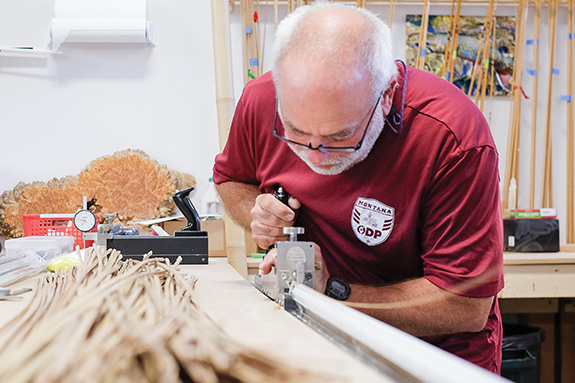 And when Matt says Tom wanted his rods to be fished, he meant for generations. A TMR rod is an heirloom piece—not only for the quality materials and workmanship, but also the design. According to Morgan, the materials needed to make the perfect fly rod already exist; one must simply take his time and incur the necessary costs during the building process to get it right.
This means that there will be no new "line" of rods at TMR with the turning of each calendar year. "Buy high-quality and buy it once," says Barber. "If you come back to us in five years, our designs will be the same."
Slowing down and doing it right: sounds like making the perfect fly cast, the perfect presentation. And somehow, in a world of changing models and marketing plans to sell fly rods built around the faster-and-farther approach, coupled with the notion that newer is better, it could be said that folks at TMR are not only building the perfect fly rod, they are preserving a tradition in fly fishing that is the heritage of the sport.
It is not likely that you will ever find yourself using a TMR fly rod somewhere off-shore in pursuit of giant tuna with a twelve-inch "fly." But if your idea of a great day of fly fishing is practicing the sport in a manner true to its origins, you might wish to give Matt or Joel a call. Better yet, head over to TMR, located at 608 W. Griffin in Bozeman and pay them a visit. The guys will be more than happy to show you around the shop, letting you see in person how their rods are built—one at a time.—JIMMY LEWIS
FHF Gear: Born from Necessity
In the outdoor sphere, some of the most functional pieces of gear are, more often than not, born from necessity. In many cases, items are conceived and often manufactured by individuals who get tired of making due. 
Such was the case for Paul Lewis, a recovering gearhead, avid hunter and angler, and professional law-enforcement officer. On the job and in the field, Lewis found himself looking at gear intended for outdoorsmen and first-responders, and noting that in many cases, design flaws or poor craftsmanship would cause failure at the worst possible times.
"This whole thing sort of started by accident," says Lewis. Fed up with the status quo, he started making items for himself, co-workers, and hunting and fishing buddies. Seeking to perfect his products, he sought the input of other outdoorsmen and professionals in the law-enforcement and military fields. Their suggestions, combined with his initial inspiration, produced products that proved to be more than up to the punishments of the job, and the field.
As his products began to get noticed, he started taking on custom orders on a word-of-mouth basis, thus FHF Gear—Fish, Hunt, Fight—was born.
According to Lewis, things really began to take off for FHF when Randy Newberg started using the FHF bino harness on his television program. Business was good. So good, in fact, that Paul found himself calling on those aforementioned buddies to help pack orders, and occasionally sew small runs of product. He also had to quit taking custom product orders.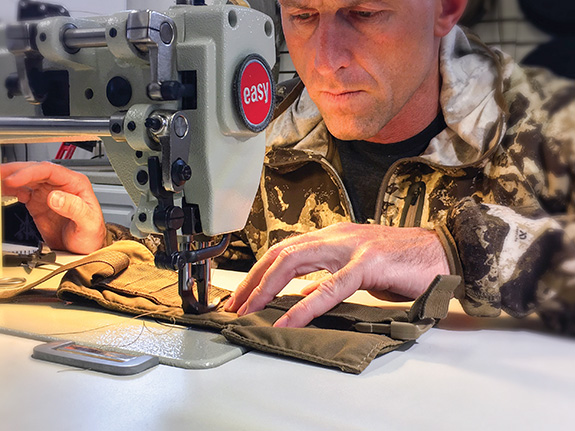 While no longer operating out of a basement, FHF is still very much a small, customer- and quality-focused business. Lewis still works full-time as a law-enforcement officer, while his fiancé Jen runs the day-to-day operations of the business. Lewis says, "Our philosophy has always been to treat customers as we would want to be treated, and make sure they are taken care of, and to provide our customers with high-quality products, made with care, right here in Bozeman."
FHF's product offerings fall into three categories: hunting, fishing, and tactical. On the hunting end, the bino harness is quite possibly the best such product on the market. For fishing, there's the Chest Rig, which is designed to take the place of a traditional fishing vest and can be worn in addition to a backpack. This allows anglers to keep necessary tackle close at hand without getting caught on fly line, or those pesky riverside bushes. —KURT DEHMER