Caving in to creature comforts.
It didn't sink in until I began to fill the cooler with ice. Wait a second. We don't need a cooler. This thing has a fridge.
And so began a series of adjustments, from our normal car-camping routine to this new paradigm: tricked-out-rental-van camping. In addition to the kitchen and cookware, our adventure-mobile boasted a queen bed, camp chairs, camp table, lantern, flashlight, axe, first-aid kit, fire pit, grill, and every other conceivable accoutrement for a comfy, carefree life on the road. We were like Hunter S. Thompson on assignment with the Hell's Angels: fully loaded and ready to roll.
Damn, this was gonna be easy. Food, clothes, fishing rods, bikes on the back—done. Now what?
With some time to kill, we sized up our ride for the weekend. Outside: sufficient clearance for back roads, luggage rack for firewood, sturdy rooftop platform for after-dinner drinks and stargazing. Inside: plenty of room, nice blue-pine paneling, big bed, and… What's this? A freezer?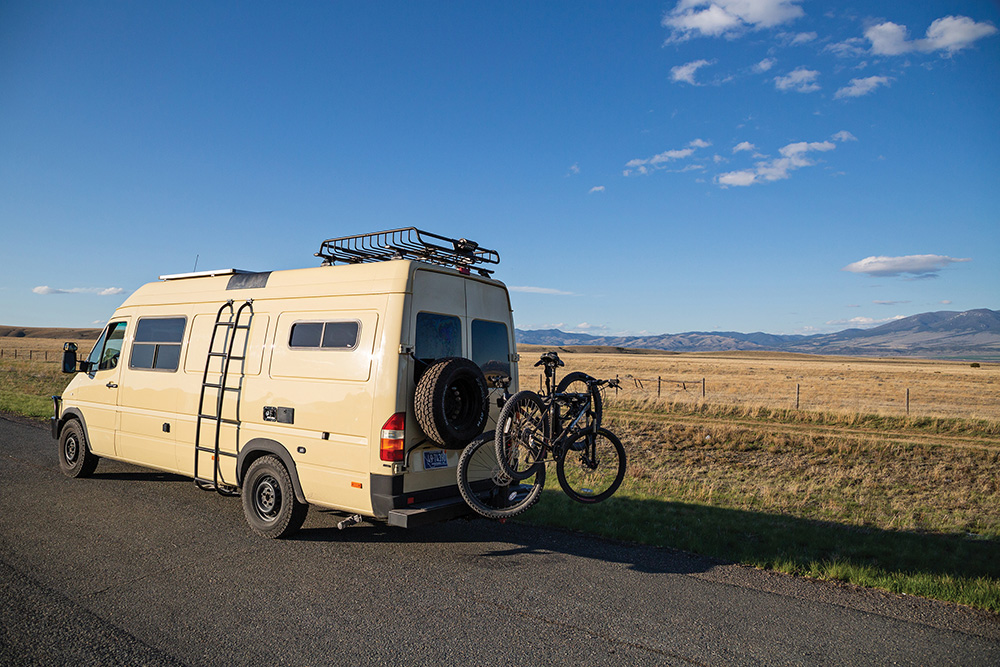 One quick trip back to the house, and we were off—down the long highway, farther and farther from bustling Boz Angeles. The rivers, the mountains, the fields—they called and we answered. And no mountain of gear to re-shuffle, no cumbersome trailer to drag behind. We biked, we fished, we gorged ourselves on burgers and brats, we slaked our thirst with ice-cold beer. And finally, after relaxing around the campfire, we retired to our cozy, self-contained camper for a long, restful night under the star-filled Montana sky.  
But first, before we slip under the covers and drift off: Want some ice cream?
Oh yea. Can't do that with a cooler and tent. Not bad, this whole van-camping thing. Not bad at all. 
---
We rented our adventure van from TierraTraveler, based in Livingston. For prices and availability, visit tierratraveler.com.