A guide to Yankee Jim's whitewater. 
The Yellowstone River, specifically the mighty Yankee Jim Canyon, has the biggest whitewater features in the state. Don't believe me? Go to any bar in Gardiner this summer and ask the locals. You won't be able to finish your first pint before some brash raft guide starts regaling you with tales of the raft-flipping Boat-Eater, kayak-swallowing Big Rock, or bus-sized Boxcar.
While "biggest in the state" might be hyperbole, for those with the courage to navigate these stacked class III hazards, there are endless adventures at any flow.
The traditional put-in is the Joe Brown fishing access, made famous by Forrest Fenn. If you don't know, don't worry about the buried treasure—you have bigger fish to fry. The first consequential rapid is just around the corner, Yankee Jim's Revenge.
Old man Yankee Jim use to run a toll road through the canyon. When the railroad came through and put his business under, legend has it he would kick boulders off the mountain to derail the train. This was bad news for the railroad, but good news for whitewater boaters. This high-quality rapid boasts a variety of lines at all levels. If flows are high—over 18,000—a pair of giant laterals bounce off the right shoreline slamming you in the swirly water on the left. Tee 'em up and punch over the top to set yourself up for half-a-dozen colossal haystack waves. When flows are lower, Boat-Eater comes in on the left, mid-rapid. Depending on the flow, it can be a world-class kayak surf wave, frighteningly sticky hole, or an exposed rock.
After a short pool, you roll directly in on Big Rock rapid. Depending on which raft guides you ask, and how hung over they are, this rock is anywhere from three to ten stories tall. At high flows, it's a menacing breaking wave with irregular intervals. At mid flows, it's a sticky siphon hole that will window-shade you on endless repeat, often necessitating you pull your skirt and join the fish for a swim. Approach at your own risk and always give it a scout from the road before suiting up.
If you're lucky enough to still be in or on your craft, get ready for the Pinch and Boxcar. Two giant, sheer canyon walls come together to form a complex set of swirling eddy lines, bulging boils, and unpredictable lateral waves culminating in a wave hole that can pick up an 18-foot raft and toss it on its head. If you're feeling nervous, start center and push right or charge left to sneak between Boxcar wave and the Eddy of Doom on the bottom left. For those who like to get sendy, float center, spin around backward, and throw some tricks as you surf Mamma Jellystone's crown jewel. At lower flows it's more manageable, though still 90 feet deep and bubbly enough to hide a rail car on the river bottom.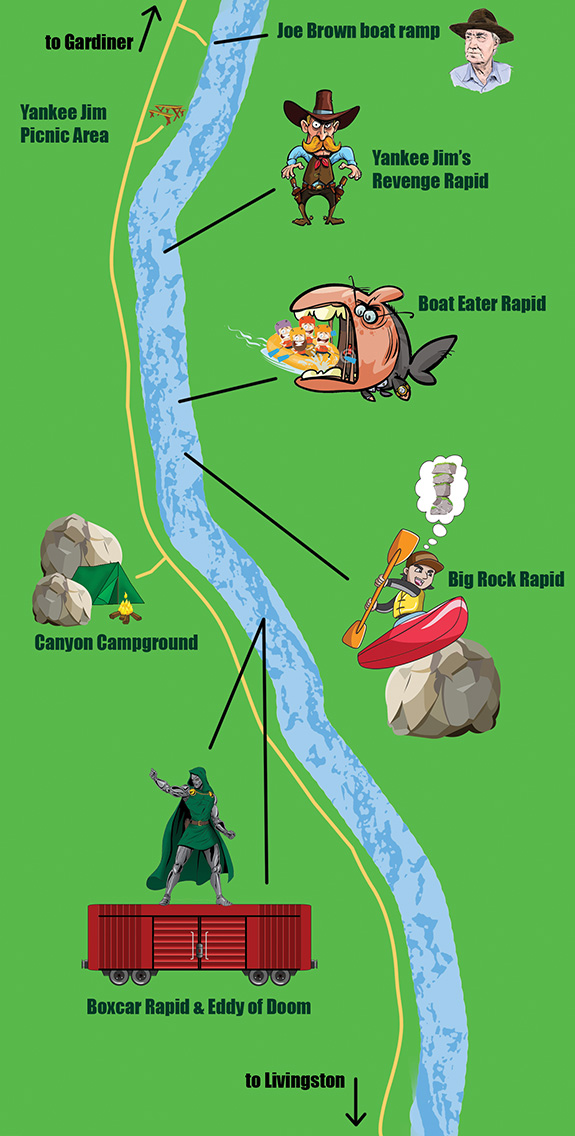 If you make it through these three beasts sans capsize, crack a beer and give a hoot—you just survived a southwest Montana classic.
---
Ford Smith grew up on the Yellowstone River just downstream of Boxcar rapid. When he isn't convincing homeowners to keep pesticides and chemical fertilizers out of the rivers with his company, Organic Lawn, he can be found paddling the steep creeks in the Crazy Mountains or the classic runs in the Beartooths.