Thousands of disadvantaged pets in the valley need helpful hands and homes each year. Do you care? Of course you do. Volunteer, foster, or rescue a pet from Heart of the Valley Animal Shelter.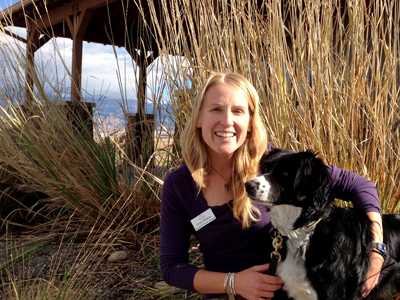 Above: Emily Wallace (HOV Volunteer Coordinator & Education Manager) with Mango.
My mom would be so disappointed. I've focused so much time on my education, career, and wellbeing that, somewhere along the line, I forgot one of the quintessential creeds I was raised upon: selflessness. Another huge problem? I've remained petless since my arrival in Bozeman five years ago. What's a man to do? 
A few weeks ago, I decided it was time to volunteer. While I wasn't sure what to expect on my drive out to Heart of the Valley (HOV), getting lost wasn't part of the deal—when you decide to visit, write down the directions. My late arrival to New Volunteer Orientation wasn't exactly ideal, but I was still allowed in. After a presentation, Q&A, and tour with Emily Wallace, Volunteer and Education Manager, I couldn't wait to get started.
HOV is celebrating their fifth year at their new facility, which is run by 23 staff members and over 250 active volunteers. Serving both the Gallatin and Madison valleys, HOV takes in thousands of pets each year. In 2011, the shelter took in 2407 cats and dogs. Between January 1 and September 31 of 2012, HOV took in 943 dogs and 826 cats. 42% of dogs and 26% of cats are reclaimed by their owners. Pets usually stay in the shelter for an average of 44 days, and the average daily census is 194 animals.
I sat down with Emily last week to ask a few questions. She recently opened her home to an HOV intake, a border collie cross named Mango. "He was a stray at Headwaters State Park," she explained. The creature in question laid quietly by my side for a moment before standing and resting his head on my knee. With each pat, he'd squeeze his amber eyes shut in pure delight. "It's a really big adjustment," Emily continued. "Mango loves people and he's prone to separation anxiety. We're really working on healthy time apart so he doesn't get nervous when he's alone." I suppose I'd have separation anxiety, too, if a charitable human saved me from the streets. Wait… never mind.
Anyone interested in owning a cat or dog need look no further than HOV. Financially, behaviorally, and health-wise, shelter adoption is ideal. Heart of the Valley spends an average of $450 on each animal for food, shelter, and medical care, yet adoption fees are only about $35 for a cat or $150 for a dog. Thus, rescuing a pet results in saving over $300 in vet expenses including spaying or neutering, microchipping, and a basic medical evaluation. And let's not forget the socialization, house manners, and basic behavioral training each animal receives at the shelter. Thanks to successful fundraising and program development in 2011, HOV has started a new Animal Enrichment program to improve the daily life of their cats and dogs. This includes more intensive potty training, visual barriers to reduce stress, and playgroups to encourage socialization.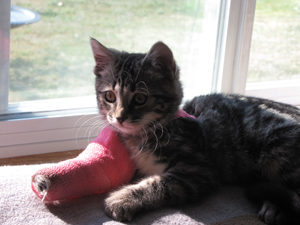 Left: Rivers was found with buckshot in two of her legs. She was adopted and is doing very well in her new home.
If you're considering adopting a pet, there are a few things to consider before diving in. What is your daily activity level? Have you owned a pet before? Are you willing to devote time to training? Neglect is a common condition many shelter animals face prior to their arrival at Heart of the Valley. Mango, for example, was no exception. Despite those warm, pleading, heartbreakingly adorable eyes, the poor pooch never learned how to play with toys while bombing around the doggy slums. "I'm working to teach him how to use his mouth to play with toys. He just doesn't know how," Emily said. While challenges like these may arise with adoption, the fact remains that you'll be a hero in the eyes of your new pet, and they won't forget it.
A fantastic option for families or individuals who are considering adoption is the fostering program. Kittens under two lbs. (how much cute can you handle?) and any animals who have been at the shelter for extended periods or who are recovering from surgery may be eligible to stay with a foster family anywhere from two weeks to several months. A few common requests are that the dogs be kept on leashes when outside and that the foster family provides a comfortable environment, gives plenty of attention, and tends to the animal's daily needs. HOV covers all food and medical expenses. It's great practice for anyone looking to test-drive caring for a pet, and who knows… maybe they'll have found their forever home with you!
Anyone interested in volunteering should apply online at heartofthevalleyshelter.org, call (406) 388-9399, or visit the shelter to chat with Emily during visiting hours (11:30am-5pm). HOV requests that volunteers devote at least four hours per month to the shelter, which, if you ask me, isn't hard to do. The program, which is modeled after a successful graduated system developed at The Humane Society of Huron Valley in Ann Arbor, Michigan, is geared toward individualizing each volunteer's experience.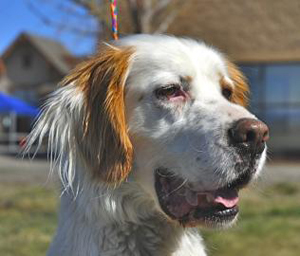 Left: Kane is currently up for adoption at Heart of the Valley.
Aside from the animal rescue side of things, HOV seeks to exist as a resource for the community, whether by meeting volunteer needs, offering training programs, or giving owners looking to surrender their pets a reliable, humane option. Additionally, their staff behaviorist organizes affordable, six-week dog training courses, including a special class for more reactive pets. He also works as an in-home behavioral consultant. Recently, HOV built their "Catio," an outdoor cat area, as well as a memorial garden for guests to relax. The shelter also provides a free agility practice course and owns Maxi Park, a large off-leash dog park open to the public (aside from Thursday mornings from 9am-10am, when the park is reserved for shelter dogs). It also features a small, single-dog area for individual training.
So, to you potential adopters, you volunteers needing a pet fix, or you who are curious about HOV, go check it out! As of last week, the shelter was hosting 175 cats and 43 dogs, all of whom would be delighted to meet you. Remember: nobody likes a Cat Critic or a Dog Snob.