Fall in Bozeman offers that Goldilocks zone for great road running: crisp temps, plenty of daylight, and no snowdrifts to bust through (yet). We've got races of every distance and theme coming up in the blessedly cool next few months—here are a few you don't want to miss. Stay up to date with the full race schedule at outsidebozeman.com/community/events.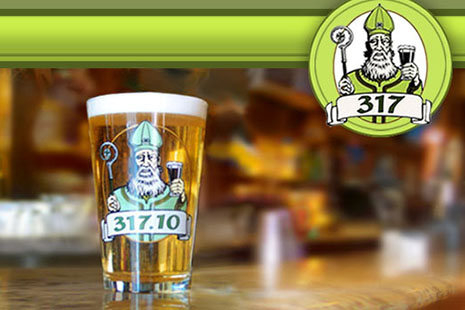 When: Late September / early October
Where: S. Rouse, downtown Bozeman
Time: 5:30pm
Race details: 8k run
Cost: $30
Beer is a close second to water when it comes to liquids that make us run better, and since the race starts at 5:30pm, of-age participants should finish up just in time to grab a complimentary cold one at the finish line. You'll earn that beer—this race encompasses Peets Hill and has been known to make more than one runner turn to their running buddy and gasp "What the F#@&?" It's worth it for music at the finish line, a lively atmosphere, and beer that make this a fall classic. Pub 317 is there with kegs in full force—costumes aren't required, but runners see their fair share of lederhosen as they huff and puff up the hill. Race organizers are looking for volunteers; check out the link below for contact info. 
Registration links can be found here.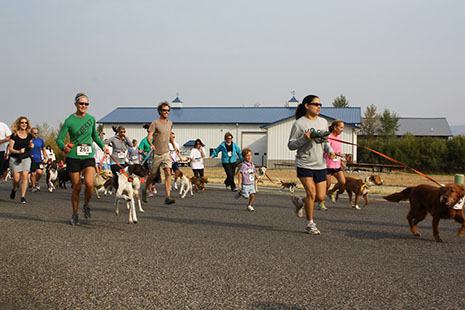 When: Late September
Where: 360 Pet Medical, Gallatin Park Drive (near E. Gallatin Rec Area)
Time: 9am day-of registration
Race Details: 10am 1-mile run, with dog in tow
Cost: $25 before 9/20; $30 after 9/20
You can't head out on a trail without seeing Bozeman's canine population taking their people for a run. Bozeman Canine Classic honors these enthusiastic running buddies with a race to make 100+ tails wag all the way across the finish line. Don't have a dog of your own? Never fear. Event organizers bring in pooches from local animal shelters for the dog-less among us. And if that running pal fits your style, there's always the chance to take him home. Last year, four out of the six shelter dogs were adopted within two weeks of the run.
This annual event raises money for local Montana animal shelters. This year, proceeds benefit the Humane Society of Beaverhead County and the Butte – Silver Bow Animal Shelter.
Register online here.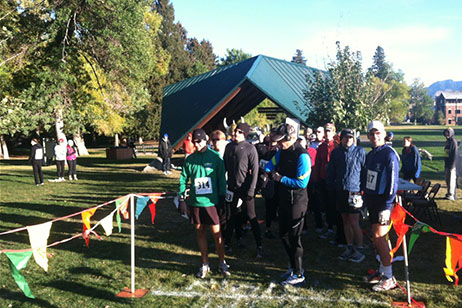 When: Late September / early October
Where: Lindley Park
Time: 8am day-of registration
Race details: 10-mile: 9am; Kids' run: 9:05am; 5k: 9:30am
Cost: $25/10-mile; $20/5k; $5/kids' run
It takes a village to put on an opera, and sometimes that village needs a wacky event to get the word out and raise money. That was the thought three years ago when Intermountain Opera Bozeman (IOB) started the Opera Run and declared, "it ain't over till the FIT lady sings." And sing she will—runners are serenaded by local and visiting opera singers throughout the course. This run supports IOB productions and outreach activities, offering local schools free and discounted programs to engage children in music, art, and drama.
The three distances have something for everyone: the kids' run loops through Lindley Park, and all pint-size participants get a Viking helmet to act out their pillaging fantasies with while the adults run their races. The 5k is an out-and-back on the Gallagator trail to the climbing boulder, and the 10-mile run travels from Lindley Park to the Sourdough trail, jumping on and off the trail network until it finishes on the same course as the 5k.
Registration form here, or call 587-2889 for more information.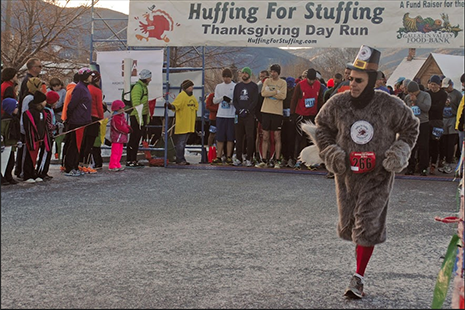 When: Thanksgiving Day
Where: Museum of the Rockies
Time: 7am race-day registration
Race details: Kids' run: 8am; 10k: 8:50am; 5k: 9:15
Cost: $25
While Thanksgiving runs are ubiquitous across the country, we like to think we've got ours dialed. In 2012, the race maintained status as Gallatin Valley's largest run/walk event with over 3,200 participants. Last year alone, Huffing for Stuffing raised $45,000 for the Gallatin Valley Food Bank. Chasing runners dressed in turkey costumes adds an element of entertainment, and all runners who "Smoke the Turkey" win special awards. Race officials work with Bridger Ski Foundation to groom the trails, ensuring they're wide and clear on race day.
This Thanksgiving, it's important to remember than not everyone might have a 30-pound turkey at their table. Supporting the Gallatin Valley Food Bank and working hard to earn your 2nd slice of pie sounds like a pretty sweet deal.
Registration links can be found here.