Riding West Pine to North Dry. 
This summer, head over toward Livingston to satiate your singletrack addiction.
In the past several years the Livingston Bike Club and many friends have been hard at work improving the West Pine to North Dry trail, and the results are fantastic. 
Vitals
Distance: 11 miles
Starting Elevation: 6,305 ft.
Ending Elevation: 5,992 ft.
Max Elevation: 8,784 ft.
Maps: Beartooth Publishing: Bozeman Area
Getting There
From Bozeman, drive east on I-90 to the Trail Creek exit. From the exit, drive about 14 miles on Trail Creek Rd. to the junction of Divide Creek Rd. Bear right, continuing on Trail Creek Rd. In 3.5 miles, take a right on North Dry Creek Rd. The trailhead is about another mile from the turn; park your shuttle vehicle there. Next, backtrack to Trail Creek Rd. Turn left and continue to West Pine Creek Rd. Turn left again and drive about 3.5 miles to the Forest Service gate. Take a third left and drive the last 1.5 miles to the trailhead. 
From Livingston, drive south on Hwy. 89 for about ten miles, then turn right on Trail Creek Rd. / Divide Creek Rd. Follow this road about five miles to the junction of Trail Creek Rd. Turn left and it's two miles to West Pine Rd. and another 1.5 miles to North Dry Creek Rd.
Trail Description
On the Park County side of the Gallatin Range, the West Pine trail has recently been reconnected to the North Dry Creek trail, which was re-routed a couple years ago, making for an epic ride of up to 17 miles. The ride from West Pine climbs up a series of switchbacks, across a meadow, and along a ridge with stunning views of the Absarokas as it alternates between the old trail and the new re-route.
Currently, the re-routed tread is very soft in places, which makes for some tough climbing. The tread needs to see more wheels, and some of the upper switchbacks will certainly need more love from an actual trail crew, as well.
At the top of the climb, about one mile of flat-but-technical trail gets you to the intersection of Forest Service trails 135 and 178. This climb tops out at 8,700 feet. Go left (southeast) at 135, the North Dry divide. You'll then begin the eight-mile descent on the North Dry Creek trail. This is a long descent beginning amidst the remains of the 2001 Fridley Fire, and eventually winding through some beautiful wooded areas. You'll emerge from the woods pedaling uphill to the "upper trailhead."
It's a short climb to the right from the upper trailhead over and then across mostly re-routed trail. Pedal through two gates—be sure to re-close them—and you're on to the last section of descent, built in the spring of 2015. This last section is two to three miles of downhill delight. You'll end by crossing North Dry Creek and arriving at the lower trailhead. 
Now you just have to retrieve your car. It's about 1.5 miles north along Trail Creek Rd. back to West Pine Creek Rd., then up to the trailhead and your car at the starting point.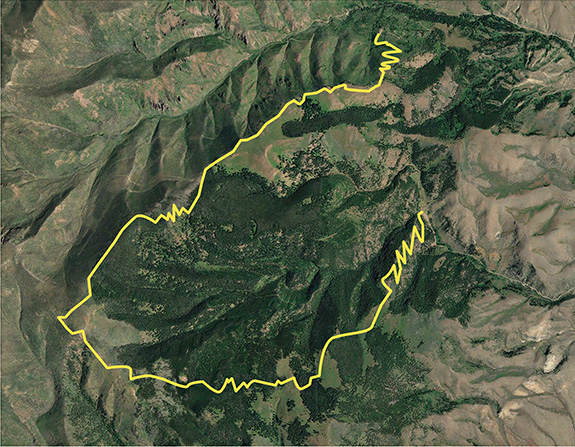 ---
Jeff Mazer is a volunteer with the Southwest Montana Mountain Bike Association and the Gallatin Valley Land Trust. For more information on trail-building, maintenance, and mountain-bike advocacy, visit southwestmontanamba.org.