An O/B newbie tries CrossFit.
CrossFit: the word alone makes me cringe. All I can do is think of reasons not to try it, especially on my first day of work. My muscles could seize up; I could collapse with fatigue. I might get publicly ridiculed – or worst of all, I'd throw up. But I overcame my fears and joined the rest of my new colleagues at CrossFit Belgrade for a workout I won't soon forget.
CrossFit is based on elements of all sports and physical activities, with "constantly varied functional movements performed at relatively high intensity," according to our coach, Terri Sipes. If you've never done it before, you can expect a variation of different stretches and exercises, usually done in three sections. Here's what we did:
Warm-Up
-stretch arms and legs, loosen up
-leg kicks
-spider crawls
-lunges
-20 shuttle runs
-partner wall-balls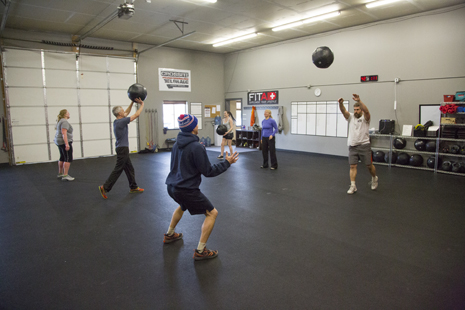 Just warmin' up, by hurling medicine balls across the room...
Main Exercise
10 thrusters, 15 pushups, and 30 lateral jumps – three sets, in rapid succession, for time
Cool Down
Partner-up and alternate between planks and situps for four minutes, switching when you can't take it anymore. The team that does the most situps wins.
O/B crew gettin' fit.
The workout kicked our asses – at the completion of the last rep, each one of us took a knee or collapsed to the floor to catch our breath. I could see how the combination of athleticism, strength, and stamina would better prepare me – by cross-training – for outdoor pursuits like skiing, hiking, and biking.
Any CrossFit is a tough workout for sure, but we made it easier and more fun by going with a group – and it helps if everyone is fun, upbeat, and energetic. I found that the camaraderie, competition, and fun provides intensity that can't be matched by other workouts. And hey, like most all things in life, you gotta go into it with a positive attitude. Don't get down, do whatever you are comfortable with… you showed up, that's half the battle! So go on, train with CrossFit this winter so you can kill it on the trails come spring and summer.
---
For more information, visit crossfitbelgrade.com.