The benefits of hiring an outdoor guide.
They're handy for breaking into a new sport, even handier for learning more about the ones you love, and southwestern Montucky is crawling with them. They're guides, and they're ready to fix you up with the gear and know-how to try something new somewhere new.

Yes, You Actually Will Learn Something
In the fall, that could mean anything from testing a new fishing fly on the Maddy to running the rapids in Yankee Jim Canyon. And besides just getting you there, guides teach you a thing or two—no matter how much you think you already know. Randy Roberson, owner of Yellowstone Vacations explains, "Locals who grew up in the area come off of their first guided tour and say, 'I had no idea what I didn't know about Yellowstone—the history, volcanic activity, thermal features, wildlife…'"

"Guides get all the equipment, which is ideal if you might just want to try the sport once," adds outfitter and guide Jason Matthews, owner of River Source Outfitters. "We're professionals—we've got the skills to get you to places you can't go otherwise."

A guide is often worth the cost for safety reasons alone. Although all outdoor activities carry inherent risk, guided or not, education and guides trained in first aid help minimize that risk. Almost all guides carry some sort of certification, but Matthews argues, "A truly professional guide is beyond competent at guiding, and when it comes to problem solving, he's MacGyver. Problems always develop at some point. That guide better figure out how to splint your broken leg with river paddles and some rope."

Guided rafting customer Milo Duke agrees. When his inflatable kayak got sucked into a violent whirlpool, he lost his paddle and then the kayak. The guide thought fast and got the newbie to the lead raft safely. Without the guide? "I would have died. I mean, it was my first day on the river—ever."

How to Find and Appreciate a Decent Guide
To ensure your guide is a good one, call the Forest Service first. They check to make sure that guide services are permitted in the area, meaning they carry insurance, certification, and basic first aid. Next, get referrals from local outdoor stores.

Don't forget to reward your guide. Remember, they spend plenty of unpaid time in the offseason polishing skills and building knowledge. Though all tips are appreciated, 10%-25% of the total cost of the trip for all people in the party is a good guideline. Hunting and fishing guides tend to get slightly higher tips. Matthews says the rule goes, "If you're going to be killing something, tip more."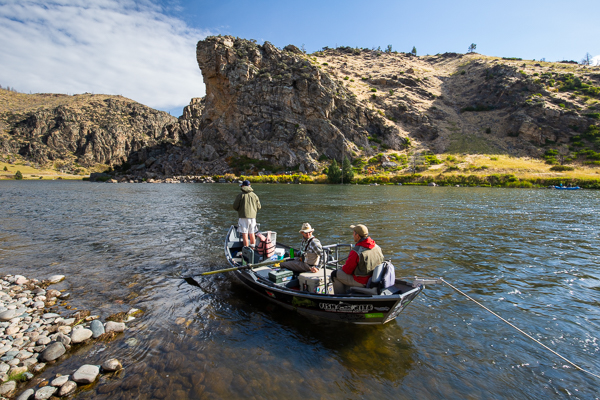 Because outdoorspeople can expect education, safety, and a personal, friendly attitude from their guides, there's one thing guides expect from their clients. "Know what you are getting yourself into," says Matthews. "I've had hunters show up not realizing they needed to ride a horse 18 miles into the backcountry; people arriving for whitewater rafting with the impression that it's a calm, scenic float; hunters thinking an elk is guaranteed…In some cases the outfitter is failing, but in some, it's the client. Do your research."

Still, most patrons find the varied unexpected surprises of guided trips pleasant. "I've never eaten as well as I did on the river," raves a customer named Duke. "The guides cooked Cornish game hens in dutch ovens and baked peach cobbler . . . and everything had beer mixed in!"

"Still," adds Duke seriously, "it was disconcerting to know that if something went wrong, the only way out was to float the rest of the river—for days."

That's a good time to have a guide handy.