Gearing up for life in the rain.
At 11,000 feet, having only marginal rain gear during a storm can be life-threatening. On the other hand, if you're hiking for several hours in the rain, you're going to get wet, no matter how awesome your new parka is. So what to do? Prepare, prepare, prepare.

Shelter
A medium-sized tarp or fly can be a real trip-saver. For under two pounds you've got more camp comfort than any other piece of gear—except perhaps a Crazy Creek chair. Rig the tarp with tie-downs ahead of time and pack stakes. You can set it up in minutes by tying it to trees when the storm is looming, and viola, you have a dry place to sit and watch the storm rage, cook and eat your dinner, sip your cocktails, and tell lies late into the evening instead of lying in your tent, forced to sleep or read. The tarp is particularly handy for parties of three or more, making for a social evening rather than a too-long night in the greasy sack.

Seam-seal the tent at home before the trip. Set it up in the yard on a nice day and test its impermeability by running the garden hose over it, preferably with someone inside.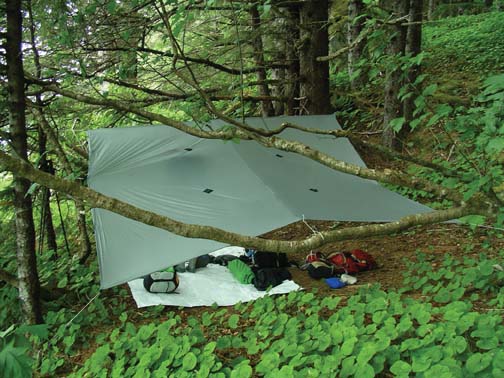 Packs and Gear
Don't leave your pack cover at home to save weight, unless you're headed into the desert. Most packs lose their waterproofing pretty quickly, and with a good pack fly you don't need to worry about it. ALWAYS protect your sleeping bag—a garbage bag will do the trick. Also, wrap your dry clothing in a waterproof bag, which can double as an emergency rain jacket (cut three holes in it). If you get wet while hiking, so be it. Plan to change your clothing as soon as you get to camp. If it's still pouring, you might want to erect a shelter before you change into dry gear.
There are plenty of waterproofing products out there—either spray-on (for tents, tarps, and packs) or wash-in (for clothing). Nikwax makes a spray that will waterproof your tent and protect it from UV rays. Again, plan to waterproof your gear at home—rather than in the field—unless you're out for an extended boat trip.

A sea kayak is easy to seal up. For a raft, make sure everything is in dry bags or coolers. My wife and I are canoeists and we have a custom boat cover for our Mad River canoe. The cover snaps on in minutes and cinches around our waists, creating a very cozy, sealed-up boat. The cover is also good for whitewater boating, but we've used it more for rain and snowstorms. And of course the clothing and camping gear go in dry bags, because you're going to get some water in the boat no matter what.

Body
Waterproof footwear is essential. Nothing takes longer to dry in the field than wet boots, so waterproof them at home. I like Sno-Seal the best; make sure it soaks into the leather by warming the boots in a low-temperature oven or in the sun. For synthetic boots, use spray-on waterproofing.

It's not hard to stay dry when boating, assuming you stay upright. Wear boat shoes and plan to get your feet wet. For a longer trip or wetter conditions, pack insulted rubber boots for wearing in camp (NOT in the boat!).

On the trail, use a good set of waterproof, knee-length gaiters to keep the water out of your boots. If your trip involves difficult creek-crossings, you may have to wear your boots into the water, unless you have good water shoes with you. Forget about wading barefoot with a full pack—you can't afford to injure your feet. Fortunately, soaked boots still work, and synthetic, lightweight boots will dry within a few hours.

Rain pants are better suited to sitting in camp than to actually hiking, unless the weather is pretty severe. If it's fairly warm rain, wear your shorts and plan to get wet, but keep the warm gear dry in your pack. After a rain when the bushes are wet along the trail, try wearing some gaiters and shorts. The gaiters will help keep the water out of your boots and socks. To test your rain gear, wear it in the shower.

Last, keep your food dry in a good stuff sack or cooler. When you hang it at night, waterproof it as best you can—any opening in the top of the bag will funnel rain water right into your food supply. Nothing's worse than soggy Pop-Tarts.
---
Guide and naturalist Phil Knight has spent 25 years exploring, and staying dry in, the Greater Yellowstone Ecosystem.