Approach Distance: 3 miles
Approach Gain: 1,600 feet
Skiable Vertical: 600 feet
Duration: 2 to 4 hours
Distance from Bozeman: 25 minutes
Avalanche Hazard*: Low
Traffic: Heavy
Overview
Lick Creek offers a casual tour close to town, with excellent views of the northern Gallatins across Hyalite Reservoir. The gradual approach and low-angle skiing terrain make this a great choice for beginners, groups with four-legged friends, or anyone looking to make some powder turns when an unstable snowpack puts steeper slopes out of play.  This area has become very popular in recent years, so hit it right after a storm for fresh tracks.
Directions
Head up Hyalite Canyon Road for 8.5 miles and turn right into the parking lot for Lick Creek. If the lot is full, park in the pullout 1/4 mile ahead on the right.
Approach
Skin down the road or through the trees opposite the parking lot to FS 452. Follow this for a quarter mile and go left at the fork up FS 455. After two miles, break left off the road to continue along the creek bed for half a mile to the base of "the Lick," a long, gently sloped clearing. Skin up the climber's right side of the Lick to a saddle at 8,000 feet. Gaia GPS route here.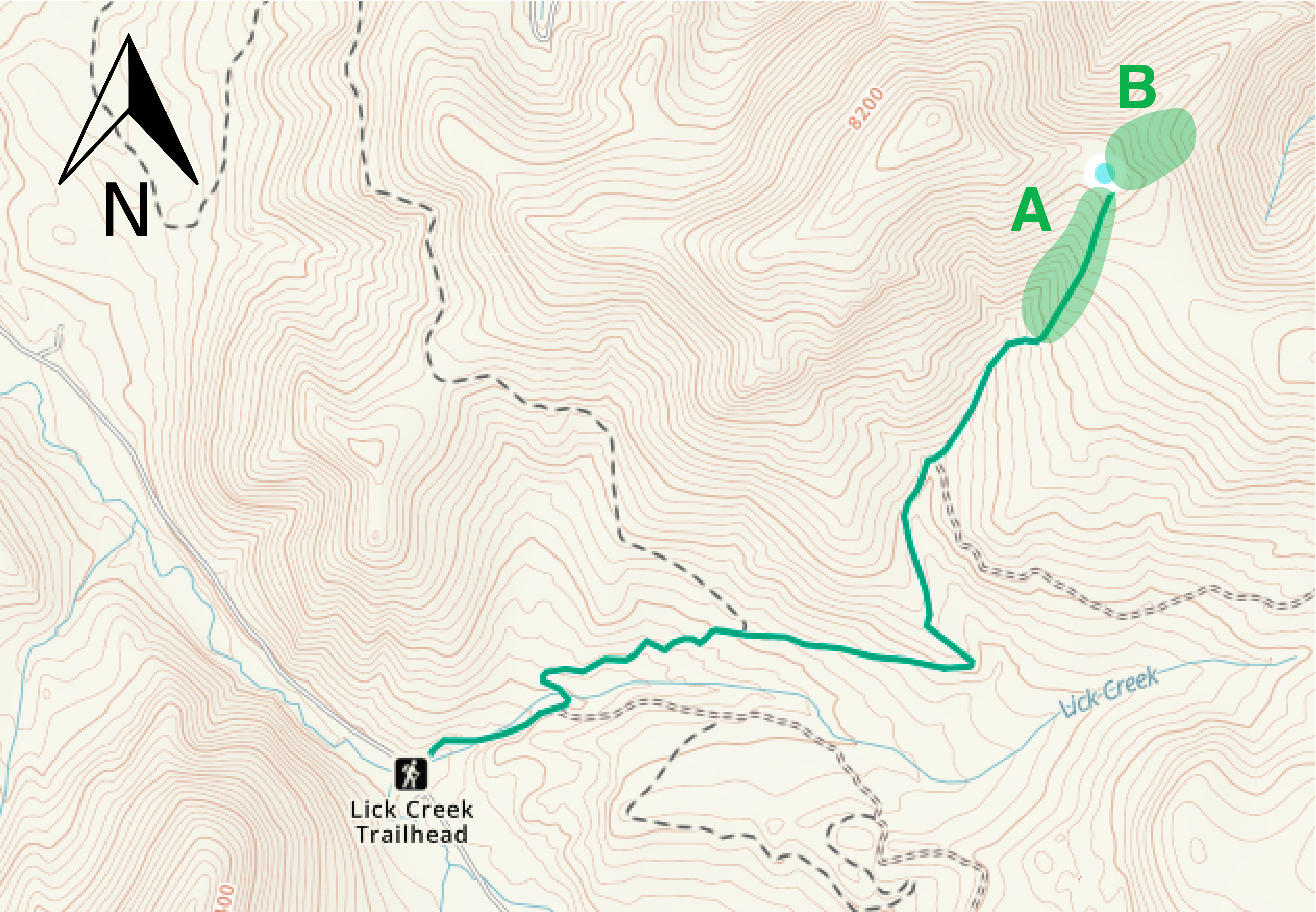 Descent
The obvious main descent (A) follows the Lick back down the same way you came up, on a southwest aspect that's perfect for catching late-afternoon sun. If you're looking for more skiing, take a short run down the backside (B) on a northeast aspect towards Bozeman Creek.
*Avalanche hazard refers to terrain risk only. Always travel with rescue gear, evaluate conditions carefully, and check the forecast before heading out.