Sunset Hills & Highland Glen Nordic
Distance: 7 miles of trail loops
Popularity: High
Elevation Gain: Up to 450 ft.
Groomed: Yes
Distance from Bozeman: In town 
Overview
Sunset Hills and Highland Glen are staple cross-country trails, and for good reason. With three distinct areas and four separate points of access, these groomed runways are a Nordic nut's paradise. The Bridger Ski Foundation has been grooming the area since the 1960s, but in 2020 they installed portable snowmaking machines across three miles of trail, making the possibility of prime conditions that much more likely.
This one's no secret, and if you're searching for solitude, you'd better look elsewhere. That said, the quality of the skiing is hard to beat. With both natural and man-made features and prisitne corduroy to boot, there's really no wondering why it's Bozeman's cross-country centerpiece. Get in a few fitness laps before or after work, or, wait till the sun drops and strike out in the dark. The close proximity to the city lights make for a rather comfortable night ski.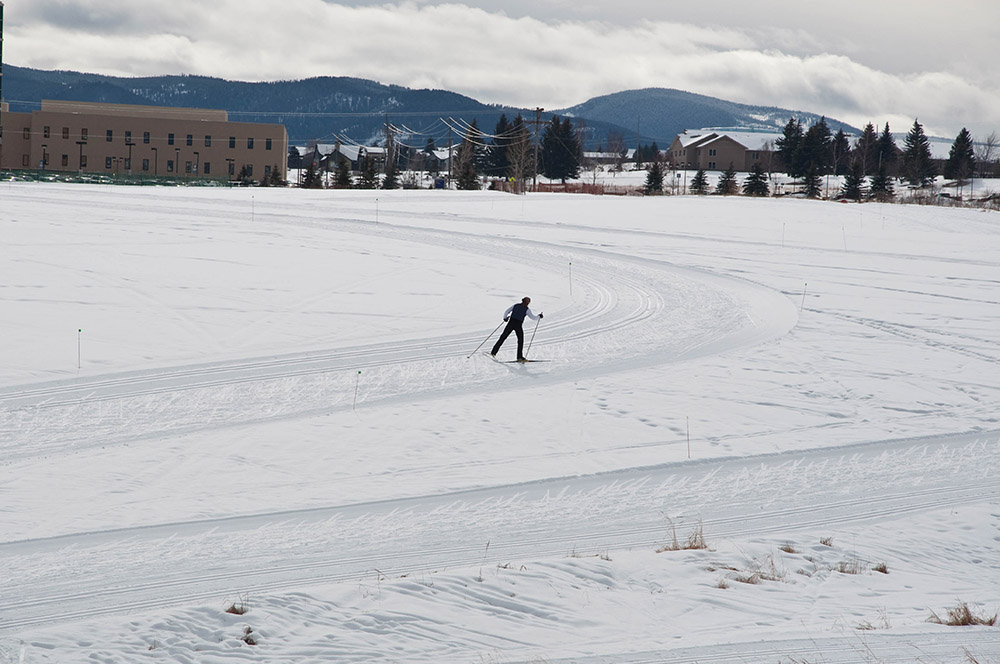 Directions
There's a number of ways to access this playground and a variety of loops possible with each one. The northern most access is Lindley Park. From the Lindley Center, head south toward the hospital and you will run into the Main Loop. As named, this is the area's most popular trail. You can also park near the softball fields on the east side of Highland Blvd. Jump across the road for the Main Loop or take the Highland Glen connector trail south to access the Ranch and Serpentine Out Loops. If you'd like a little more elbow room, take Highland down to Kagy, spin a left, continue for about a mile, and park at the Painted Hills parking area. From the trailhead, cross back over the road and hop on the intermediate Kagy Loop. Spin laps to your heart's content.
Editor's Note: These trails are not free to maintain. Please consider buying a BSF trails pass to support the upkeep of this awesome network.