Seeking The Glass Slipper
After a weeklong vacation, in which I may or may not have over-indulged on food-truck cuisine, fresh seafood, and mouth-watering maple-bacon doughnuts, my pants were feeling a little tight on the ride back to Bozeman from the coast. Despite my love for deep-fried pastries with meat, the date for the Bridger Ridge Run is looming nearer, and my training has reached a very low plateau. After my return to Bozeman/reality, I knew I needed something to kickstart my spring training. What better way to reignite the motivation than purchasing some new running shoes? I convinced myself that marathon training included retail therapy and I headed over to the trusty crew at Bozeman Running Company.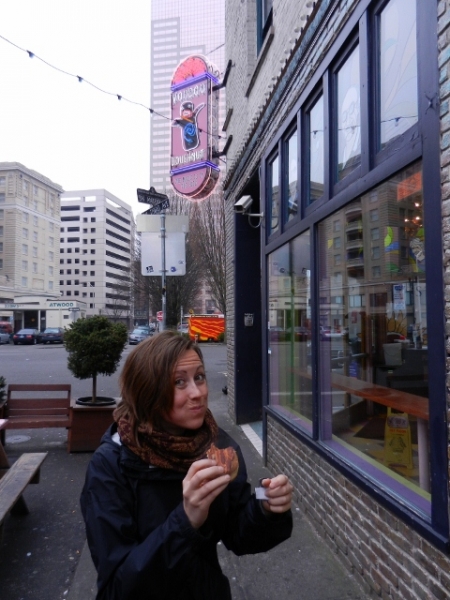 I stood next to Adam Behrendt at BRC and looked at the rows and rows of brightly colored shoes with confusion. "Ok, narrow it down," I said, while trying to understand the aesthetic appeal of a neon-orange shoe. "First," Behrendt said, "There are road shoes and trail shoes." Only two categories? Easy. But then it got trickier. Casey Jermyn, owner of BRC, explained that within the trail and road categories, the shoes are classified as neutral, stable, or motion control. This means that shoes are designed to work specifically with, or against, a specific gait and style—a runner with a tendency to roll her ankles out will need a different type shoe than someone with a straighter stride.
Too confused to choose, I asked Adam to pick whatever he thought I would like best. He returned with three very different shoes of varying colors, shapes, and styles. I laced up the first pair and headed out for a jog. My toes hit the end of the shoe, and the hard ground reverberated through every bone in my body. I returned with a confident "Nope!" The second pair felt like slippers, with almost a half an inch of cushion and plenty of wiggle-room for my toes, but they seemed so boxy. I liked the soft feel, but it looked like I was wearing Kleenex boxes on my feet. The third pair had a slight lift in the heel, were cuter than the others (aqua blue!), and pretty slim… but stiff as shackles. I sat back on the bench feeling defeated and overwhelmed.
I sat slumped next to the pile of unlaced shoes long enough for my shopping companion's patience to dwindle, and not so subtly. "Well, you said your feet hurt, so get the ones with cushion," she said as she tossed me the Kleenex boxes. Her advice addressed the main issue I was having running—ignoring color, style, and price. Although I may have wanted the pretty blue ones, she was right—I needed to follow the advice of the guys at BRC and go with the pair that best fit my foot.
Shoe shopping was stressful enough, so I put off running in favor of a brewski at 406 Brewing. Although I was still dreaming of maple-bacon doughnuts, the comfy new shoes certainly motivated me to test them out on a jog later that night. As I ran along my route, wondering if these shoes would carry me to the finish line for my next race, I remembered the words of John Medinger, publisher of UltraRunning Magazine: "Ultimately, it's not the shoes, it's the runner in them. You could put [ultrarunner] Geoff Roes in a pair of Jimmy Choo stiletto pumps and he would still beat most of us."
Walk A Mile In My Shoes: Running-Shoe Shopping Tips
Throughout the years I've purchased running shoes at specialty shops, strip malls, garage sales, and thrift stores. Needless to say, some pairs worked out better than others. Here are a few simple guidelines that may make shopping for running shoes a little less painful.
Seek Out The Pros:
1) Go to a real running store. These people love to run, love to talk running, and have seen lots of feet. They will give you an educated opinion on what shoe would work best for you. 
Educate Yourself:
2) Do some research, even if you think you know what you want. A shoe's a shoe, right? Not exactly. One physician may say you need arch support, while another says it will cripple you for life. One runner may say minimalist is the way to go, while another is on bed-rest from barefoot-related injuries. Read some articles (utrarunning.com has some great ones), check out some books (I really liked Born To Run by Christopher McDougall), and watch some video footage of professional runners to study their style and footwear choice.
Salty Advice:
3) Finally, take everything with a grain of salt. Everyone has an opinion and I'm shocked at how many sedentary, non-runners lecture me on running. The best thing to do is to experiment with different types of shoes and find out what works best for you. Unfortunately, running shoes can cost as much as a half-month's rent, but there are sales every season, and chances are you don't need a $200 pair of shoes anyway.
This is part five of a series about training for, and (hopefully) running the Bridger Ridge Run (on August 10), by Jenny Sheets. See part one, part two, part three, and part four