A weekend at Montana's outdoor multiplex.  
"In the spring," Tennyson famously penned, "a young man's fancy lightly turns to thoughts of love." That may be true in the city, or in the insipid suburbs; but around here, there's more than amour to titillate the winter-weary soul. With warm sunshine in town and snow-covered peaks high above, spring in southwest Montana screams multisport—that time-honored tradition whereby two or even three outdoor activities are ticked off in a single day. 
Now this'll tickle your fancy. Just a scant 90 miles away lays a fantastic multisport option: West Yellowstone. Sure, the weather can be dicey; but you're a Montanan, for crying out loud—quit yer snivelin'. Zip up that puffy, load up the car, and point your wheels south, where a big wide world of outdoor activity awaits. 
Biking
First and foremost is a cycle-tour of Yellowstone. For a short time in April, the Park Service opens certain sections of road only to bikes and other nonmotorized travel. Starting from West Yellowstone, you can pedal all the way to Mammoth Hot Springs, sharing the landscape with bison, elk, hawks, and herons. This is the Park at its finest: quiet and calm, bereft of the human hordes that otherwise overload the roads. Stuff your pack with water, grub, and extra layers, then mount your two-wheeled pony and ride on in.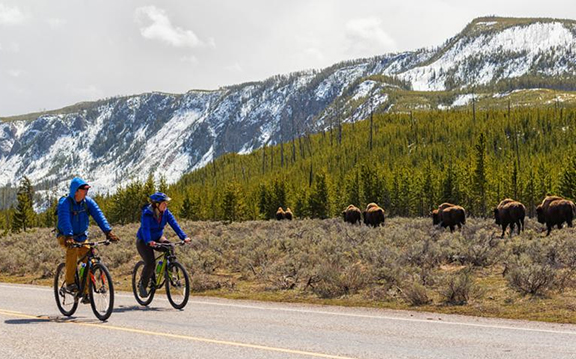 A bike is a great equalizer, and you'll meet a variety of kindred spirits enjoying this singular national-park experience. On our trip, we encountered a dozen other cyclists over the course of the day: sleek road-bikers speeding past in a blur of nylon and lycra; young couples on mountain bikes, trundling along with overloaded daypacks; and a smattering of middle-aged locals on townie bikes, sporting blue jeans and buoyant smiles. Regardless of the ride, everyone's here for the same reason: to enjoy a mellow ride with abundant wildlife and beautiful vistas. The kinship is palpable.
Insider tip: Caffeinate pre-ride at the coffee counter inside Freeheel and Wheel, just across from the Chamber, where you'll park your rig for the day. Afterward, imbibe hefty burgers and cold beer at the Buffalo Bar before heading to your motel room or campsite.

Fishing
This is the off-season in West, meaning out-of-state anglers have yet to arrive. Save a few diehard locals, you'll have the water—and the trout—to yourself. The fabled Madison River meanders out of the Park just north of town, and the upper Gallatin's just a short drive back up the canyon. When the ice begins to melt on Hebgen Lake, stroll the shoreline and get ready for action—big browns and rainbows cruising the shallows will hammer your fly, sending a surge of excitement through your body. Be sure to beef up the tippet; one scrape along the ice shelf could sever your 6X and make you scream aloud in a blood-curdling mix of despair and indignant fury. 
Insider tip: If the dirt roads are closed on the south end of Hebgen, drive the paved road on the north side and use the land-ownership overlay on your GPS to find access points. Start with small dry flies—midges and gnats—and then switch to streamers.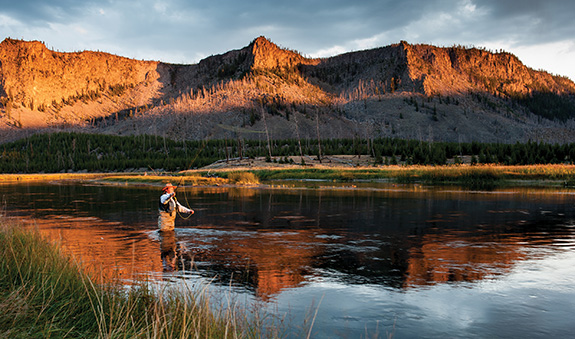 Skiing
Spring comes late to West Yellowstone, and April may see many of the roads and trails still covered in snow. If you're not quite ready to let winter go, strap on some Nordic skis and hit the Rendezvous trails on the south side of town. Or drive back up Gallatin Canyon for a backcountry tour; Telemark Meadows is a good place to start, but plenty of other options exist. If you're feeling adventurous, open a map and strike out into parts unknown—national forest land surrounds West Yellowstone, and spring snowpack is generally stable. Check the avy forecast and beware of wet slides, which are less common but harder to escape when they do occur. 
Insider tip: Island Park, another 30 miles south, often holds snow well into May, and public land sprawls outward to all sides; just park your rig, strap on skis, and go.

Indoors
No small-town tour would be complete without a stop at the signature local attractions, and West Yellowstone's got some doozies. The Yellowstone Historic Center is the requisite cultural hub, and both the Grizzly/Wolf Discovery Center and the IMAX theater will keep you engaged and entertained. But for a real blast, so to speak, stop into West's most unique offering, Big Gun Fun. Shoulder an AK-47, rip rounds from a Tommy gun, and pepper targets with bullets from an Uzi. If that doesn't put a smile on your face, there's something very, very wrong with you. 
---
Hebgen Hotspot
The weather in West is notoriously unpredictable, so it pays to have a roof over your head and a warm bed waiting after a long day outside. One of the best basecamps we've found for a wide-ranging spring multisport is the Johnson Creek Cabin, off Hebgen's north shore.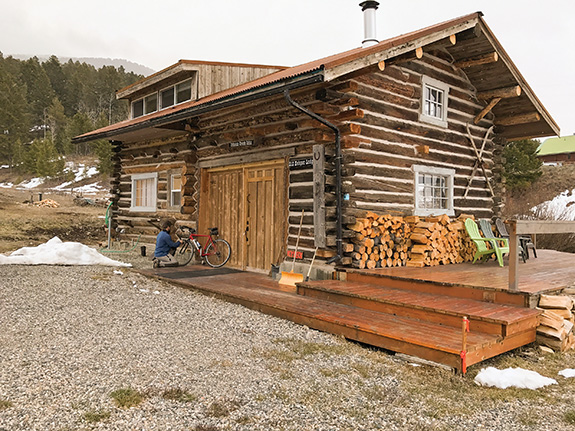 Simple and cozy for a couple, yet spacious enough for a small group of friends, this smartly remodeled old barn conjures the Park's rugged past while providing all the comforts of contemporary life. Peruse old pictures reflecting the history of the place—construction of the Hebgen Dam, the great earthquake of 1959—before taking a jaunt down to the lake, rod in hand. To get the blood pumping, ride your bike along the shore, or hike up into the mountains behind the cabin. Then come back, stoke up the woodstove, and take your adult beverage of choice out onto the deck for sweeping views of the lake and snow-covered peaks rising beyond. If you're lucky—or unlucky, depending on one's constitution—you'll see a few buffalo roaming outside the cabin. And who knows? With all these options right out the door, you might just stay here all weekend. For more info or to book a stay, visit vrbo.com/2080614.