Jelt Belt keeps Bozemanites from cracking. 
Meet Jennifer Fait Perry, self-declared tomboy ("it's amazing that I haven't grown balls yet") and proud founder/owner/inventor of Jelt, Bozeman's adventure-belt company.
O/B: Tell us about the moment you decided to launch Jelt, and spare us no details.
JFP: Honestly, I've been mooning people for years—who decided we needed MORE spandex in jeans? But, I sat on the belt idea for a long time. The turning point came after my near-death appendix rupture, which inspired me to volunteer for Thrive. There, I saw how much companies could donate and that sealed it. I decided to start my own business, so I could give back more, and employ locals.
O/B: So why this product and company?
JFP: Pure necessity. I needed something to hold my pants up—not just my jeans, but my hiking shorts, ski pants, and mountain-biking shorts. And I needed something grippy and low-profile—no buckle-bump. Everyone needs a belt, especially if you don't think you do. "You need this." That's my trademark—for real!
O/B: Why are you the woman to solve this problem for all of humanity?
JFP: I guess because I have the balls to do it. A lot of people have ideas for inventions and just never follow through. You hit this point in your life when you want to create something—you want to be pushed and roll the dice. But there's never just one thing. I wanted to be the next great American screenwriter—but can I sit at a desk and look at a screen all day? Will I be able to eat...? So, belts it was.
O/B: Had you ever owned a company or built a product before?
I didn't know shit about business. I worked at MSU, as an academic advisor; I was a scholar with a master's degree. But my family is filled with entrepreneurs—my brother is the Sausage King of Costa Mesa, and my Dad has a lot of successful businesses. So, I proved to my Dad and my brother that I can make something and sell it to thousands and thousands of people. 
O/B: How did you prototype and build it, initially?
JFP: I looked up retro belts from the '70s and '80s on eBay, along with a designer. Then I cut out the powder skirt on my ski jacket to see how it worked, which I definitely regret now on powder days. I thought about those retro rainbow belts I had as a kid. Customers helped too, trying it out skiing, biking, ice-climbing, fishing, and hunting. Of course. It's Bozeman. People are always asking me if someone's used it for rock climbing or fat-biking. Even I put it on my ski pants first thing. The buckle is patent-pending, a unique design. I was trying to think of how I could get it to stay as flat as possible, which is why I looked at a lot of different designs from yesteryear. We had cooler designs in the '70s and '80s.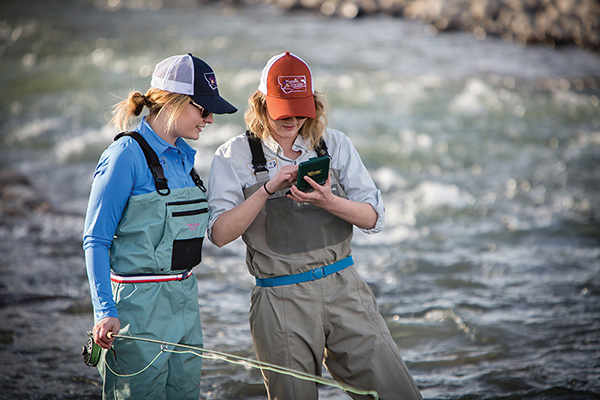 Style and function: Jelt Belt trademarks.
O/B: What's the most hardcore thing that anyone's used a Jelt for?
JFP: This badass local bowhunter gal, Chase Bockhahn, took our camo belt bow-hunting in Africa.
O/B: You've got a new product with a unique production story—fill us in.
JFP: For people who wear Carhartts, or heavy-duty ski-pants, or are just brutal on their stuff, I made Jelt Extreme. It's made in the women's prison in Billings—by all means, I'm going to work my ass off to get that thing made in Montana. It took a year of negotiations and contracting to get it made there and finally into my hot little hand. It's such a strong product—they do the best craftsmanship. For the record, it's not a chain gang. It's a privileged, voluntary program that helps repay prisoners' restitution, pay child support, and build personal savings, all while training women on a new skill. Currently, the men's program is waaaay better funded. I'm trying to get these ladies on the map.
O/B: What about the belt's environmental angle?
JFP: Jelt is made from recycled waterbottles that are woven into super-strong elastic. All the packaging is from recycled materials, too.
O/B: You also support multiple nonprofits—tell us why you couldn't just choose one.
JFP: Because we live in Bozeman and there are more nonprofits here than anywhere else. I love nonprofits and everything they do. Officially, we give $1 from every Jelt sold to Warriors and Quiet Waters, which supports post-9/11 combat veterans.
O/B: So you're more than belts these days—why did you expand into new products and what's next?
JFP: I make some fun hats and shirts and that's just a way for people who already own every single Jelt to show the love. Our hats are also made in the women's prison. 
O/B: What does the art on the new shirts depict?
JFP: We have the tram, a Mohawk (it's Glen Plake-ish because I didn't ask his permission). I grew up skiing in the '80s and '90s, so the belts are nostalgic and these designs are nostalgic, too.
O/B: Why do you choose to keep your company headquartered downtown?
JFP: I've lived here for 22 years. My kids were born here. I love it here, especially the energy and community downtown. Random strangers recognize me, flip up their shirt to show me their belt, and yell, "I'm Jelting!" in public. I can't imagine living anywhere else.
Sure, if I lived somewhere more populous, Jelt would be bigger and grow faster. It is no joke being a female business owner in a small town. I'm ready for the challenge, though, because I am NOT moving. 
O/B: What do you wish Jelt could say to Bozeman?
JFP: We all say we support local business—but let's really do it. Shop downtown and buy from local companies. It makes a huge difference in our communities because that money goes back to our town. If you're on the fence, think about where you truly want your money to go.
O/B: Well put.
JFP: Oh good, I said something right. Wait… did I mention "you need this," trademark Jelt Belt?
---
Visit jeltbelt.com for a list of retailers in Bozeman and Big Sky.