Running The Bangtail 38k 
My neon running shoes scrambled over the rusted cattle guard and dropped into the second aid station for the Bangtail 38k trail race. I scarfed a few pretzels and pieces of candy and wondered why I wasn't more tired, which of course made me start second-guessing my positive mood: Uh-oh, did I start too fast? I haven't even reached the summit! Am I so dehydrated I'm delusional? I had no watch, no GPS, and essentially no clue where I had come from or where I would be going; I loved it. An older man huffed and puffed up the switchbacks in front of me as I popped some M&Ms into my mouth and I heard him yell to no one in particular, "Half way!" Wait—I was almost halfway? And then I heard a girl coming into the aid station behind me: "Whew! Alright, been about two and a half hours from the start." Two and a half? Suddenly I felt a burst of energy. I thought I would be finishing the race somewhere between six and seven hours; at this rate I might finish in five! I threw the remaining food in my mouth and sprinted off, preparing for the last steep climb before the long downhill to the finish line.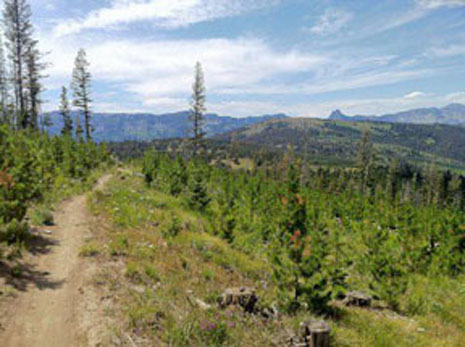 This is just a training race for the Ridge Run…this is just a training race… just training… I kept reminding myself of this before the race started. I looked around at the other runners, noticing some of the biggest names in trail running from the Bozeman area. My stomach flip-flopped as I waited in the long bathroom line. "Six minutes 'til start!" Adam Behrendt, the race director from Bozeman Running Company called out the minutes until race start, making all of us in the loo queue a little nervous. Some people threw in the towel and hopped in line, but I knew better. I waited and waited, ("One minute!") and found myself the last person at the start as the gun was fired and everyone took off.
It wasn't the best start, but it gave me time to evaluate why I was here: to train physically and mentally for the Bridger Ridge Run, only one month away. I had never done a long trail race. I had no idea what to expect. As I ran up the smooth singletrack switchbacks, I visualized myself easing into the Ridge Run up to Sacajawea Peak. By the time the Bangtail opened up to a spectacular view of the Crazy Mountains, I could picture myself passing over Sac and onto the backside of the Ridge. But as I ran through gorgeous wildflowers and flat meadows on the Bangtail Divide, the reality set in that I would not be graced with flat floral meadows atop the Ridge; I would be stumbling over jagged shale and crawling across scree fields as I tried not to fall off the mountain.

After skipping through fields of lavender, practically singing to myself as I ran, I finally reached the last aid station. A jovial hippie family filled water cups and handed out fruit with words of encouragement: "Only seven miles to go!" Seven miles may seem like a lot, but after just completing 17, it sounded like a cakewalk. The girl next to me at the aid station said she was feeling sick, so I handed her a ginger chew and sped off, feeling invincible. Eventually she caught up with me and we chatted about the possibility of finishing in under five hours. Conversation progressed to the after-party, how many slices of pizza we'd devour, and what cocktails we'd order later that day. We passed the paramedics on bikes who shouted, "Lookin' good! Almost there!"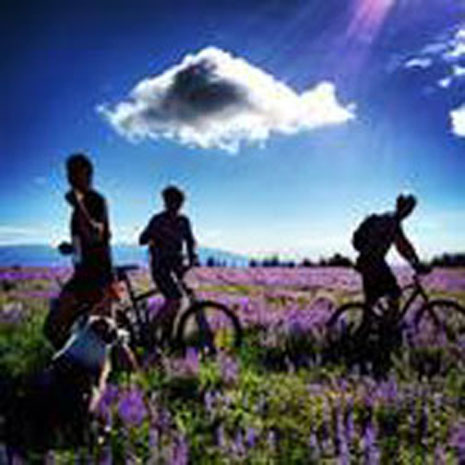 Before we knew it we were coming in for the final few miles. I imagined my sore legs carrying me down Mount Baldy on the final stretch of the Ridge Run, five miles shorter than the Bangtail but also five times more difficult. We heard our names announced as we rounded the final corner and heard people cheering as we crossed the finish line over the babble of Bracket Creek. Four hours and 48 minutes! My new friend and I hugged at the end, thanking each other for providing a great distraction and an even greater post-race menu. I couldn't wipe the smile from my face as I watched other runners pour in. 24 miles—I did it!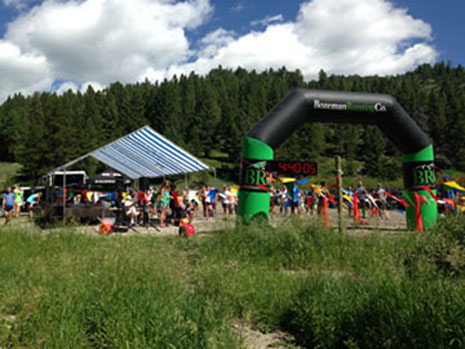 I jumped in the creek fully clothed and embraced the moment of camaraderie, nature, and a blissful runners' high. Later that day and week I waited for the pain to hit: sore legs, stiff back, blisters, toe nails popping off in the shower. But it never came. I couldn't believe this phenomenon—I had finished the race almost two hours faster than predicted, I had a blast, and I felt no pain. I don't want to jinx myself, but, could this mean… possibly… that I'm ready for the Ridge Run? Now with August 10 circled in my calendar, creeping closer and closer, I'm trying to prepare mentally for the race rated "most raw exposure" in the nation. It will undoubtedly be brutal, difficult, and a physical and mental feat of strength, but the Bangtail 38k provided me with some much-needed self-confidence. If I just tell myself it's a day in the mountains and envision Hawaiian pizzas and GFCs at Plonk, I think I may enjoy myself.
Just a few days to go…
Click here for more races to add to your 2013 calendar or here for interesting stats on the Ridge Run and other local races & racers.