Canine colleagues in southwest Montana. 
All over southwest Montana, dogs are working on our behalf to protect threatened wildlife, conserve sensitive landscapes, and enhance our outdoor-recreation experience. Skilled handlers and trainers are capitalizing on the innate abilities dogs possess, redefining what it means to be a member of the pack. 
Working Dogs for Conservation
A love of dogs and an appreciation for their extraordinary olfactory capabilities has grown into a cutting-edge business venture with a global impact. Building on techniques from search-and-rescue operations and narcotics and cadaver detection, four conservation professionals—Megan Parker, Aimee Hurt, Deborah Woollett, and Alice Whitelaw—masterminded and co-founded Working Dogs for Conservation (WD4C) in the mid-'90s. Initially a fee-for-service conservation effort to help eradicate noxious weeds, the science-based nonprofit used unwanted shelter dogs to pioneer proprietary training methods. Impressively, WD4C dogs were the first to find invasive plants, insects, and fish, detect wide-ranging carnivores non-invasively, and slow down the poaching and trafficking of threatened and endangered species around the world.
Now employing nine staff, in addition to many dog noses, WD4C's mission energizes today's conservation efforts. Interagency public-land-management teams are always on the lookout for innovative methods, and WD4C detection teams are participating in two such conservation projects locally: stemming the spread of invasive zebra mussels in Montana waters and detecting brucellosis in the dung of wild elk. Recently in Bozeman, Aimee Hurt demonstrated zebra-mussel detection to visiting Wyoming Game & Fish representatives. Using Wicket, a 10-year veteran of the program, the WD4C team proceeded to quickly and accurately find vials of ground-up zebra mussels stashed in a row of government vehicles. Wicket also indicated her ability to detect veligers, the free-swimming microscopic mussel larvae. If successful, search times at mandatory inspection stations will be only three minutes per vehicle.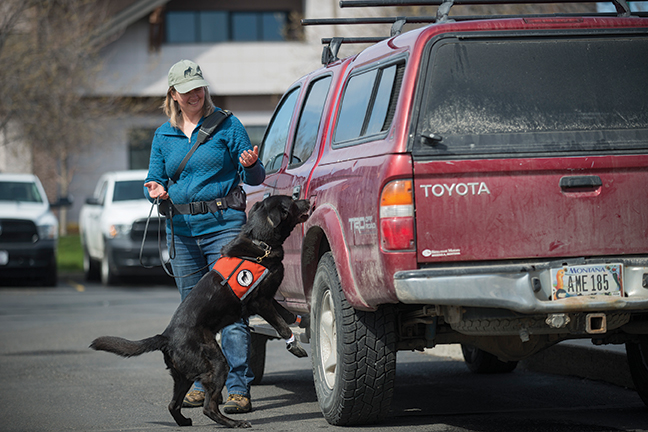 WD4C also addresses another conservation issue in the Greater Yellowstone area: brucellosis. Megan Parker, who recently field-tested her dogs using the scat of a migrating elk herd at Mountain Sky Guest Ranch, explained that "while the range and migration of wild bison is highly restricted, the movement of wild elk is not"—highlighting the need for early and efficient detection. Early evidence, while inconclusive, indicates that dogs can identify the presence of brucellosis in wild elk. "We're kind of different as a detection-dog organization, because our dogs aren't from breeders," says executive director Pete Cocopilillo. "Instead, we offer a second chance to high-drive shelter dogs, many of whom would have been euthanized had we not put them to work saving wildlife. Our dogs live with—and love to go to work with—their handlers everyday." Smiling, Pete adds, "We haven't written the book on how to do this, yet, but it's probably not too far off in the future."
Svalinn
Kim and Jeff Greene moved their dog-breeding and training company Svalinn, which means "the shield that protects," from East Africa to the US in 2012. "We finally realized our dreams," says Kim, "when we purchased a 167-acre ranch north of Livingston." With impressive business goals, this family-owned enterprise went in search of staff among "the area's highly educated workforce—people with some dog-handling experience, who absolutely love dogs, and are willing to learn. Svalinn's strict breeding code assures their control of the bloodlines of the German Shepherds, Dutch Shepherds, and Belgian Malinoises they raise and the health of their dogs from day one.
Evan Lecinski, Svalinn's director of training, supervises the dogs used in search-and-rescue, a free service Svalinn offers to the local community. He also oversees outdoor-recreation training. "Our dogs are trained as elite athletes," he explains with obvious pride. "Dogs are natural sprinters and endurance runners, and we build their confidence to do many other activities, like rock climb, mountaineer, and swim, and they're coached in all types of watercraft. They're trained to accompany their families, most of whom camp, hunt, fish, ski, hike, bike, and go to the gun range."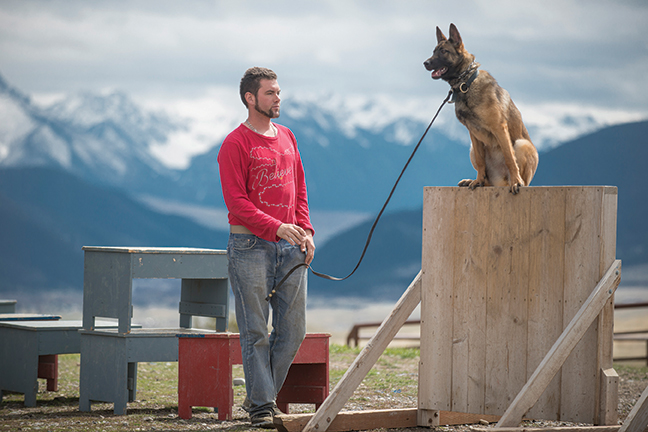 Evan knows his stuff; he spent two years training dogs and managing the canine kennels in Afghanistan as a Green Beret. "This is important: our dogs have fun while doing their jobs. We make learning and working fun because we respect and nurture their talents." Kim adds that oftentimes there is a human learning curve too, to re-socialize clients about dog culture and their capabilities. 
Pipe Dogs
Richard Eckles, a Bozeman-based dog handler and former manager of canine training for the US Navy, was sharing his small-business experience with a group of veterans at MSU. In the Q&A afterward, Eckles reminisced: "At the end of many tours of duty around the world, I was looking for a place to plant some roots, maybe start a business and raise my family. A masters program at MSU in this great mountain town grabbed my attention." A Navy buddy informed him of a niche operation that employed canine olfactory skills to do what neither man nor high-tech detection equipment could do—quickly and efficiently find leaks in oil and gas pipelines. With millions of miles crisscrossing the US, these extensive systems are regulated by the Pipeline and Hazardous Materials Safety Administration, which requires periodic integrity inspections. When leaks are detected under pressurized testing, operations are suspended to locate and fix the hazard before the pipeline is re-certified for service.
Pipe Dogs was launched when Richard purchased two yellow-lab pups, a brother and sister he named Hondo and Holly. Now three years old and trained to identify a proprietary scent used as a marker to detect pipeline leaks, the dogs are both company staff and members of the Eckles family. Richard says he chose Labrador Retrievers because "I didn't want the image of a military-type dog as the face of Pipe Dogs. Labs are friendly-looking—who doesn't like a lab?"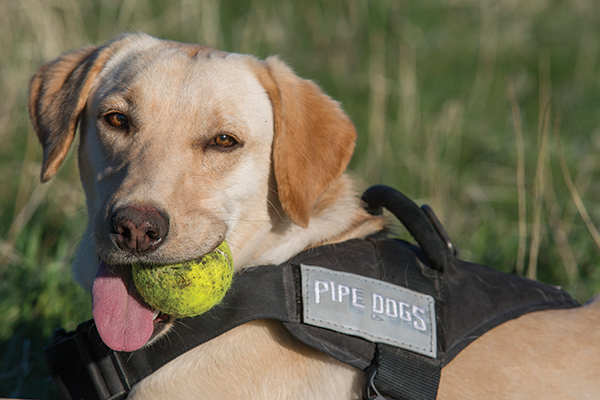 How does a company find leaks in miles of pipe? A mentor of Richard's gave Pipe Dogs its first piece of business to prove the concept. A southern California company had a leak in their five-mile energy pipeline that couldn't be found using state-of-the-art detection equipment. Section by section, Richard explains, he sequestered and pressurized the breached pipeline "with water mixed with my unique, non-toxic, bio-gradable marker scent. We found the leak in about ten minutes—it was almost anti-climatic. I asked if I could walk the rest of the pipeline with my dogs, as training. We ended up finding another leak that they didn't know they had."
With pipelines transporting crude oil and natural gas throughout Montana, this new venture can help prevent, identify, and secure system leaks, and will continue to gain validity as the first line of defense to preserve and protect our pristine landscape and waterways.