Montana Merriam sliders on the Burch Barrel.
Some people get a bad taste in their mouths when they hear the words "wild turkey," and it's not from that high-school kegger that went awry. For some reason, turkey meat lacks the appeal of elk 'round these parts—but this recipe is sure to change their minds. Merriam sliders aren't hard to make, and after being soaked in butter and topped with huckleberry BBQ sauce, their flavor is out of this world. 
*Editor's note: While this recipe is best executed in a Burch Barrel, these sliders can also be made on a regular grill.
Ingredients (makes 8-10 sliders)
1 wild turkey breast
1 cup butter
1 tbsp. dried onion flakes
1 tbsp. fresh parsley, chopped
2 tsp. fresh rosemary, chopped
2 tsp. fresh thyme, chopped
1 tsp. savory seasoning, dried (can substitute with oregano)
1 lb. bacon, thick-cut, grilled on indirect heat (see steps 1 and 6), and cut in half
8-10 slices white cheddar cheese
Red romaine lettuce torn into slider-sized pieces
Micro greens to add a dash of color
Hawaiian sweet rolls, sliced like a hamburger bun
8-10 cocktail skewers
Huckleberry BBQ sauce (recipe below)
Sweet roll glaze (recipe below)
Directions
1. On the Burch Barrel, and on the 4th notch, build a fire with lump of coal and wood on one half of the coal pan. This will allow you to cook bacon on the indirect heat, as the turkey cooks directly over the hot coals.
2. In a saucepan, on the Barrel or stovetop, add the butter, onion flakes, and herbs. Melt and set aside.
3. Take your turkey breast and place in a pan. Pat dry.
4. With a basting brush, baste both sides of the turkey breast generously.
5. Place turkey directly on the coal side of the Barrel. It's okay if there's a flare-up, the fire will add good flavor.
6. Place bacon slices on the indirect side of the grill. Close the lid, lock in place, and raise about six inches.
7. After a few minutes, lower the lid, unlock the grill grate, and check your bacon to ensure it's not burning. Baste the turkey and flip it on the other side.
8. Turn your bacon, lock the lid, and raise about six inches.
9. Repeat step 7.
10. Remove the bacon once browned and crispy. Cut in half and set aside.
11. Continue basting and cooking the turkey until the internal temperature reaches 165 degrees Farenheit.
12. Remove turkey from the grill, cover with foil, and let rest.
13. Take the sliced Hawaiian sweet rolls, and, using a basting brush, glaze the tops.
14. Once glazed, toast the inside of the sliced rolls on the grill. This should only take a few moments. Remove.
15. Gather all your components together to start building the slider. You'll need the toasted rolls, turkey (sliced very thin), white cheddar slices, cut bacon slices, greens, huckleberry BBQ sauce, and skewers.
16. Start by taking the bottom piece of the sweet roll, add a white-cheddar slice, sliced turkey, two cut bacon slices, spoonful of huckleberry BBQ sauce, and some greens.
17. Take another cut slice of bacon, place on the top part of the slider bun. Take a skewer and place through the whole slider, holding it in place.
18. Continue until you have built 8-10 sliders. Serve immediately and savor the moment!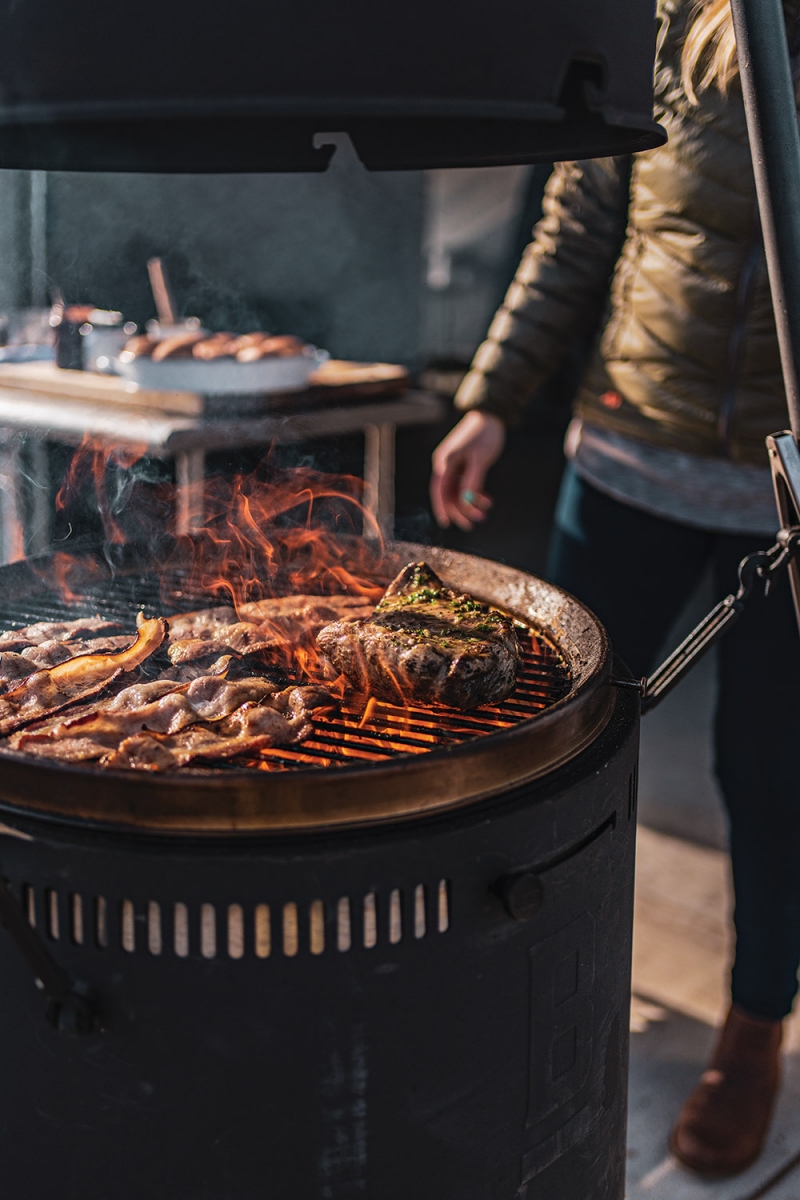 Huckleberry BBQ Sauce
Ingredients
1 cup ketchup
1/3 cup brown sugar
1/4 cup molasses
1/4 cup raw honey
1 cup frozen huckleberries (you can substitute with frozen blueberries)
1/4 cup bell pepper, chopped
2 sweet peppers, chopped
1 garlic clove, minced
2 tsp. chili powder
1 tsp. paprika
2 tsp. mustard
1 tsp. salt
1 tbsp. garlic powder
5 tbsp. butter
Directions
1. In a saucepan, combine all ingredients except butter.
2. Cook over medium heat, stirring until fully combined with a simmering sauce.
3. Remove from heat. Stir in butter until completely melted.
4. Let sauce cool about 10 minutes.
5. Transfer to a blender or food processor.
6. Blend until smooth. 

Sweet Roll Glaze
Ingredients
1/4 cup brown sugar
2 tsp. Worcestershire sauce
1 tsp. Dijon mustard
5 tbsp. butter 
Directions
In a saucepan, add all ingredients. Stir until combined and the sugar is dissolved.