Big-City Music in Small-Town Montana
The Red Ants Pants Music Festival.
For a true Montana festival experience, point your wheels northeast and roll on out to the Red Ants Pants musical extravaganza. White Sulphur Springs may be a bit out of the way, but four days of world-class music and small-town culture make the short road trip well worth the drive. From the camping to the beer tent to the music stage, the gals at Red Ants Pants—renowned makers of rugged work pants for women—have thought of it all. I've never attended a festival that takes care of all the small details quite so well. Last year's music lineup was impressive to say the least; I especially enjoyed Lyle Lovett and His Large Band (it really was large), the Trishas, Guy Clark, and Rodney Crowell—they all put on a great show last year. I look forward to some of the great acts lined up this year, plus another chance to see Rodney Crowell and his ripping female bass player.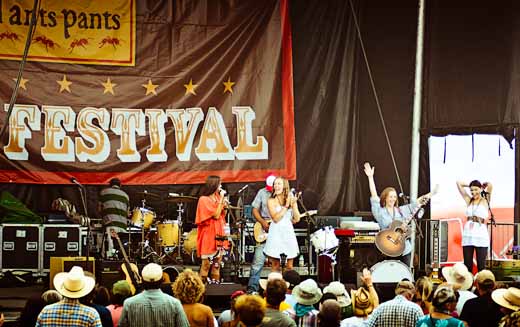 Yep, the stage and camping are in a cow pasture—but what did you expect? This is a true Montana agricultural community. Worry not; all the necessary amenities are available onsite. Just bring your camping gear, a hat, water, and sunscreen, and you'll be all set to relax and enjoy the weekend. The campground sits adjacent to the festival grounds, so it's an easy walk to the venue (or a quick run back for that forgotten item). A variety of vendors promote local foods to keep you fueled all weekend for dancing. There's even a special Sunday morning breakfast right in the campground—doesn't get more convenient than that. Arts & craft vendors line the sides of the festival grounds, so bring some cash for music and Red Ants Pants keepsakes. I enjoyed talking to local artists and browsing all the unique offerings, not to mention the RAP specialty Western snap shirts—very stylish. And of course you can't miss the beer tent, loaded with refreshing beverages all day and night, provided in a unique Red Ants Pants re-usable cup.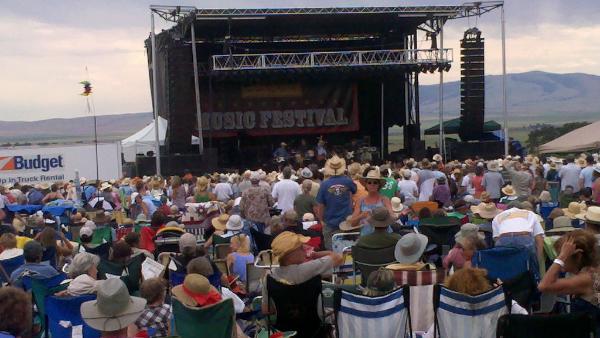 Besides the great line-up of music, my favorite thing about the RAP festival is the low-key, laid back atmosphere. It's a great opportunity to slow down, relax, and catch up with friends—plus it's family-friendly. In between music acts there are competitions and demonstrations to keep everyone entertained, and this year they'll have some local music acts on the side stage. As if that's not enough, there are mountains all around with plenty of biking and hiking trails, or you can cool off at a river access—the Smith is only a few miles away. So why not come on up to White Sulphur and take in some killer music with some great folks while enjoying the views in every direction.
For more info, visit redantspantsmusicfestival.com