A weekend at Lone Mountain Ranch.
I'm kicking and gliding along the impeccably groomed Nordic trails at Lone Mountain Ranch in Big Sky. Snow-laden trees line the edge of the trail, threatening to drop gobs of snow; North Fork Creek gurgles near the trail, verdant green moss peaking out from under the snow. I ski past the high-ropes course and the Discovery Center, filled with antlers, horns, pinecones, and other objects to help kids connect with nature. Those traditional summer spots are covered with powder, now just a reminder of snow-free days.
As I scoot along, my skiing partner grabs my hand, so I shift both poles to the other armpit and awkwardly ski. We're having a ball in this winter wonderland, straight out of an old movie. My date for the weekend is my five-year-old son, and while I'm thrilled to experience this with him, I can see how it would have been very romantic with my husband.
We finish the short ski and head back to our base camp for these two days. One of the originals built in the 1920s, our cabin is a list of alliterations: cozy, cute, and quaint. Patchwork quilts cover a bunk bed for Anders and a queen bed for me. Above the stone fireplace hangs a bison skull that looks over the sitting area. From the front porch, we can see Yellow Mountain rising above the Lone Mountain Lodge. We snuggle up to nap, brew tea, and head to the bar to listen to music before our sleigh ride.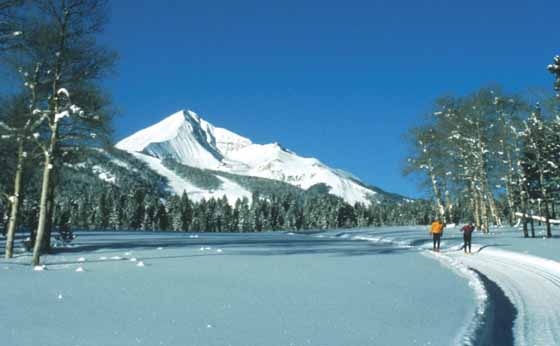 In the saloon we enjoy a beer (for me), a hot cocoa (for Anders), and several songs from cowboy/western/folk musician Bruce Anfinson. Bruce has one of the fullest goatees I have ever seen—I can't help but be impressed. The songs, the cabin, and the saloon with its wagon-wheel chandeliers and wood-stump barstools make me long for a time and lifestyle I've never even experienced.
A little later, Anders and I mosey down to the horse barn to meet the steeds that will pull us up to the North Fork cabin for dinner. The huge draft horses wait patiently for their work to begin. A mix of Belgians and Percherons, they were made to pull heavy loads, but are friendly enough to let us stroke their soft faces. We pile into the sled pulled by Pepsi and Rum and drape a wool blanket across our laps. The sun has set and it's getting cold, but we stay warm under the blanket, cuddled together listening to the tinkle of the sleigh bells. A layer of clouds hides the stars and a light snow falls. I feel like I'm in a winter wonderland, just waiting for someone to start in with carols.
The ride to the cabin isn't long, but when we arrive, it feels like we're in the middle of nowhere. The cabin is lit with oil lamps and candles, and it's surprisingly warm inside from the century-old woodstove on which our dinner is cooked: salmon for Anders and me, and prime rib for the rest of the group who share our sleighs and tables. Gingham curtains decorate the windows and garland wraps the wooden beams above us. Bruce Anfinson sings about huckleberries, CM Russell, and Lewis and Clark—in three different songs—as we savor our delicious meal.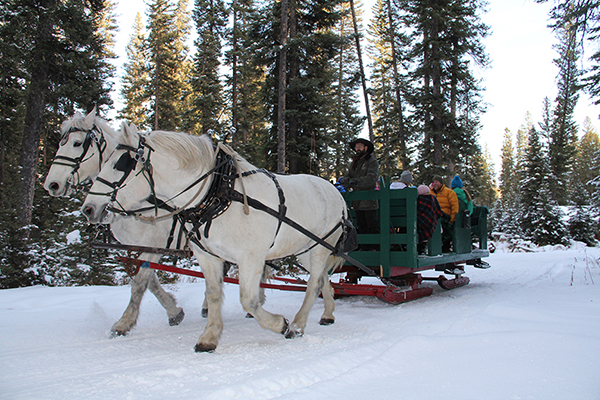 After dinner, I step outside to visit the "outhouse"—the nicest one I've ever seen. Stars now dot the inky sky, the cabin is gently lit behind me, and I'm sharing it all with one of my favorite people in the world. Like the cheesy t-shirts say, "Life is Good."
The next day, Anders and I eat breakfast in the log dining room and then take the shuttle to the upper ski trails. We climb and descend trails, searching for moose and scenic views before heading home well bonded and refreshed. We're lucky that a weekend in the mountains, in what felt like a Christmas card, is so close to home.
For your own getaway, check out Lone Mountain Ranch's special "Sleigh and Stay" package: sleigh ride dinner for two, overnight stay in a cozy cabin, and breakfast in the lodge. For info, visit lonemountainranch.com or call 995-4644.