A mid-week getaway to old Montana.
Living in Bozeman, we're spoiled by our proximity to world-class skiing. In 20 minutes, we can find ourselves at Bridger Bowl, pulling into C lot, steps from the Sunnyside chairlift. If we want to up the ante, it's an hour down the canyon to Big Sky's thousands of skiable acres.
While this convenience is nice, and I wouldn't trade it for the world, there's nothing quite like a ski trip – loading up the car, stopping for a roadside meal, getting slightly lost, and arriving at just in time to watch the last period of the hockey game. And there's nothing quite like old-time Montana. But like so many other transplants to the booming mini-metropolis of Bozeman, I arrived too late to see the Montana of my dreams. I've been told it's still out there – so I went to find it, all while searching for some turns along the way.
From the start, my journey was focused on experience, not snow – that would be the icing on the cake. With that in mind, I plotted a course that would wind its way through some of the southwest Montana's classic cow towns and old mining outposts, complete with some of southwest Montana's best steakhouses, and leave me at one of the state's oldest operating ski areas, Maverick Mountain.
First stop, just an hour's drive from Bozeman, was LaHood Park for a juicy ribeye and snort of whiskey. Hunger and thirst satiated, I pushed west, through Whitehall, south to Dillon, and then west again to Polaris, winding up at the Elkhorn Hot Springs lodge by 7:45pm, just in time for last call. Belly full again, I braved the zero-degree cold and tip-toed to the hot springs for a soak.
And there it was. The deep breath I was looking for. As I sat in the natural hot springs, looking up at the milkiest of Milky Ways, my mind cleared and my body relaxed. Like the steam hovering over the water, Wordsworth's famous lines floated through my head:
The world is too much with us; late and soon,
Getting and spending, we lay waste our powers.
Romantic poetry aside, there is something to be said for no cell service and limited electricity. I sipped one more beer as my fingers turned pruney. I may have even heard a wolf howl – more likely, though, it was the distant echo of a snow machine.
That night, I retired to my wood-heated cabin and thought about tomorrow's ski day. No need to set an alarm or rush to the mountain. It was a weekday in the Big Hole Valley֫ – not a whole lot of competition for first chair. Being that Maverick is only open Thursday-Sunday, I was hoping to ski some of the snow that had fallen earlier in the week, knowing it wouldn't be tracked out. Fresh tracks through week-old powder: definitely old-time Montana.
As the sun came up, I shivered myself awake under three layers of wool and a down comforter. Note on cabin life: always take the time to re-stoke the fire before turning in – your 7am self will thank you. The free breakfast buffet started at 8, so I re-built the fire and warmed my ski boots. I'd thought ahead and brought a Windburner, and the smell of hot coffee filled my one-room, one-time home. There is no better way to start the day.
After a breakfast of eggs, potatoes, and pancakes, plus more coffee, I hopped in the car and glided down the snow-covered byway to Maverick's parking lot. Mine was the third car there, and I'm pretty sure the first two belonged to employees. Up in the lodge, said employees prepped the ski area for the day, while local schoolkids slowly filed in for the day's lesson. It was race day and anticipation was high. The competitors nervously greeted each other while parents stacked homemade cookies in a corner for post-race rewards. It took all my restraint not to sneak a chocolate chip for my third coffee.
My boots had never fully warmed from their night in my igloo-like cabin, so by this point my feet were solid blocks. Time to get moving. I buckled my buckles and strapped my straps and headed for the lift. I say the lift because Maverick only has one, and it's ten minutes to the top. I was fortunate enough to be skiing with the hill's new general manager, longtime Bozeman resident and budding ski-area manager, Erik Borge. "I've always loved the lifestyle," he told me, "and when this opportunity came up, I couldn't let it pass by."
Erik's passion for skiing and the ski community was obvious in his dedication to Maverick. While this is his first year running the place, he's diving in head-first. "We close around 4pm, and then I spend an hour or two talking to folks in the Maverick Room [the lodge's bar], before eating some dinner, and maybe paying a bill or two," he explained. "Then it's on to grooming, which can go on through the night. There are nights I don't sleep." Erik related all this with an infectious smile that made me want to be a part of the community he's creating. I'm stoked and we haven't even made a turn yet.
Unloading at the top, we hung a right and dropped down the mountain's north side. We ran into a patroller who said something I couldn't hear, but apparently we were meant to follow him. Skiing with the boss has its perks. We dropped into a mellow blue run called Thin Air before banking right and flying past a sign labeled Widow Maker, with two diamonds on it. Great, I thought as the pitch tipped far more vertical. But the snow was soft and the turns were great. Plus, no one was there – and the snow was soft and the turns were great.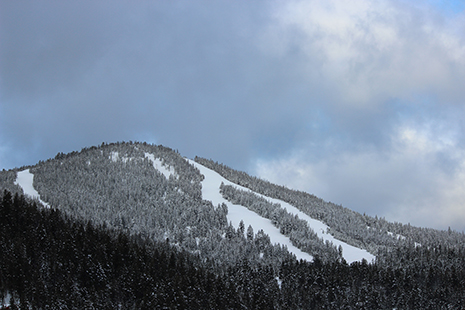 Long, empty runs at Maverick Mountain.
We lapped the lift for the morning, dipping in and out of "secret" tree stashes, still soft from the snow early in the week. Around noon, we stopped for a burger. I had a beer – the four taps are all occupied by Dillon's Beaverhead Brewery, so it was as good as the skiing.
Needing to get back to Bozeman and the new Montana, I said my goodbyes and vowed to return for the infamous Bartender's Cup in March. (If you're looking for a party and want to avoid the spring-break crowd, put this on your calendar.)
In the parking lot, I strapped my skis to the roof, slid my boots off and my sneakers on, and plopped down behind the wheel. My legs were heavy and I smiled at having worn myself out at a little one-lift ski area in old-time Montana.