Low-risk backcountry spots.
In Bozeman, we're fortunate to have ample backcountry skiing and riding within striking distance of town, ranging from mountaineering adventures on high peaks and wide-open bowls, to gladed tree skiing and low-angle alpine meadows. Regardless of where you go, there will always be some level of danger involved—the key is to manage your risk by making informed decisions. At the end of the day, I don't blame people for their choice of adventure—as long as they go into it with eyes wide open to the risk associated with their route, and make good, data-based decisions during their outings.
What's interesting is that some of us actually need that risk in our environment to keep us aware of our surroundings. I only need a little. If it's nuking outside and everyone is either at the resort or staying home, I'm at the bottom of a meadow or easy gladed run with my fat powder skis on my feet and a big ol' grin on my face. With that in mind, here are three of my favorite places to go on higher-avalanche-hazard days.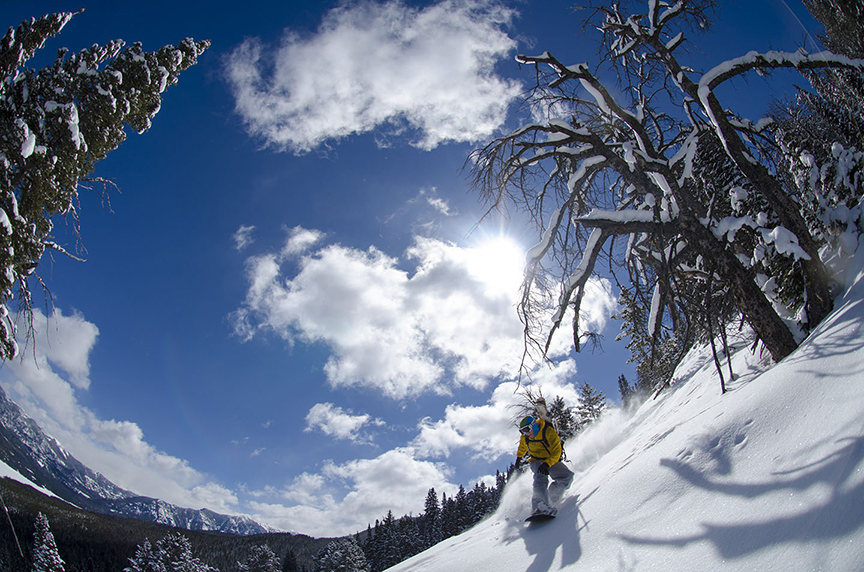 Telemark Meadows
If you're looking for some of the easiest, safest, and mellowest slopes, then this is right up your alley. Telemark Meadows are located in Yellowstone National Park, between Big Sky and West Yellowstone. This area boasts deep snow and easy access, with several small slopes just above the parking area. While you aren't going to find huge vertical here, a few hundred feet is really all you need to have some fun powder turns.
Directions: Take Hwy. 191 south from Bozeman, and reset your trip odometer when you pass the turn to Big Sky. Keep heading south an additional 29.7 miles. On the right side of the highway, you'll find a small plowed pullout near mile marker 18. 
Beehive Basin Meadows
Beehive is one of the most popular backcountry access points in the area, and for good reason. You can drive your vehicle to the trailhead at nearly 8,000 feet, and the snow is usually very nice. While there's riskier terrain in the higher reaches of Beehive, there are also some easy meadows about one mile in on the skinner's left of the basin.
Directions: Take Hwy. 191 south from Bozeman and turn right toward Big Sky. Go past the last left turn to Big Sky Resort, and turn right at the Forest Service access sign for the Upper Beehive Basin trailhead. Follow this road until you descend a steep hill and reach a parking lot. While this road is both paved and plowed all year, the last section of the road warrants snow tires or chains. This trailhead can get busy, so plan on arriving before 9am to grab a parking spot.
History Rock
Located in Hyalite Canyon, History Rock has multiple meadows to enjoy, with steeper angles than the other two locations. If you're ready for something with a touch more vertical, don't stop when you get to the first meadow. You'll find more terrain and deeper snow the higher up you go.
Directions: Take S. 19th out of town and hang a left at the Hyalite Canyon turnoff. Just past Lick Creek, look for the signed and plowed History Rock parking area on the right. If you reach the reservoir, you've gone too far.
---
Ben Werner is a backcountry aficionado, tech-startup guy, and proud dad. For more info on his book, visit bozemanskiguide.com.