Finding powder at the Mt. Zimmer Yurt.
When my buddy Lewis asked me to join a hut trip at the Mt. Zimmer Yurt in the Beartooth Mountains, I did some quick calculations. 
Would I have to skip some classes? Only one. Despite my limited backcountry experience, could I avoid holding my friends back? Hopefully. Could I pay for it without dipping into my dwindling student-loan stash? Probably not.
Fortunately, like most skiers I know, I have no qualms about making questionable financial decisions for the sake of several feet of fresh snow. And in the two winters I've been trailing my friend Lewis around southwest Montana's resorts, I've learned to trust his quiet conviction.
A few weeks later, my pal Kaycee and I piled gear and too much beer into her RAV4 while most of Bozeman slept. We met Lewis and the fourth musketeer Gabe at a gas station on the edge of town. The cashier grinned as she rang up our cheap donuts, bad coffee, and 5-Hour Energy shots. 
"You guys must be going skiing," she said. "I remember those days."
After dodging a massive elk herd near Gardiner, we headed east through the northern end of Yellowstone to Cooke City, the tiny town eight miles from the Mt. Zimmer Yurt. As the sun rose, pink and orange light flooded the Lamar Valley and illuminated several herds of bison. A few stubborn ones stayed on the road, forcing Gabe to inch his car along.
Cooke City started out as a mining hamlet in the late 1800s. Today, its main industry is tourism, and around 100 people call it home during the colder months, many of them zipping up and down Main Street on snowmobiles. And in the week leading up to our trip, the mountains surrounding the town got about six feet of snow.
Though enticing, the heavy snowfall inevitably led to some sketchy avalanche conditions. Even so, we remarkably ended up with a pretty stable report beneath blue skies. After sledding out to the yurt and unloading, we skinned toward the Butters, two wide runs on a shoulder of sprawling Mt. Zimmer, the yurt's namesake. Given the conditions, we stuck to some more conservative routes.
We paced ourselves through Dr. Seuss-esque pines, their branches drooping under the weight of the snow, and up the Zimmer Creek drainage. Rocky faces cloaked in powder towered closely on either side.
As daylight waned, we crested our skintrack to take in the view from a ridgeline perch. The endless braap of the area's snowmobiles had ceased, and golden light settled over the craggy peaks. All I could think of was the same thing I always blurt out at the tops of mountains after realizing the wonder of skiing in a place so infinite: "We are so lucky."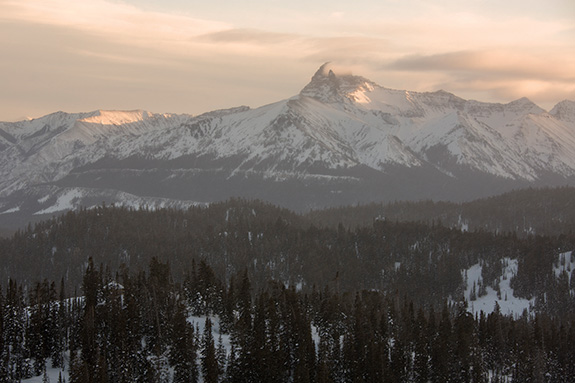 Lewis, a tall and powerful skier, got the honor of first tracks so he could get some photos of our line. He dropped in on the right side of the broad clearing and flew, letting out of few irrepressible yips on the way down. After checking with Kaycee and I, Gabe followed, then waited to cheer at the bottom.
I shot one last grin at Kaycee and pushed out of the trees. There was still plenty of untouched snow, so deep that I worried briefly about falling and losing a ski. I floated back and forth like a slow-motion pinball, my giggles reverberating off the pines.
That run reminded me why I ski, why skiers skip work or spend their last dollars to make it happen. We sailed over rollers and followed each other through trees and took sweeping turns through silent powder that we had all to ourselves. It would be impossible to put a price on turns like those, but such moments are worth everything.
The next morning, we briefly entertained ideas of how to live in the yurt forever, but we eventually dragged ourselves away after cleaning up for the next group. A guide snowmobiled our gear out, and we began skinning the several miles back to town. Clouds and snow blew in while we skinned, a sign that our time playing hooky was up.
---
This essay first appeared in Backcountry magazine.