Mid-mountain, mid-week. 
Even with relatively flexible work schedules, few of us are skiing bell to bell on a Tuesday. But that doesn't mean we can't maximize our days on the hill. A few hours in the morning or afternoon are more than enough to keep the dirtbag fires burning, but efficiency is key. One trick we've learned is to stay on one lift and really learn the terrain. Establish a routine and stick to it, that way we can focus on the skiing. Here's how we ski Pierre's Knob.
Warm Up
At the base, skip the line at Sunnyside and head straight for Virginia City. With the old two-seater out, the ride should be a little faster, getting you up and out of the base area even quicker. If it's mid-week and not a massive powder day, you should have the PK lift all to yourself. Get the legs going with a long groomer—Last Chance to Thunder Road to Sacajawea to White Lightning. Do that, or a variation thereof, two or three times before upping the ante.
Southern Love
The chairlift ride up PK takes about ten minutes, and much of it is in the shade, meaning it can get Arctic real quick. On a sunny day, South Bowl warms up nicely, but wait too long and the goods get heavy. Traverse below Z Chute and dip in and out of the trees on the skier's left side of the bowl. Below that, hit the gully for a lap or two; airing off the high walls is good for the soul.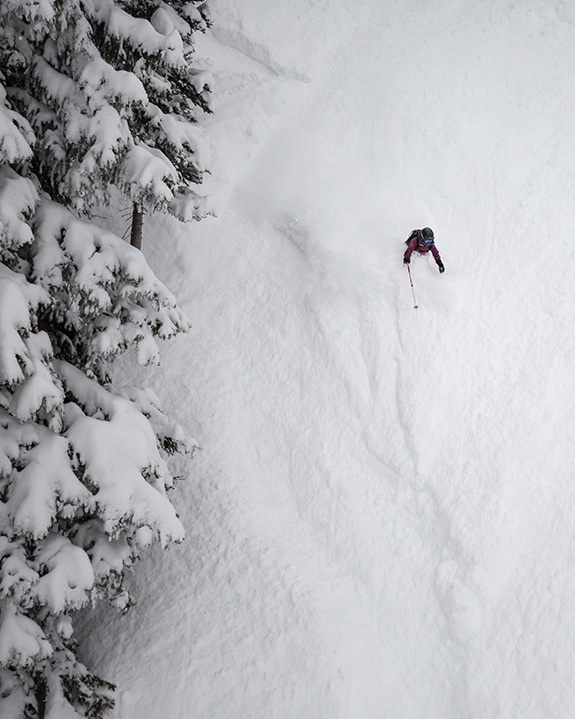 Chronicles of Bridger
Now that you're in the groove, it's time to take a trip into the wardrobe—and by that I mean the famed Gnarnia of PK's southern flank. This zone is heavily treed and pretty steep, so you'll need to be on point, but it isn't so challenging that intermediates can't pick their way through. Start on the skier's far right side of the stash and make your way north one lap at a time.
A Walk on the Mild Side
When you talk about hiking at Bridger, the Ridge instantly comes to mind, or at least it should. But for the first-timers or job-havers, the Fingers are an awesome option. They still require avalanche-safety equipment, but the hike to 1st Finger takes less than five minutes and the turns are open and mellow. Push the envelope up to 4th Finger, and you have the tight, steep chutes Bridger is famous for. But there's no need to overdo it—add five minutes and three turns to a lap through South Bowl and call it good.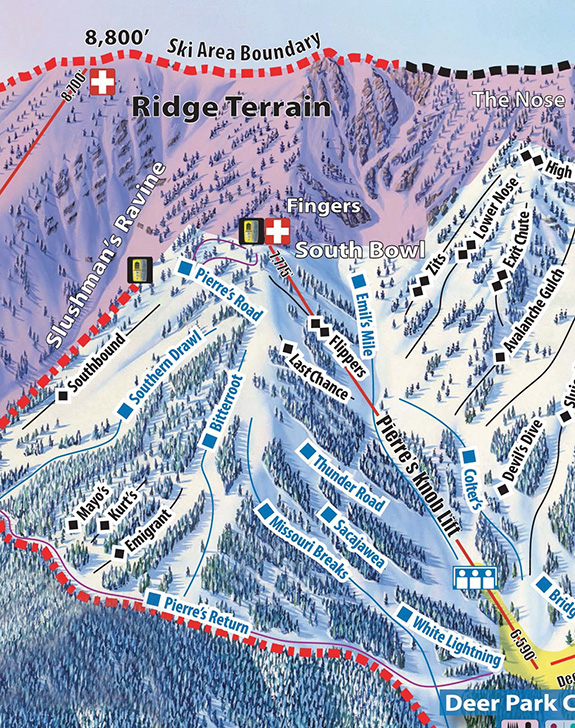 Cool Down
Six runs off PK could take up to two hours, and for the fully employed, that's about a full day of skiing mid-week. To wrap up, take one last ride to the top. Cruise down Last Chance and then dip into the trees just beyond Tea Cup. The snow there stays shaded and soft well after a storm, so even if it hasn't dumped, expect some good turns. The shot is short and sweet, but well worth it.
So there you have it: a legit Bridger experience on one chair in two hours. If you find yourself in the unfortunate predicament of full-time employment, this is as good a way as any to spend your precious ski time.