Winter fun in Cooke City and Silver Gate. 
If you like your fun in the frozen, slippery form, Cooke City has the powder. Take your pick: backcountry or cross-country skiing, snowshoeing, ice climbing, snowmobiling, or winter wildlife-watching.
In the '80s and early '90s, Cooke City was my promised land for backcountry ski adventures. It was here I cut my tele-teeth, ripping on hippie sticks down the natural lines on Mount Henderson, Crown Butte, Mount Abundance, Fisher Mountain, and the astounding Scotch Bonnet Mountain. Untracked powder is a bit harder to find now, but if you're willing to work for it, Cooke City offers some of the best snow in the known universe. With an average of 225 inches a year in town, and much more in the high mountains, this is Powderville, USA.
In winter, the only way to drive to Cooke is via Yellowstone National Park's Northern Range, one of the world's greatest wildlife habitats, chock-full of elk, bison, bighorn sheep, moose, mountain goats, foxes, and wolves. Plan some time on your way in to watch the show on this natural stage.
To the south of Cooke City rises the massive North Absaroka Wilderness, fronted by the stunning Republic Peak and the iconic spires of Pilot and Index peaks. Looming to the north is the even bigger Absaroka-Beartooth Wilderness. Cooke grew up as a mining town, named for Jay Cooke. Before Yellowstone even became a park, the New World Mining District north of Cooke provided rich diggings. The mines closed in 1995, and many have since been cleaned up.
While it has long been a backcountry skier's paradise, the advent of high-powered snowmobiles and the crazed sport of high-marking have turned the area around Lulu and Daisy passes into a snowmobiler's playground as well. If you want to get your sled on and burn some adrenaline, this area is for you. You can cruise miles and miles of groomed trail or venture off-trail for some "boondocking." Just be sure to get an avalanche education, check the report at mtavalance.com, pack all the essentials, and go with buddies who understand the risks.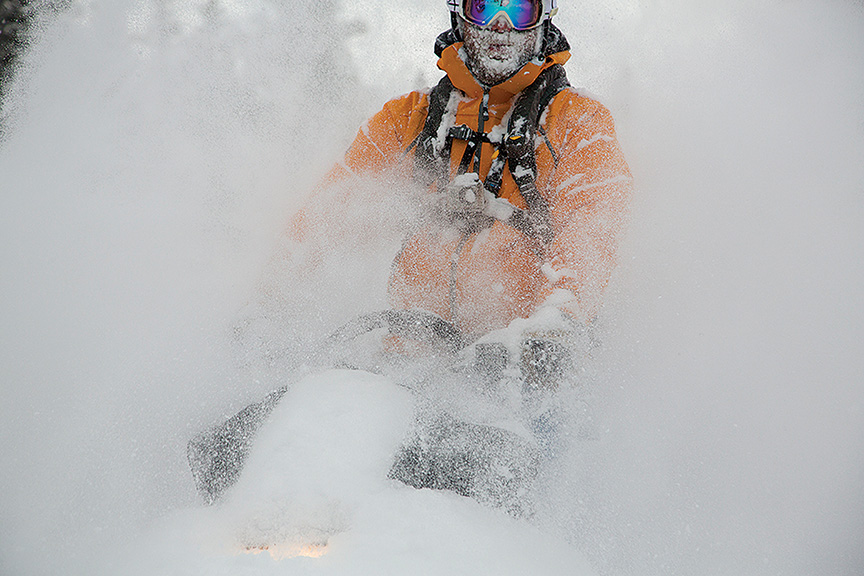 "Boondocking" through Cooke City powder.
Backcountry skiing around Cooke is nearly unlimited, with the season often running from mid-November into May, or longer if you like spring corn snow—and who doesn't? To the south there is little accessible snowmobiling terrain, so skiers can enjoy endless opportunity for fresh tracks in Hayden Creek, on Woody Ridge, and on the Submarine.
Several guides are available to help you explore the area. Beartooth Powder Guides out of Cooke offers guided backcountry trips and hut rentals. The Woody Creek Cabin, built in 2012 from lumber milled on-site, sits on an old mining claim about four miles south of town. It is available to rent, and is accessible only by ski or snowshoe. More ambitious skiers can venture into Republic Creek, try the Fin on the side of Republic Peak, or climb high out of East Fork Hayden onto the side of Index Peak. You can venture into these areas on your own, but beware of terrain traps and high avalanche danger. To maximize safety and daily vertical, hire one of Beartooth's expert guides. Beartooth Guides also rents out their Mount Zimmer Yurt on the high edge of the Absaroka-Beartooth Wilderness. This hut is remote enough that a snowmobile shuttle and a ski guide are highly recommended, but the rolling alpine ski terrain and spectacular mountain landscape make the journey well worth it.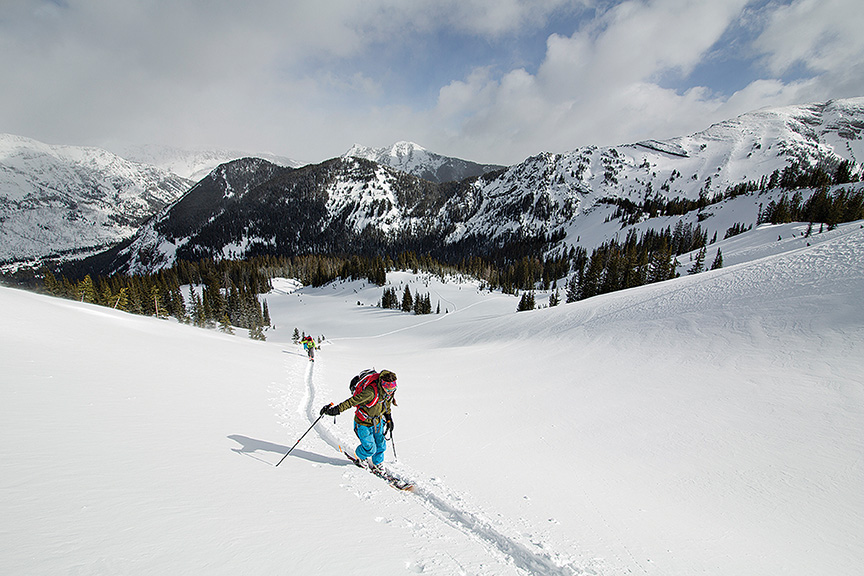 A taste of Cooke's endless backcountry.
Also based in Cooke City, Yellowstone Ski Tours offers guided skiing nearly anywhere in Yellowstone Park. YST offers excellent classes in avalanche education and winter ecology, a women's ski-mountaineering course, and a ski-mountaineering base camp, all in the fabulous winter landscape of Yellowstone National Park.
Self-guided ski trips around Cooke are also an option. Take a sled to Lake Abundance, set up a base camp, and shred the ghost-forest slopes at the head of the Stillwater River. Or brave the climb up Mount Abundance for a wild summit and challenging ski down. Or ski deep into the Beartooth Range and lose yourself in its wild, alpine glory.
Prefer touring to skinning? Near Yellowstone's Northeast Entrance you'll find the Baronette ski trail, an intermediate-level, five-mile route following Soda Butte Creek below the stunning, avalanche-prone east face of Baronette Peak. Or you can start skiing from Warm Creek Picnic Area, cross a bridge over Soda Butte Creek, and pick up the Bannock ski trail toward Cooke. This beautiful route follows the old Bannock Indian Trail, used for centuries by Native Americans traveling to and from the Great Plains in search of bison. Watch for the cliff band of limestone at the base of Republic Peak and take a detour off the ski trail into a short, deep slot canyon, draped with icicles and humming with flowing water.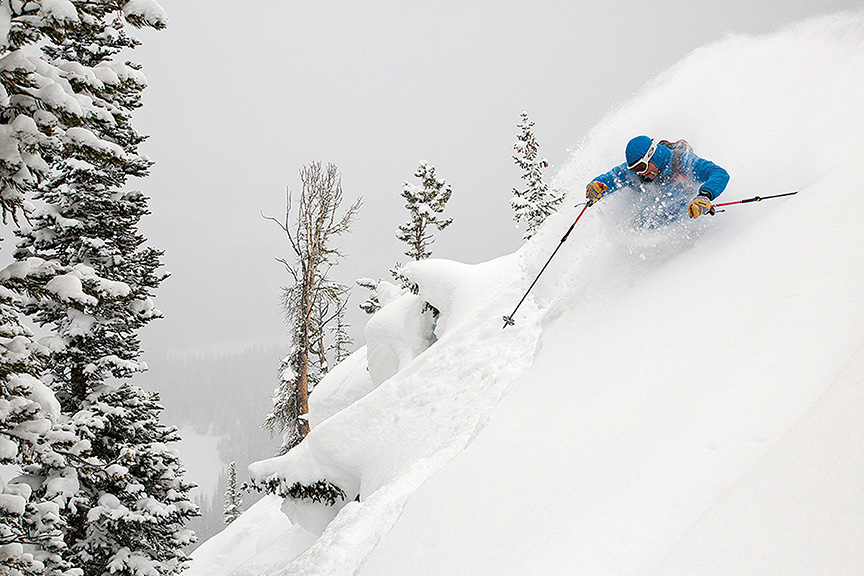 "Thank you sir, may I have another?"
If you like to thrash and dangle on frozen waterfalls, you can get your ice-climbing fix around Cooke City, as well. There is no climbing guide service, so you're on your own. Yellowstone Park's Soda Butte Canyon offers world-class ice and mixed climbing, with recent route development near the mega classic Petrified Dreams. Closer to Cooke, try Silver Falls Creek or the Silver Gate climbs, or venture into the nearby limestone slot canyons for some ice-canyoneering.
Start planning now for your winter expedition to Cooke City—cabins, hotels, and several restaurants will help make your trip easy and fun. The Cooke City Chamber of Commerce can provide a wealth of information. Get that sled tuned up, wax your boards, sharpen your tools, get the winter tires on the rig, and head for the end of the road.