Hunting by personal watercraft.
Dawn: an enchanted interlude between night and day, fluid and solid, imagination and reality. All around is stillness, silent and grey and thick as fog. Floating with the current, your prow cleaves the mist. Slowly, cautiously, the world awakens. There's movement ahead: a dark shape slips toward the water, delicate and diaphanous. You lower your paddle and steer for shore, gliding in behind a logjam. A few careful steps downstream and there she is: a mature white-tailed doe, her burnt-orange form set broadside, ears perked for sounds of danger. The rifle slides to your shoulder and a thunderclap breaks the silence. As you load the deer into your canoe, the forest comes to life. Ducks soar overhead; a kingfisher squawks from across the river. You've got a two-hour float to the take-out, through some of the coolest country around, and your freezer will soon be full of nutritious, delicious meat. It's a good day.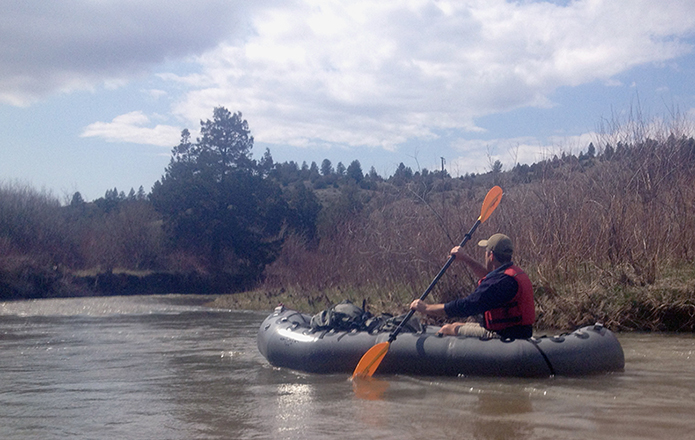 Hunting by canoe — or kayak, or paddleboard, or packraft — offers an inimitable experience afield. It also gives the hunter an edge. Like float-fishing, float-hunting provides access to unique locales and remote, oft-overlooked hotspots — places other hunters can't easily get to, or just don't think about. Animals are often less wary, as they live in thick cover along the stream, and don't often see people. The process may be more complicated, with complex rigging, shuttling logistics, paddling-skill prerequisites, and strict regulations about where and how animals can be taken; but for the hunter willing to endure a little extra effort, the payoff is well worth the up-front investment.
Where to Go
For waterfowl and upland birds (including turkeys), the world's your oyster — just pick a stream and set out. As with fishing, birds can be legally taken within the high-water marks. Just remember to practice your shooting beforehand, as retrieving a downed bird outside of these limits may constitute trespassing. A landowner would have to be a real dick to deny you your game, of course; but as we all know, Montana's changing demographic means the a-hole quotient increases every year.
If it's big game you're after, limitations exist. You'll be restricted to public land, which is scarce along our region's waterways. Certain islands on some rivers are open to hunting; check with Montana Fish, Wildlife & Parks for details. As always, read the regulations thoroughly before heading out.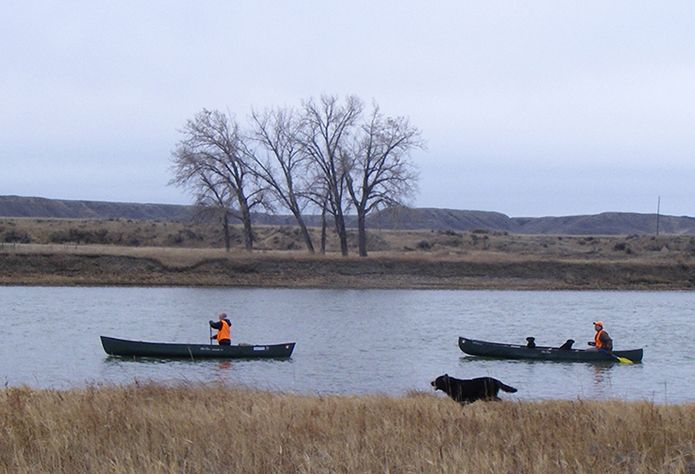 Stillwater is a great option, as many lakes have public shoreline. National forest surrounds Hebgen Lake, and most of Canyon Ferry's banks include state and federal land. Again, check the regs; but a little research and a good GPS will yield plenty of opportunities to chase game.
For maximum freedom on the water, your best bet is a road-trip — Montana's a big place, and the farther you get from Bozeman, the better the prospects for waterborne hunting. Grab a land-ownership map and point your rig northeast, to the Missouri River, bordered for much of its length by BLM land. Or find some public land on the Powder or Tongue rivers in the southeast corner of the state.
Gearing Up
Any old boat will do, as long as it's seaworthy, can accommodate both gear and game, and is maneuverable enough to avoid the occasional sweeper or strainer. Just remember that this experience is all about being light and nimble on the water: slicing quietly through the current, slipping into eddies and backwaters, hiding behind bushes. A big raft or driftboat, while comfortable, precludes a stealth approach and degrades the overall experience. This is not a rip-roarin' cast-and-blast, with beers and a big meal afterward. You're hunting, stalking, preying — just on the water, not land. With this in mind, my favorite craft is a canoe, but a packraft or kayak works great too, and there's even a fishing- and hunting-specific paddleboard called the Tracker that allows you to stand up for a better angle on things.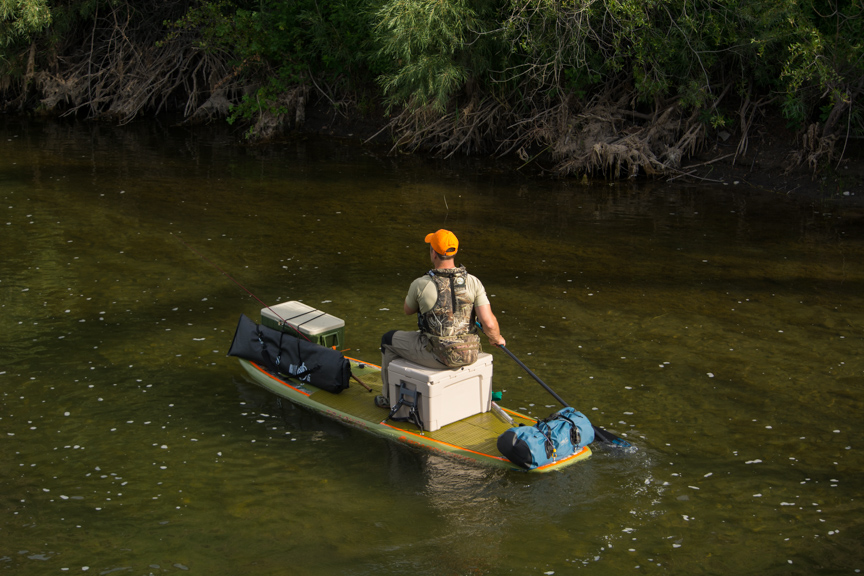 To protect your firearm, you'll need a waterproof case. I like the
Amphibian Hunter
by American Mountain Supply, because it's padded to safeguard against impact. Plus, it floats, in the off-chance it comes loose from your craft. It's a good, solid case that can be lashed to the boat or slung over your back or shoulder; either way, the roll-top closure will keep your gun dry no matter what conditions you encounter.
For warm, Indian-summer days, you'll need a cooler to keep water cold, food from spoiling, and dead birds out of the hot sun. A cheap Igloo or Coleman works fine, but Ice Mule makes a compact soft cooler that will keep several birds cool for hours. With its rolltop closure, the Ice Mule is basically an insulated dry-bag, so it's right at home on the water.
Life-vests are mandatory in Montana, and they're also a core piece of safety gear — especially in the fall, as air and water temps drop. Astral's Ronny Fisher keeps you camouflaged, drowning-resistant, and in full compliance with state law. Several front pockets hold calls, binos, and other small items handy. Even if you don't dump the boat, things are going to get wet, so keep your gear and extra clothing in a dry-bag like the Zip Duffle from SealLine. It'll take a beating without wearing through, and the quick-access zipper means you can grab gear without the time-consuming process of unrolling and re-rolling the bag.
For tie-downs, bring along bungee cords, rope, and a few TitanStraps. And don't forget the duct tape — T-Rex Tape is the stickiest stuff around, and may just save the day if you break a paddle, put a hole in the raft, or run out of rope.
Longer, overnight trips mean more planning and extra equipment: namely, camping and cooking gear. Any lightweight sleeping bag, pad, and shelter will do, but you'll want to keep the cooking equipment compact. A good choice is the Pinnacle Dualist Complete by GSI Outdoors — this self-contained cookset stashes stove, pot, and two bowls in a space the size of a plush toilet-paper roll.
Safety
By far the greatest threat on the river is a strainer — a pile-up of debris that can dump your boat and suck you under. The risks increase with added cargo, as you lose maneuverability. Know how to avoid strainers (the back-ferry is an essential stroke) with basic paddlestrokes and err on the side of caution. If it looks nasty, pull over and portage.
If you shoot a deer, center the weight as best you can. In a canoe, kneel down for greater control and stability; on a paddleboard, sit on your cooler. Kayaks and packrafts are generally safer, but like all watercraft, they have a weight capacity. Quarter or bone-out your animal as needed to keep the load under the limit.
With these precautions, and the poper equipment, float-hunting a river or lake can become the highlight of the fall season, whether you take an animal or not. The hypnotic flow of the current, the abundant wildlife, the solitude and tranquility... you'll find yourself immersed in the natural world, mesmerized and vitalized by its timeless, immutable rhythms. Which, of course, is what hunting is all about.