Greed, selfishness, and a plain-ol' "I got mine, screw you" mentality is making itself more and more apparent in Montana when it comes to fishing. The situation often involves big-money yahoos locking up land access to prime waters by purchasing land, or land leases, from ranchers who own acreage alongside our state's rivers. This effectively closes off access to trout streams or makes reaching the water extremely difficult. Former network-news anchors, has-been movie stars, over-the-hill writers, and yuppie arbitragers are all part of a concerted effort by a powerful few to deny fishing to many—a tangible metaphor for the escalating land grab perpetuated by the terminally wealthy not only in Montana but much of the West.
Access Under Attack
Aside from the fact that the state has some of the finest trout waters anywhere in the world—the Madison, Yellowstone, Bitterroot, Bighorn, Beaverhead, and on and on—what sets the state apart from the rest of the country, and also the world, is the stream-access law that gives anglers the right to fish on nearly every river and stream that flows here.
Montana is unique among Western states and most states in general. In 1984, the state supreme court held that any river or stream used for recreation can be used by the public regardless of the owner of the streambed property. The result is that recreationists have full use of most of the rivers in Montana for activities including fishing, floating, swimming, and hunting. This is known as the Montana Stream Access Law, a law that has been under attack by wealthy out-of-state interests—and greedy, short-sighted in-state ones—since inception.
On Mitchell Slough in the Bitterroot Valley (a stream local residents have fished for decades), wealthy out-of-staters attempted to close access but were overruled when the Montana Supreme Court decided in 2008 that the 16-mile-long stream is open to the public, and that the landowners are not entitled to fence it off as part of their private sanctuaries. The court said the slough roughly follows the historical course of a waterway mapped 130 years ago, and therefore is subject to public access and requires permitting, as are other natural waterways. The 54-page decision overturned two earlier rulings by state district courts that found the slough was not a natural, perennial-flowing stream.
Opponents to the law as it applied to the slough included former pop star Huey Lewis, Charles Schwab, and Private Wealth Partners managing director Kenneth Siebel. A home belonging to Anthony Marnell II, the head of a casino construction company, is built over a tributary to Mitchell Slough.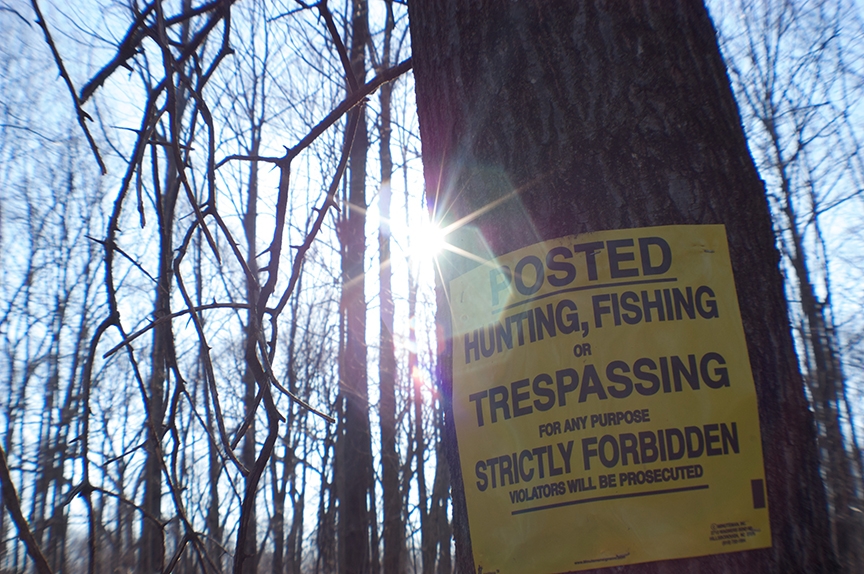 Montana's law was passed in response to a 1984 state supreme-court ruling that granted public access to all surface waters "capable of recreational use," regardless of who owns the streambed, because surface waters are state property, held in public trust. The stream-access law narrowed that ruling, allowing recreational access to all "natural water bodies" but exempting private irrigation ditches. The law was challenged in 1987, and the court confirmed its intent.
In 2011, Representative Jeffrey Welborn, a Republican from Dillon, tried another tack to curb the stream access law—clarifying its prohibition on recreational access to ditches. The bill sought to broaden the definition of a private ditch to include many public waterways. It would have prevented anglers and floaters from using all waterways where the return flows from irrigation make up the majority of the flow, as well as side-channels of braided rivers and streams where irrigation controls are located at the head of the braid.
Critics say the bill was extreme, not only reversing the Mitchell Slough decision, but also seriously restricting Montanans' stream-access rights. Under the new law, even the Bitterroot River would be defined as a ditch, according to Bob Lane, chief legal counsel for Montana Fish, Wildlife & Parks (FWP), because of the amount of water diverted from it during irrigation season. 
"In fact, almost all rivers and streams in Montana, except those in Wilderness Areas and the headwaters of streams on Forest Service land, could no longer be used by the public," Lane said in a High Country News article last year. "(The bill) not only doesn't work, it just doesn't make any sense."
Former Montana U.S. Attorney Bill Mercer, a paid shill for the proposed legislation, says it simply aimed to restore the original purpose of the 1985 Stream Access Law, which was, he says, to preclude recreational use of water after it leaves the main body for irrigation. The bill won approval in the House but died in the Senate Agriculture, Livestock and Irrigation Committee.
High-dollar outfitters are just as greedy as private landowners. Leases are being bought up to exclude the common man from streams like Sixteen Mile Creek and the Shields River. Along the North Fork of the Blackfoot, a large fly-fishing guiding operation has run fence directly up to a bridge, crossing the stream in violation of the law. This practice is common throughout the state.
No big deal, you say. There's plenty of public access through state holdings, national forests, BLM, and national parks. Perhaps, but should the state's stream-access law ever be overturned, say goodbye to fishing in many of Montana's best rivers, large portions of which wander through private holdings.
In April 2009, Montana Governor Brian Schweitzer signed HB190—the stream-access bill that allows landowners to build fences to keep cattle in, but not those that keep fishermen out. This is an important victory against out-of-state landowners and developers who have spent loads of cash from a large war chest in a rapacious attempt to overturn the access law.
Stream Access Defined
By law, anglers in Montana may legally fish between the ordinary high-water marks of a stream. The Montana legislature in 1985 defined the ordinary high-water mark as:
"the line that water impresses on land by covering it for sufficient periods to cause physical characteristics that distinguish the area below the line from the area above it. Characteristics of the area below the line include, when appropriate, but are not limited to, deprivation of the soil of substantially all terrestrial vegetation and destruction of its agricultural vegetative value. A flood plain adjacent to surface waters is not considered to lie within the surface waters' high-water marks."
This means that an angler or a floater has full recreational use of a river within the natural streambed. Recreational use with respect to surface waters includes fishing, hunting (excluding big-game), swimming, floating in small craft or other flotation devices, boating in motorized craft (unless otherwise prohibited or regulated by law) or craft propelled by oar or paddle, other water-related pleasure activities, and related unavoidable or incidental uses.
Many of the streams covered under Montana's Stream Access Law are quite small and have various manmade and natural obstructions in the river. A floater or angler who encounters these obstructions may also climb above the high-water mark to get around these obstructions in the least intrusive way possible. The statute clearly states that this is legal; but the law does not give the public right to cross private property to reach the rivers.
Ignorance is Pissed
Obviously, wealthy landowners who thought they were buying their own private Montana are angry. The conflict comes because the law says the public owns the rivers. For recreation, including hunting and fishing, everyone has a right to access virtually any waterway that flows through private land. But many landowners have put up fences to keep people away from the streams, an act that is now in violation of the Stream Access Law.
Along the Ruby River, the fight is contentious to say the least. The Ruby is designer trout water with a good population of large browns that hold tight to brushy banks and along the bottoms of sapphire runs and pools. The river drifts through a valley of wealthy landowners who have put up fences to keep people off most of the river's lower stretch. There have been a number of complaints from fishermen who have been yelled at and photographed and who have even heard warning shots fired as they fished for the prized trout.
Recently, a case went before the Montana Supreme Court regarding access to the Ruby from Seyler Lane, a road that passes through land belonging to media mogul James Cox Kennedy. The Atlanta businessman installed electric fences and "No Trespassing" signs at the bridge to block angler access—access that the previous owner had never opposed. Kennedy's lawyer argued that Montana's stream-access law violates private-property rights granted by the US Constitution; a verdict has yet to be rendered.
Some landowners "erroneously are trying to lay claim to a public resource," said Dick Oswald during the height of the conflict a few years ago. Oswald is a fisheries biologist for FWP in Dillon. "I suspect they didn't do their homework before they bought land. This is America, not feudal Europe."
We the People
Former Montana governor Brian Schweitzer has said that the state is committed to defending the stream-access law. "If you want to buy a big ranch and you want to have a river and you want privacy, don't buy in Montana. The rivers belong to the people of Montana." To his credit, Schweitzer never backed off this statement during his tenure as governor.
For now, people can access Montana's trout streams even if they have to climb over, under, or around obstructions like those installed by stubborn landowners. But everywhere I go, I hear stories (hopefully just that: stories) about out-of-state Montana landowners building up a huge war chest to wage yet another attack on Montana's Stream Access Law.
"The attempt to make heaven on earth invariably produces hell," said Austrian philosopher Karl Popper; and Thomas Jefferson said, "The price of freedom is eternal vigilance."
Concerning the state of trout fishing, land use, and public access in Montana and the West, nothing could be more applicable than those two comments.
This article is adapted from a piece originally published on counterpunch.org.