A fishing guide for the attendees of Trout U.
Ever wonder why Montana State is nicknamed Trout U? Because the Bozeman area's got some of the best trout water in the world, that's why. If you're a student at MSU, you have the privilege of taking classes less than an hour from three blue-ribbon trout streams, and dozens of other fishing options. From alpine lakes in the backcountry to valley streams near town, the Bozone is truly an angler's paradise.
If you're new to the sport or new to the area, the first thing you'll want to do is grab a copy of the Cast fishing guide. This local publication is full of everything you need to know about fishing in southwest Montana, from matching the hatch to how to get geared up. Once you have your bearings, you need only head to the river. With a little practice—and patience—you'll be catching your limit in no time. Here's some basic information to get you started. 
Essential Gear
Walk into any outdoor store or fly shop, and the quantity, diversity, and variation—not to mention prices—of fishing gear can be overwhelming. Luckily, it's not all essential to having fun and catching fish. A good all-around setup will keep you casting and catching all season, without breaking the bank.
For fly fishing, you'll need a rod, reel, line, leader, and tippet. A good 9-foot, 5-weight, fast-action rod should handle everything from lightweight dry flies to heavier streamers. Match it with a 5-weight reel and a WF5 (weight-forward 5-weight) fly line. A 9-foot 5X leader and a range of tippet material, from 2X-6X, should accommodate most scenarios. Confused yet? Don't worry; it makes sense once it's all in your hands.
Next, get yourself some waders and wading boots, especially if you plan to fish in late fall, winter, and/or early spring. Be sure to use a wading belt so your waders don't fill with water in the event of a plunge. Polarized sunglasses are great for spotting fish, although they can be expensive and are certainly not required.
Organize your flies in a fly box or sleeve; bring nippers for trimming line, floatant to keep your dry flies on top of the water, and pliers or forceps to removing hooks. Pack it all into a small chest-pack, butt-pack, or vest to keep it organized.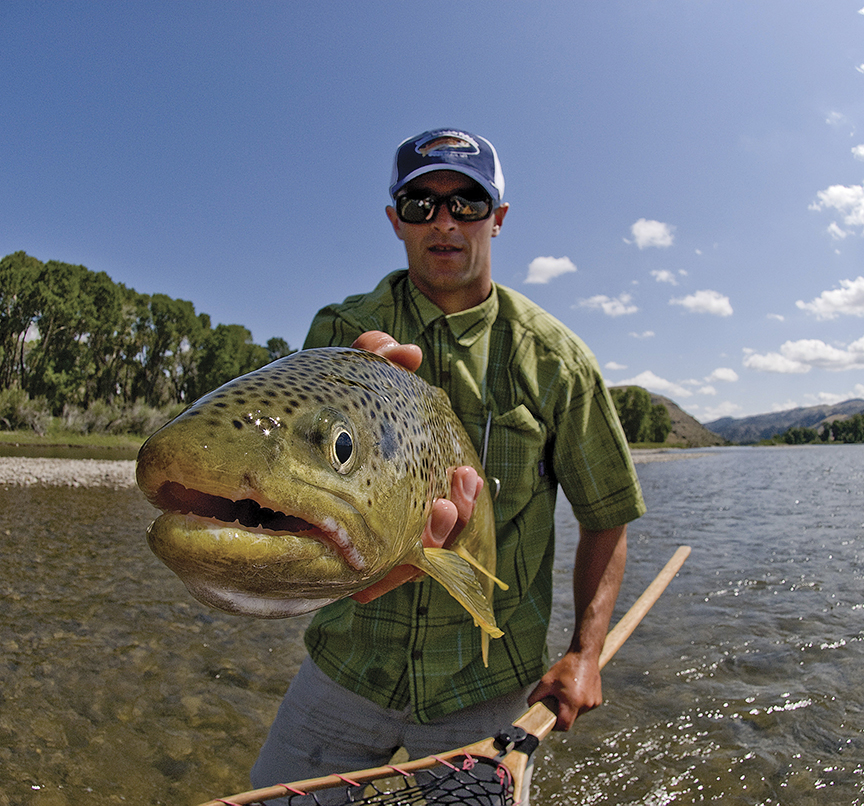 Where to Go
Hyalite Creek
The road to Hyalite Reservoir follows this creek and there are plenty of pullouts. Small rainbow trout are plentiful, and a well-presented dry fly will almost certainly entice a strike. For slightly larger fish, head up to the reservoir.
Gallatin River
The valley's namesake waterway is a great option, thanks to its abundant public access, proximity to town, and high numbers of fish. Whether you fish the upper river in Gallatin Canyon or the lower section out in the valley, taking the time to walk a little ways from your car provides solitude and better fishing. The lower stretch holds larger fish and can provide good dry-fly fishing, especially on cloudy days. Cameron Bridge, Axtell Bridge, and Williams Bridge are all great starting points. Further south, Hwy. 191 follows the river through the canyon on the way to Big Sky and numerous pullouts access the river.
Lower Madison River / Bear Trap Canyon
Head west and reach the picturesque Bear Trap in less than 30 minutes. From the trailhead, hike along the east side of the river to access nearly eight miles of pocket-water, deep holes, and weedbeds. Generally speaking, this section of river is not known as a dry-fly haven, and it's not the easiest place to learn how to properly drift an artificial fly. But if you're after a big brown, the Madison's your spot. Strip big, ugly streamers like a zonker, double bunny, or wool-head sculpin.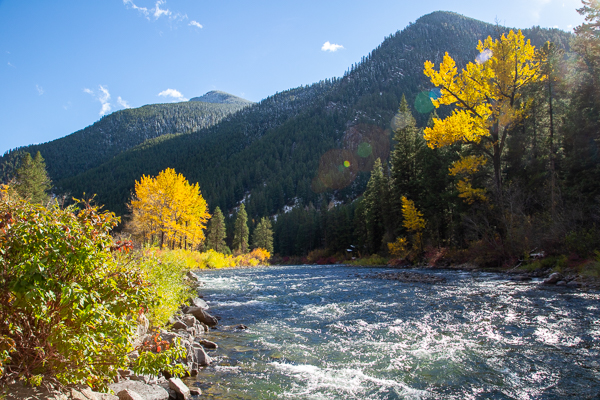 Catch & Release
Play fish quickly: land your fish as quickly as possible and don't play it to exhaustion.
Use a landing net: it reduces the time required to land a fish and keeps it from thrashing about; try to use one made of a soft, smooth material.
Dunk your mitts: always wet your hands before handling a fish: dry fingers damage a fish's protective slime layer.
Avoid the gills: gill filaments are sensitive and easily injured.
Remove the hook quickly: use forceps or needle-nose pliers for small or deeply-embedded hooks.
Keep 'em wet: a wet fish is a happy fish. You can lift it up for a quick photo, but only for a few seconds; otherwise, keep it submersed.
Cut 'em loose: when you can't remove a hook quickly or cleanly, cut the line as close to the knot as possible.
Release with care: hold the fish upright underwater and allow it to swim away under its own power; if necessary, hold the fish out of the current until it revives.
Bag the bleeders: bleeding fish will almost certainly die; if regulations allow, put them in your creel and enjoy an organic, free-range supper.
Etiquette
Like hunting, fishing is one of those activities that demands principle. We've already touched on respecting the fish, now let's talk about how we can get along with our fellow anglers.
We all hate it when someone beats us to our favorite fishing hole, but it's a part of the game. If it happens to you, take the long way around and find the next one. There's plenty of water for everyone. If you're wade-fishing and you think you might be getting too close to someone, you probably are.
Fishing by boat comes with a whole other set of rules. Number one: don't dilly-dally at the put-in. Rig up the boat and rods while out of everyone's way, not in the middle of the boat ramp. Once you get on the water, be aware of everyone else. This includes wade fishermen. When floating by someone casting from the bank, yield to him or her. If you stop for whatever reason, look upstream before getting back on the water. Do not pull your anchor with another boat a short distance upriver. Instead, let them pass, take another sip of your beverage, and admire the view.
Events
The fishing calendar is full year-round, but certain events are crowd favorites. Below are a few highlights; for more, check out outsidebozeman.com/events.
Ongoing
Fly Tying – Various Locations. Several shops in the area offer free classes, so you'll be whipping up wooly buggers in no time. Among others, check out Sweetwater Fly Shop for Tuesday evening Open Vise Night and Willie's Distillery in Ennis for Bugs & Bourbon on Wednesdays.
Second Wednesday, Monthly
Madison-Gallatin Trout Unlimited Meetings – Bozeman. Good fishing starts with healthy rivers and healthy trout populations. Learn more about how TU is ensuring both locally. mgtuorg.
February
TroutFest Banquet – Bozeman. The Madison-Gallatin chapter of Trout Unlimited hosts its annual fundraiser every February. The local TU chapter is instrumental in fighting for access, keeping rivers clean, and keeping trout healthy. mgtu.org.
June
Women's Fly-Fishing School – Bozeman. If you're going to learn to fly fish, why not do it with other enthusiastic ladies? Take this three-day course to get set up with all the skills you need to be successful on the water. montanawomensflyfishingschool.com.
Beginner Fly Fishing School – Bozeman. Designed for beginner anglers but also great for intermediates, this course delves into the essential skills of fly fishing, from casting technique to fly selection. theriversedge.com.
Gallatin River Festival – Bozeman. Celebrate the waterway we all love with neighbors, friends, and fellow fishing fanatics. All proceeds go toward ensuring the Gallatin stays clean, cold, and clear for generations to come. gallatinrivertaskforce.org.
July
Gallatin Streamside Series – Bozeman. Join Gallatin River Task Force for a different clinic out on the river each week. gallatinrivertaskforce.org.
August
Gallatin River Clean Up – Bozeman. Help keep our local river clean and clear with Gallatin River Task Force and the Gallatin Watershed Council. gallatinrivertaskforce.org.
September
Fly Fishing & Outdoor Festival – Ennis. If you fish, odds are you'll be spending lots of time in Ennis, about an hour southwest of Bozeman. Celebrate the end of summer with vendors, fly-tying demos, casting clinics, and more. ennischamber.com.
---
Editor's note: Dates are subject to change based on weather and other factors. For the most updated information, visit outsidebozeman.com/events.