Quenching the spring-climbing thirst. 
If you're a rock climber in Bozeman, you've probably found yourself seasonally confused. One day, a rogue storm will drop smoky cold powder and pull you to your skis and into the Bridger Range. The next, you long for a dry sunny day wrestling slabs of rock with a case of beer and a good group of friends. Spring can be tough, as we rely on the weather to influence our recreational decisions. Luckily, for us climbers who call southwest Montana home, we can sometimes have the best of both worlds—with a little bit of driving, of course.
One county over, between Whitehall and Butte on Hwy. 2, lies an old-growth forest full of granite boulders known as Whiskey Gulch. With the Tobacco Roots looming over the area and blocking a majority of the weather that comes in, it can be a solid area for spring climbing. While the classic Bozeman climbing areas like Gallatin Canyon and Practice Rock are far from climbable, Whiskey sits quietly waiting for pebble wrestlers who have little interest in spring skiing to try their hand at topping out the boulders.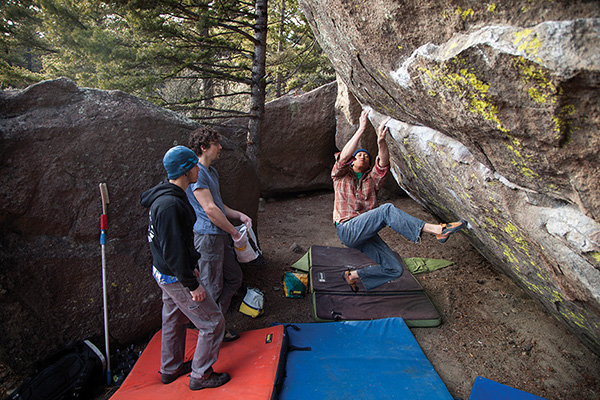 When the weather is schizo, your recreation should be too.
One brisk but sunny day, while other Bozemanites were chasing subpar snow conditions, I found myself in my pickup with a group of dirtbags and a bed full of crashpads, making the short hour-and-a half drive in search of warm whiskey. We drove through some shadows of snow, to find mostly dry trails and totally dry rock. Upon arrival, we quickly realized our success with conditions that were almost tropical by Montana standards.
After a short hike, we crested the guarding hill and were greeted with rays of sunshine. The excitement built after entering the batholiths of granite with lines in every direction. Unlike most Montana climbing areas, Whiskey Gulch is relatively flat, which allows for easy meandering through the forest while you search for the boulder that calls your name. I quickly dropped my pad near one that caught our attention as a worthy warm-up, a short but fun line that traverses an overhung face on small holds. Soon enough, our muscles felt warm and our tendons strong—it was on.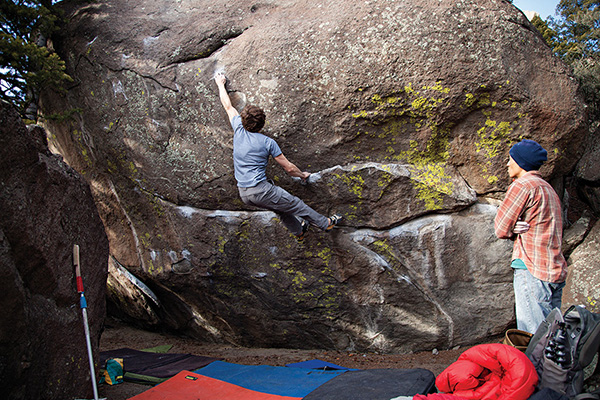 Pulling down at Whiskey Gulch.
With route names like "the Pope's Penis," "Pasta, Gummi Bears, and Zombies," and "the Urinal," you can rest assured this area was established by real-deal boulder-bros. Some lines are as hard as V12—i.e., really hard—while there are easy fun lines around every corner. Partnered with my trusty Butte Climbing Guide, we continued to pull hard on the sharp holds, relax in the sun, and take in perfect views of the snowy Tobacco Roots throughout the afternoon.
By the time our fingertips were raw and the beer was gone, the sun was beginning to set. We made the short hike over the hill, loaded up our pads and empty beer cans back in the pickup, and headed toward Bozeman. Right around Three Forks, I noticed a big cloud above the Bridger Range that looked like it could dump some snow, and found myself wondering what adventures tomorrow would bring.