Breweries & boulders by bike.
My forearms are pumped and my heel hook is just off the mark. I slap my right hand up a few inches higher on a sloping sidepull. It's decent, but sweat makes it a ticking time bomb. I judge the distance to the next crimp, followed by the big throw to the top. The only distance I can focus on, however, is that to my next pint. I pull the move, downclimb, and throw my shoes in my daypack before jumping back on my bike. It's only a few miles to Bridger Brewing—the final stop on my Bozeman-breweries-and-boulders-by-bike tour.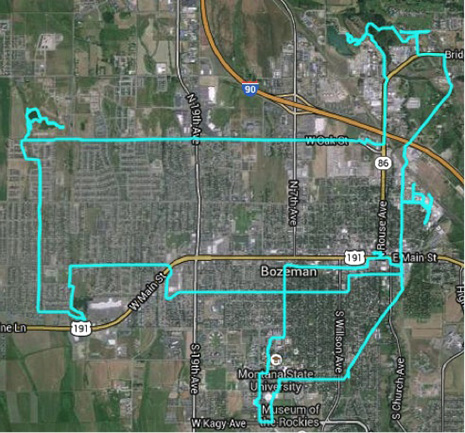 My boulder-hopping route
The idea came to me, not surprisingly, over a pint. I was on a two-month road trip and staying with friends in town who suggested I check out the local boulders. I was already curious about the breweries, and after a few beers, the idea had fully materialized and I had a route mapped out.
I started downtown, heading west on Koch St. toward the Bozeman Pond boulder—a great starting piece due to its variety of climbing options. I worked my way up various aspects of the boulder. A crimpy face, slopey overhang, and narrow arête provided a balanced warm-up, and a thick carpet of mulch a safe landing zone. This is a thoughtful addition—leaving the crashpad in the car is a luxury not often afforded to boulderers.


Bozeman Pond Boulder
Keeping an eye on the time, I headed north on Yellowstone Ave. to Gallatin County Regional Park. Although the "Badass-in-Training" boulder was designed for the cohort of next-gen crushers, there are enough holds for any climber to build a solid pump while traversing—enough of a pump, at least, to send me to my first pint at 406 Brewery on East Oak St. It was just after noon on a Friday, so the spacious taproom was nearly empty, allowing for some good conversation with the bar staff and a few thirsty locals.
As much as I craved a second libation, I knew I had work to do and distance to cover. I headed north on Rouse Ave. to work up a sweat on the Bozeman Beach boulder. Its width and overhanging design make for a range of powerful problems. Its northwest orientation lets the climber choose shade or heat, and whatever beating you put on your shoulders immediately washes away with a refreshing dip in Glen Lake. The sandy beach's bathing beauties made it difficult to leave, but alas, on with the show. I turned my gaze away from the sirens and focused my attention on the next stop. I weaved my way through the woods along the East Gallatin and cruised down Story Mill Spur, stopping between the Depot boulder and the Bozeman Brewing Company. With moderation in mind, I hit Bozeman Brewing to replenish my hop levels before pulling more moves.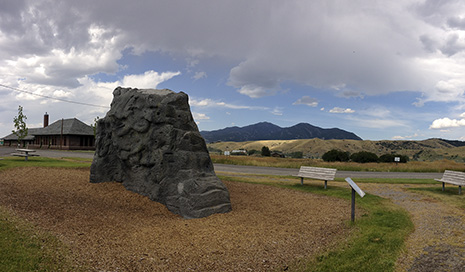 Depot Boulder
My thirst adequately quenched, I moved on. The Depot boulder, designed to mimic sharp gritstone, reminded me of the finger-shredding sandstone back in West Virginia. Fortunately, the pint I had just downed made it easier to shrug off the discomfort of increasingly tender tips. With a smile on my face and fresh tape on my flappers, I biked southwest on the Gallagator trail to the final climbing challenge.
Uniquely featured and colored with red and black streaks, the Gallagator boulder is a beautiful ode to the powerful forces that shape the rocks we love to climb. I crimped as many edges and slapped up as many sidepulls as I could before my arms were done. Lying on the grass, staring up at the Big Sky, I was satisfied, but still thirsty. And so it was with tired legs and rubbery arms that I stumbled into Bridger Brewing, awkwardly pulling a chair out at the bar. Drenched in sweat and breathing heavily, I closed my eyes and savored my third and final ale, silently revelling in my personal glory.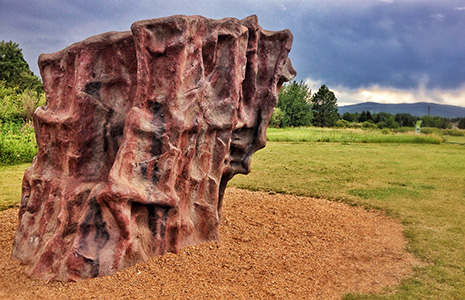 Gallagator Boulder