Becoming a local one trail at a time. 
After two weeks living in Bozeman, I knew how to get to Fairy Lake but not the grocery store. That's what happens when you move suddenly from the gentle hills of Georgia to the Rocky Mountains: one moment, you're king of Storm Castle Peak; the next, you're standing in your unpacked kitchen trying to grind coffee beans with a hammer. After my initial awe of Montana subsided, I was just another East Coast transplant slowly adapting to unfamiliar surroundings. But this wasn't vacation, and I wanted Bozeman to feel like home. So, I set out to explore my new surroundings.
I was driving on the outskirts of Bozeman when I found the answer to my problem: a group of teenagers was pedaling on the margin of Story Mill Road and, suddenly, they peeled off to the right, down a narrow gravel path, and disappeared into the woods. No other witnesses were present; it felt like I had stumbled upon a well-kept secret.
The next afternoon, I returned to Story Mill, this time by bike. I found the same trailhead by what appeared to be a hole-in-the-wall restaurant across the street from a run-down grain silo. The restaurant was surrounded by small farms and vacant, other than an unmindful white cat occupying an outdoor picnic table. Above a window, there was a wooden plaque where someone had written, "Breakfast is back Thursday-Sunday," in yellow spray-paint. I penciled in Thursday as breakfast day and hit the trails.
I pedaled south along the gravel path, over the East Gallatin River and under Interstate 90, spilling out in the mixed-industrial northeast neighborhood. I found my way off the roads and returned to the trail system near Bozeman Creek. Soon, as if by teleportation, I was meandering through the serene streets of downtown.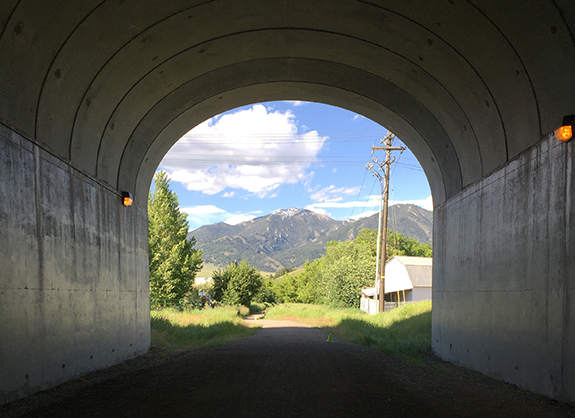 City streets give way to mountain views.
Discovering the trails was an accident the first time. After that, I took to the city with calculated vigor. I bought a Gallatin Valley Land Trust (GVLT) trail map for three dollars and resigned myself, by tire or by foot, to cover every inch of Bozeman. My arrival coincided with GVLT's Summer Trails Challenge, so I seized the opportunity to log my miles and familiarize myself with the town I hoped to call home.
The Bozeman Public Library caught my attention first. It was a trail hub connecting downtown with MSU by way of scenic parks and friendly neighborhoods—the perfect starting point. I lingered on Peets Hill as families and couples walked their dogs beside me. A young tyke fell off of his tricycle, and his father dusted him off. The "M" and the Bridgers loomed over us in one direction, while Montana Hall peaked over the trees in the other. A mallard flew past like an arrow, flapping diligently as if late to an appointment. So, I followed suit and kept moving.
The trails are no secret—the Summer Trails Challenge is halfway done, and nearly 1,000 Bozemanites have logged 25,058 miles. The trails are the veins of the city, and my ignorance of them has stunted my growth as a local. My family and I visited as tourists before I moved here for good. We landed at the Bozeman airport and hurriedly whipped our rental car through Gallatin Gateway toward Big Sky. I've since learned that Bozeman's secrets are invisible from the driver's seat.
Who knows? I may have a long road ahead of me before becoming a true Bozemanite. There's a hefty list of local breweries, off-the-beaten-track restaurants, and trails to explore before then, but I'm making progress: I no longer consult the GPS when I need groceries.