Biking Lewis & Clark Caverns. 
It's mid-April, the Gallatins, Bridgers, and Bangtails are still glazed with snow, and you're having a tough go at finding a free weekend for the 11-hour drive to the desert. Fret not—desert singletrack is closer than you think. There are no guarantees in life, but it's highly likely that you'll be riding in short sleeves among the cactus at Lewis & Clark Caverns State Park (throw in a bunch of layers in case). Less than an hour away from Bozeman, LCC packs a mighty spring punch with 10 miles of singletrack, some respectable climbing, and awesome scenery.
Getting There
From Bozeman, drive west on I-90 to exit 274 (Wheat Montana exit just east of Three Forks). Pick up 287 and travel south about 15 miles to State Highway 2. Make a right turn on MT 2 and follow the signs to the State Park.
About the Ride
Start riding at the lower visitor center. You can ride the trails in a clockwise or counterclockwise direction. I like starting counterclockwise by picking up the more straightforward East Side trail directly behind the visitor center. The trail climbs steadily, descends, and climbs again before depositing you at the upper visitor center. Pick your way through the parking lot to the Middle View trail and descend 1,600 feet on a combination of bench-cut trail and wide swoopy turns to the Cave Gulch trail. A left turn on Cave Gulch takes you to the lower visitor center for another lap (same direction or just reverse your route); a right turn on Cave Gulch takes you back to the upper visitor center on a steep, loose climb. It's been known to induce vomiting and cause even the prim to swear, but the hurt is easily avoided by sticking to the other trails. Once you're familiar with the trails, you can loop and figure-eight them to your lungs' content.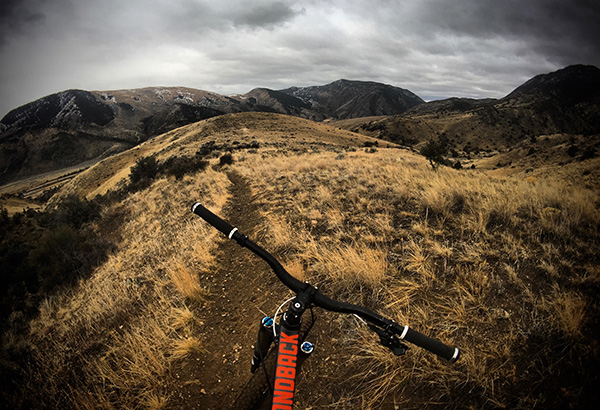 Dry dirt in April? We'll take it.
These trails are beautifully designed and built; however, they do have some tight switchbacks. Don't feel bad if you have to walk some of them—you're not alone. They can be frustrating the first time out, but that's easily overlooked as the overall quality of trails is high. I've ridden these trails on a six-inch trail bike as well as a rigid cross-country bike and had equal fun. At Lewis & Clark Caverns, there's something for everyone.
Stats
10-mile loop with several options for difficulty
Figure-eight the trails for 1-3 hours of riding
1,600 feet of climbing
Views of the Madison and Tobacco Root ranges
Things to Consider
Entry to the park is free with Montana plates. Pets must remain on-leash. The future of mountain biking in the park is still being evaluated, so ride responsibly. Yield to all non-bike users both uphill and downhill and ride in control. Note that the visitor center may not be open in the early season, so bring extra water. Downhill shuttling via the paved road is prohibited. More info at stateparks.mt.gov/lewis-and-clark-caverns.