Stretching winter's legs, finally.
By mid-March, most Bozeman residents have had just about enough of cold weather. The days are getting longer, and it's finally time to head outdoors for a little sunshine. Sadly, our outdoor-rec reach tends to exceed our grasp. All too often, bikers are sent back to the car by muddy, snow-clogged trails, hikers are sent ice-skating back to the trailhead, and climbers find their favorite crimps and slopers dripping with snowmelt.
Thankfully, Bozeman is surrounded by opportunity—you just have to know where to go. By looking in the right places, you could be barreling down singletrack, camping under the stars, or pulling down on dry rock—all in under an hour from your front door. The O/B staff has collaborated to bring you seven area highlights for the spring season, ranging in intensity from fun family outings to all-day athletic adventures. Enjoy.
Camping Revenue Flats
By Dave Reuss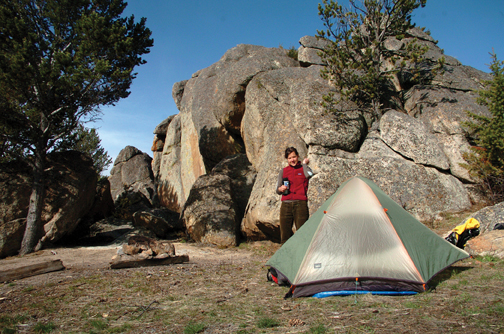 Hidden in the granite outcroppings just outside Norris, the deserts of Revenue Flats offer Bozemanites great early-season camping just an hour out of town. Flanked by gorgeous views of the Tobacco Roots, this locale has plenty of sites tucked in and around massive boulders. To get there, just head toward Norris, and where Highway 84 T-bones into Highway 287, keep going straight. Follow this dirt road as it wanders next to Hot Springs Creek, and then take a 90-degree left turn at the end of a wide clearing. Take this road as it winds toward the obvious rock fins. Remember: four-wheel drive is ideal. Many a Subaru has visited the Flats, but dense drifts of spring snow can hang you up to dry.
When exploring the landscape, no trip to Revenue would be complete without a visit to the Fishbowl: this sheltered granite amphitheater makes for a perfect campsite. We won't give detailed directions on how to find it, but you'll be able to recognize it instantly when you stumble across it.
And when you're packing up your firewood, marshmallows, and camp chairs, don't forget your climbing gear—the coarse granite domes offer plenty of moderate sport, top rope, and trad climbing routes, as well as scattered bouldering options.
Before you go, familiarize yourself with the "Leave No Trace" camping ethic: use the designated fire rings, don't cut down trees, and no matter what you do, remember to pack out everything you brought. In fact, pick up a few extra karma points by cleaning up extra trash you come across. Just because Revenue has drive-up camping access doesn't mean the landscape should be disrespected. Keeping this area a free resource means treating it right—there have been access issues in the past, so don't make things worse. 
Hiking Storm Castle Peak
By Dave Reuss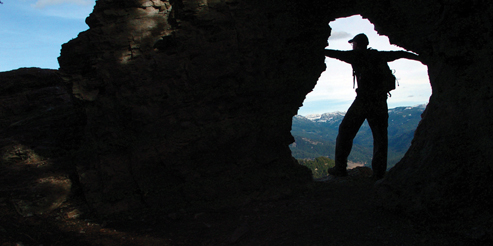 Looking for something the whole family can enjoy? In about 30 minutes, you and your brood can be side-hilling up Storm Castle Peak, aka Castle Rock, a massive mountain of limestone that rises to 7,170 feet just inside the mouth of Gallatin Canyon. Featuring a five-mile out-and-back, this trail consistently stays dry in the spring. After heading down Highway 191 toward Big Sky, watch for the Storm Castle Creek (form. Squaw Creek) Bridge; it's just a few miles from the mouth of the canyon. Turn left to cross the Gallatin River and take a right. Follow the river awhile, then bend left alongside Storm Castle Creek; after you pass the Baptist Bible Camp, the trailhead will be ahead and on your left.
Perfect for shaking the rust off those winter-weary legs, this hike switchbacks gently up the southern aspect of the mountain, affording you views of huge limestone cliffs as you hike ever upward to the summit. Make sure to stretch those calves beforehand—unlike the gently rolling trails of Bozeman Creek or Bear Canyon, this trail always creeps gently uphill, no matter what. When you finally conquer the 2,300 feet of vertical gain and reach the top, you'll be greeted by impressive 360-degree views of the entire valley.
The gate to the trailhead is locked until mid-spring for cross-country skiers and snowmobilers, so anyone who gets bitten by the hiking bug early will have to park just behind the Shenago helipad—this can add two miles of flat hiking down the access road. And while the south-facing aspects will be snowless (but probably muddy), the shaded spots can hide a little snow and ice, so snow spikes—or at least decent hiking boots—can be a good idea. One last word of caution: this area is notorious for ticks in the spring, so double check pets, kids, and your own nooks and crannies when you get back home.
Ziplining over the Gallatin
By Caitlin Sundborg 
Situated at the mouth of Gallatin Canyon, Montana Whitewater Raft Company has built an impressive network of ziplines and platforms hidden in the pines, providing you with an adrenaline-soaked way to spend the day once the sun starts shining. You can bring the whole family too—as long as they're over six years old and under 260 pounds. On O/B's recent zip trip, the guides joked around, explaining that everyone is safely connected to an overhead line at all times, and that no one had died yet this year (except for one guy, but he kinda deserved it).
Between battling treetop obstacles and rocketing through the sky, the two hours of ziplining were a scream… literally. One woman yelled (and cried) on nearly every zipline and rope bridge. Everyone laughed (including her)—not at her hysterics, but because she was the one who booked the tour for her and her ever-so-calm firefighter boyfriend. On the other hand, the rest of the group happily hooted and hollered.
When you're not terrified of heights, ziplining is exhilarating. One of the most popular zips, the Wiley Wire of the Wild West, delivers a perma-grin as it blasts you almost 800 feet across the Gallatin River. This is their longest line, making it the easiest to get stuck on, forcing one unlucky guide to save you—whether he likes you or not. 
After a delightful day of laughing, yelling, and flying, we said our goodbyes to the group and zipped out of the canyon to Gallatin Gateway, where we toasted to a good day and drank to our next zipline adventure.
This season Yellowstone Zip has added even more lines, obstacles, and package options to send you skyward. To book a reservation, call 800-799-4465 or visit yellowstonezip.com. Check out more zipline stories at outsidebozeman.com/community/blogs.
Rock Climbing at Allenspur
By Dave Reuss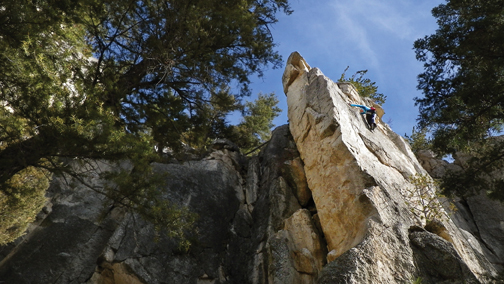 After months of snow and cold, nothing feels better than warm spring sunlight on your skin and stone in your hands. But if the Gallatin is muddy, Practice Rock is leaking snowmelt, and Scorched Earth is a war zone of falling rock, what's your best option for getting that rock fix? Head south on Highway 89 into Paradise Valley and enjoy one of the finest early-season crags around: Allenspur. This big band of bullet-hard Bighorn Dolomite catches the warm spring sun around 2pm and stays toasty for hours.
If you haven't pulled down since last fall, it'll show in a hurry: out of roughly 50 routes, most center around 5.10—and the routes' quality usually goes up as their difficulty increases. Classic routes include the photogenic jug-haul Flake Fest (10b) and the something-for-everyone Rancho Deluxe (11b). With a little ingenuity, you can rig multiple lines off the same set of anchors, and if you're really feeling adventurous, some of the routes take gear surprisingly well—bring that trad rack and show the kids how the hardened vets used to rock climb.
Access has been a prickly issue as of late, so please don't screw it up for everyone. Gracious new landowners have allowed climbers to cross their property to reach the crags that sit on BLM land, so respect their generosity. As the massive bright-red sign on the fence-crossing indicates: don't bring your dog, don't pick up or drop off your friends on the highway, and don't make a mess or a lot of noise. In short, don't be an idiot. Please. Allenspur has been closed before, so don't think it can't happen again.
For more beta, check out Rock Climbs of Southwest Montana or Allenspur Rock Climbs, both available at Northern Lights.
Biking Pipestone
By Tony Janacaro
While the hills of Bozeman are still mud-laden from snowmelt and spring moisture, Pipestone offers some of the best biking around. Lying beneath a rain shadow on the east side of the Continental Divide, Pipestone's winding hills receive far less precipitation than the surrounding areas, creating a desert-like refuge for great spring riding. Trails start to open up around mid-March, and can dry up as early as late February during a mild winter.
To get there, take the Pipestone exit #241 and head north towards Delmoe Lake. The parking area is just past the railroad tracks on the right. The trails sprawl north and east from here, covering the majority of the area's foothills in a spaghetti-like fashion. If you're going to do some exploratory biking, the access road and train tracks provide great boundaries while the Jefferson Valley and Tobacco Root Mountains provide a decent sense of direction. Before you head off, it's always a good idea to see how many motorbike users are there, as they—along with the cactus—can sometimes make for a bad ride. Give them the right of way to avoid confrontation.
Pipestone has two great early season rides to get those winter legs back in shape: an 11-miler with plenty of climbing and a five-mile half-loop that skips the climbing but still offers the same fun downhill section as the longer loop. Both begin with a continuous two-mile climb up the access road toward Delmoe Lake. This brings you to the Four Corners intersection, featuring bathrooms and parking for the motor enthusiasts. The longer loop continues along the access road for another mile and a half, where you take a right into the trees. The turn is marked by a small boulder at the bottom of a gully where a stream flows under the road. This trail will start climbing and head east, continuing until it finally ends in a flat section that joins an access road heading to the Four Corners intersection. This is where the longer loop meets back up with shorter loop for the fast downhill section.
The shorter loop takes a right at Four Corners, then another right just before the cattle guard leading to the downhill section. There are plenty of trails that intersect with the downhill part of the loop, but stay on the main trail and you'll return to the parking area. If your quads have atrophied entirely over the long winter, it's even possible to shuttle the two-mile downhill stretch.
Floating the "Real" Madison
By Ken Sinay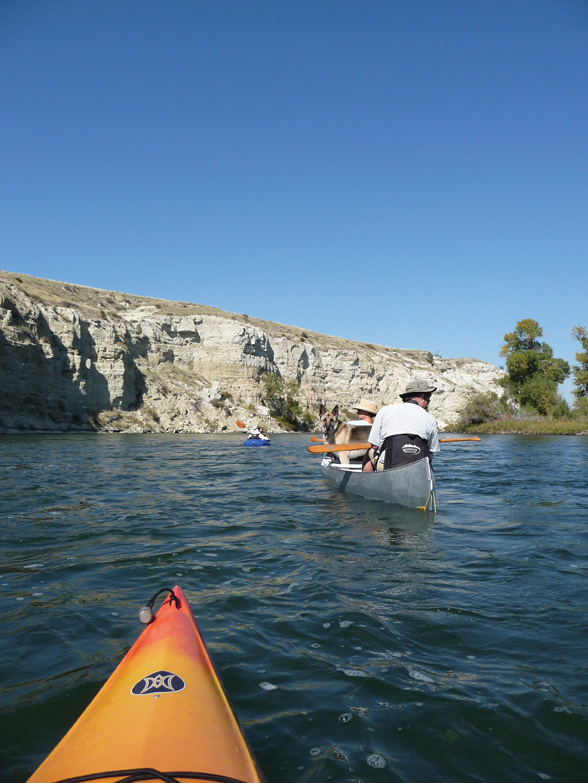 The Madison River has roughly 76 miles of commonly floated river, with a variety of floating options and experiences, offering something for everyone. While often simply described as "upper Madison" and "lower Madison," with Ennis Reservoir acting as the dividing line, the Madison River is, in reality, much more complex.
From Quake Lake downstream to Varney Bridge Fishing Access Site (FAS) there are lots of fish (roughly 4,500 catchable-size fish per mile)—but also lots of fishermen. From Varney Bridge to Ennis FAS, the fish numbers drop by roughly one-third, but the fisherfolk continue to bloom. Below Ennis Reservoir is a third segment: the famed Beartrap Canyon, featuring several whitewater rapids. It's impressive that below this "risky" portion, the river becomes sedate for the next seven miles. Popular with "party" floaters, this region is used more to catch rays on a hot day than to catch fish.
This leads to the final (and my favorite) portion: the "real" lower Madison. With few fish due to the warm water discharge of Ennis Reservoir, no whitewater, and few access points, this stretch of river typically has fewer people and makes for a peaceful spring float. Consider this: upstream of Greycliff FAS and all the way to Quake Lake, there will be well over 3,500 outfitted boat launches in a typical summer season. Below Greycliff, there will be about 40. 
At about 16 to 19 miles, it's a long float. And the further downstream you go, and the more braided the river gets, the slower the water moves—so give yourself a full day to float it. And did I mention the "braiding?" While the Madison does have dams, the reservoirs can only hold so much. High spring flows are common and flooding is frequent, resulting in plenty of islands, shoreline, and wildlife-watching opportunities. But there are also many channels, and trying to determine which is the most efficient can be tricky. You may meet a fork in the river, take it, and then encounter another, take that one, and then another, and before you know it, you can be looking for the deep water as you watch the sun head toward the horizon! Be sure to start early enough to enjoy the adventure.
So if you seek fishing or playful thrills, go upstream—but if you'd like to find your own river space, head on down to the "real" Madison. 
Three Forks Threesome
By Mike England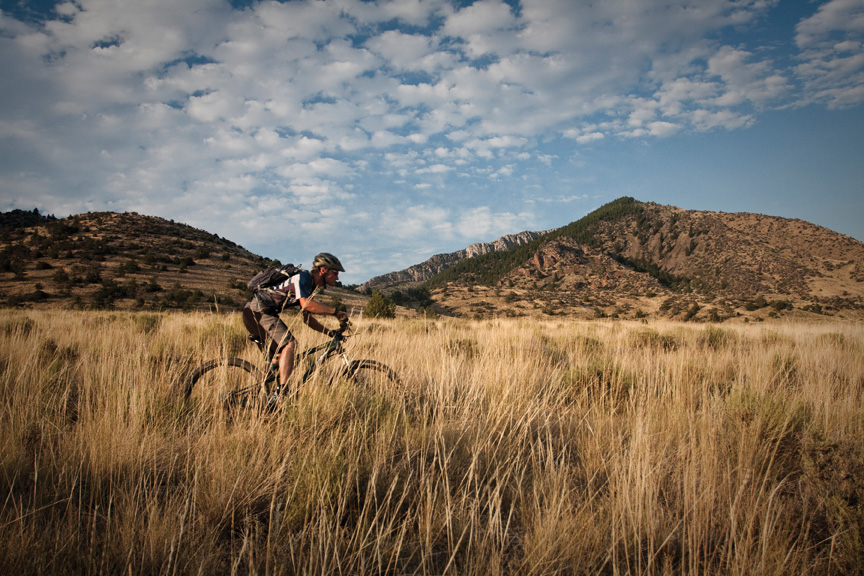 When Saturday dawns warm and bright and outdoor ambitions rise within you like spring snowmelt, it's time for a Montana multisport: two or more outdoor activities spliced into a single day of fun and adventure. Lash the raft or canoe to the roof; hoist bikes onto the hitch rack; stash paddles, life jackets, and daypacks in the back. Slip on Chacos and board shorts. Then double-check the cooler, top off your coffee mug, and turn the wheels west.
Your destination: Lewis & Clark Caverns State Park, the 3,000-acre playground between Three Forks and Whitehall, off Highway 2, where an arid microclimate makes for promising springtime hiking and biking. Park in the campground and pick your pleasure: an easy warm-up on the short Nature Loop; a naturalist-style stroll to the Jefferson along the Fishing Access Trail; or an all-out grind up Cave Gulch Trail, a four-mile out-and-back with 1,000 feet of elevation gain. If you've been spinning your quads into shape all winter and want a real ride, fill your water bladder and hit the Grand Loop—6.4 miles of switchbacked singletrack through juniper-flecked foothills, Douglas fir forests, and moist alpine mini-meadows. Enjoy sprawling views of the Jefferson River far below, meandering in the shadows of the Tobacco Roots' northern front.
After a screaming, brake-clutching descent, hop upstream to the nearby fishing access. Logistics depend on energy level: you can drop the boat, drive downstream and park the vehicle at Williams Bridge, then bike back to the put-in; or bring a second car for a quick and easy shuttle. Either way, plan on a leisurely float through Class I/II water, with plenty of wildlife and serene vistas along the way. This is big-ranch country, with no bluff-top trophy homes to spoil the views. Just be sure to curse Greg Strohecker's name as you pass what remains of the once-stunning cliffs below Sappington Bridge—despite a Montana law that protects landowners from liability, the brash KG Ranch manager dynamited the 65-foot natural landmark to prevent floaters from jumping off. 
At Williams Bridge, take advantage of laid-back county rules—and basic legal literacy—and join the local kids jumping off the bridge into the deep, swirling pool below. Swim back to shore, crack open a cold one, and relax along the shore before rolling into Willow Creek to wrap up the day in style, with a burger, steak, or rack of ribs. As you draw deep on your ice-cold Bozone amber, reflect on an incredible day spent outdoors—and how you just packed a weekend's worth of fun into a single day.
For a full rundown on Lewis & Clark Caverns, visit stateparks.mt.gov; find Jefferson River info at jeffersonriver.org.