Rolling with the weather you've got.
For two years in a row, we've been forced to write a blog about what to do in early March when it hasn't snowed in a long time, and frankly, it pisses us off. March in Montana is winter, or at least it should be. We should be skiing powder—billows and billows of powder. But we're not; instead we're stuck reciting the now-familiar refrains of "Any day in the mountains is a good day" or "It's only dust-on-crust but it's skiing a lot deeper than that." Lame. So what to do? Complaining doesn't help, so we went biking.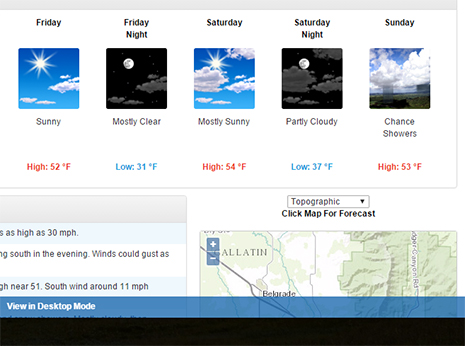 If the forecast says it's spring, must be time to ride.
Now, those of you who have lived here longer than two years might call us crazy, and indeed there's snow somewhere if you're willing to work for it. In fact we wouldn't even have to work that hard, being that the mountains have tons of it. But it was 55 degrees and sunny last Sunday and it just didn't feel like skiing weather, so we went biking.
Our plan came together as most do—several beers, a late-night text exchange, and a morning delayed by said beers. But by 10am we were westbound, heading over the hill to Lewis & Clark Caverns in search of dry singletrack. And it didn't take much to find it. From the lower visitor center at Lewis & Clark, it was obvious that at the very least, the East Side trail would be dry and well worth riding. There was a hint of snow in the upper draws, so we'd have to wait and see if the trail was dry enough higher up. But it was warm and sunny and biking felt right given the weather, so we went biking.
I'd love to say that my fair, winter-beaten skin hadn't seen the sunlight in months, and that it had been buried under layers of protective apparel, but that'd be a lie. It's been a t-shirt kind of winter. In fact, I was overdressed for the ride in a long-sleeved shell and ¾-length chamois. But after a few spins around the parking lot, clicking through my gears and checking my brakes, a smile formed from one to cheek to the other. From across Route 2, the sun reflected off the Jefferson River and caught my eye. I dropped my shades, added a little air to my tires, and took a drink of water. The parking lot started filling up and I was anxious to get on the trail before all the other yahoos, so we went biking.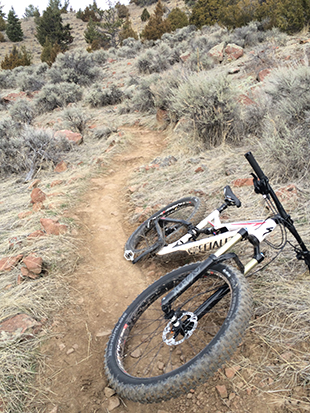 Bone-dry trails in February 
And as it turns out, late February is a perfect time to go biking, if that's what the weather is telling you to do. The trail was dry but not dusty and it was warm but not hot. We didn't ride great and pushed more than I'd like to admit, but by the time we leveled off near the first major downhill on the East Side trail, I'd forgotten how mad I was about the lack of winter. I felt fortunate that just 30 minutes from Bozeman, there is dry singletrack on a low-snow year.
Looking down on the Jefferson as we picked our way through the descent, I imagined fishing or floating would be pretty nice right about then, and thought that I'd take my dog for a trail run later in the evening. I tried to remember what a beer tasted like on the patio at the Bacchus, while the sun warmed my back, and recalled that it tasted pretty good. Definitely better than a PBR in the parking lot at Bridger while feeling returned to my fingers and toes. I thought, maybe I'll head to the Bacchus after the ride and have lunch in the sun, in February, in Montana.
Because for now, if the weather is telling me it's spring, I'm gonna listen. I'm gonna embrace the warmth while compulsively checking the weather, hoping the high pressure is moving out; I'm gonna run trails, while praying for snow to cover them back up; and I'm gonna go biking, until winter comes back around.