A spring road-trip to Bighorn Canyon. 
It often seems that cabin fever strikes Montanans all at once, as refugees from winter start running into their next-door neighbors (and their cousins from every other northern state) in the canyon lands and reservoirs of southern Utah. For those of you who don't need to log all those miles to legitimize your early summer getaway, there's an outstanding alternative right here in Montana: Bighorn Canyon. 
Bighorn Canyon National Recreation Area (NRA), managed by the Park Service, shares much of its boundary with the Crow Reservation. According to Crow chief Arapooash (Rotten Belly), "The Crow country… is a good country. The Great Spirit has put it exactly in the right place; while you are in it you fare well; whenever you go out of it, whichever way you travel, you fare worse."  For water sports enthusiasts, Bighorn Lake is surely the right place. 

What's the Draw
In addition to the canyon itself, visitors come to see sacred archeological sites, including ancient structures, artifacts, and rock art, which should not be disturbed. The cliffs and shores of Bighorn Lake are home to over 200 species of birds, including peregrine falcons. And about one quarter of the 31,000-acre Pryor Mountain Wild Horse Range—the first wild-horse range in the nation—is located within the Bighorn Canyon NRA. The landscape of the NRA ranges from desert shrubland in the south (where the horses are), to juniper woodland (home to bighorn sheep, deer, and coyotes), to the shortgrass prairie of the north.  The canyon itself is flanked by forests of pine and fir, home to mountain lions, bear, and elk. And yes, rattlesnakes are seen throughout the area.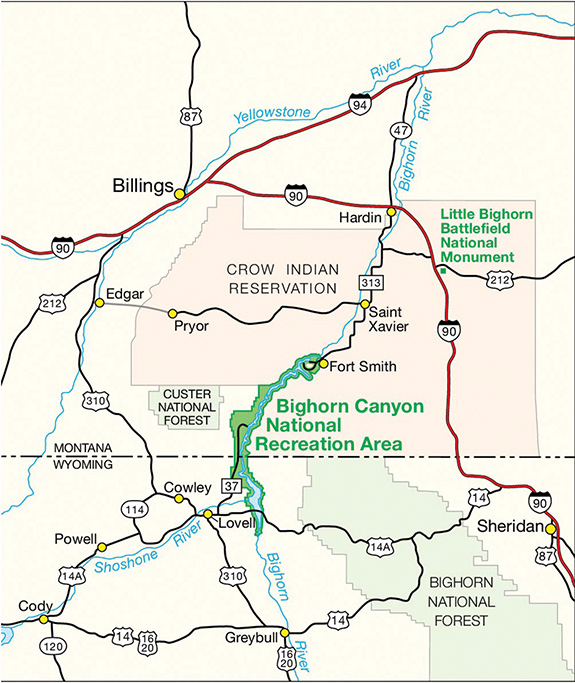 Before the Dam
The canyon has long been irresistible to boaters. Jim Bridger was Bighorn Canyon's first recorded boater in 1825. According to the Park Service, he built a driftwood raft and set out on the untamed Bighorn River. Three days later, he emerged from the mouth of the canyon, 50 miles downstream. Much later, on May 31, 1913, three explorers left from Barry's Landing headed to New Orleans in a sixteen-foot motorized boat. They reached their destination on August 1.
The 525-foot-high Yellowtail Dam, built in 1968 near Fort Smith, transformed the once-wild Bighorn River into the 71-mile long Bighorn Lake, bracketed by the nearly-vertical, 1,000- to 2,500-foot scenic cliffs of Bighorn Canyon. 
Bighorn Lake
Nowadays, most visitors come for the lake. Favorite activities include boating, kayaking, canoeing, waterskiing, fishing, and even scuba diving. The Bighorn River, just downstream from the dam, is very popular with anglers who base out of Fort Smith. Sunsets and sunrises are particularly popular times to embark on a calm exploration of the lake's glass-smooth surface, as the sun paints the canyon walls with a breathtaking palette.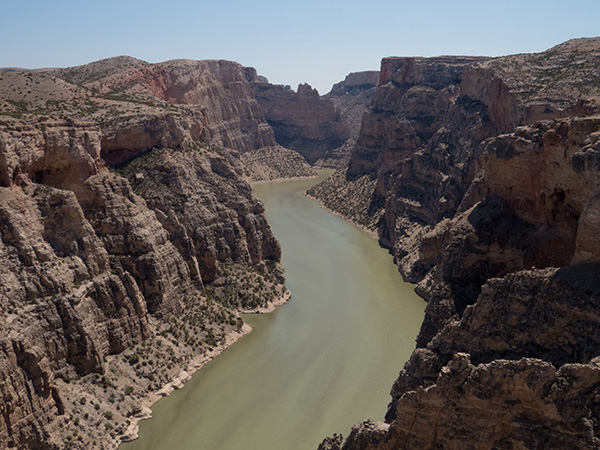 Bighorn Canyon: almost as grand as its southern cousin. 
Marinas, boat ramps, and camp stores are located at both Horseshoe Bend on the south end near Lovell, as well as the north end near Fort Smith. Ok-A-Beh Marina is a great option for water access and boat rentals. The views are incredible and it is conveniently located within the canyon. The road from Lovell ends at a boat ramp at Berry's Landing. There are several campgrounds, including a couple that are boat-access only: Black Canyon and Medicine Creek (the latter is accessible by hiking as well). RVs can be accommodated at Afterbay on the north end, and at Horseshoe Bend and Trail Creek campgrounds on the south end. The campground at Horseshoe Bend is quite exposed to the sun, so if you're looking for shade (and an occasional visit from bighorn sheep), shoot for Trail Creek. All camping in Bighorn Canyon NRA is on a first-come, first-served basis, with no reservations. There are also a handful of great lodging options available upriver with all inclusive services and guided fishing trips.
Boat Trip Suggestions
Boat trips in the canyon range from four-mile day trips to 38-mile, non-motorized, five-day ground tours of the north end, where the canyon walls are not as steep but draped with more vegetation. The stunning 20-mile trip through Devil's Canyon takes you past cliffs reaching over 1,000 feet, blotting out the sun and effectively conveying the size and grandeur of Bighorn Canyon.
Keep in mind that there are no Park Service shuttles. Paddling the entire length of the canyon requires leaving a car at the north end and driving three hours to the south end to put in. There is no road through the park from one end to the other, and hitchhiking is discouraged.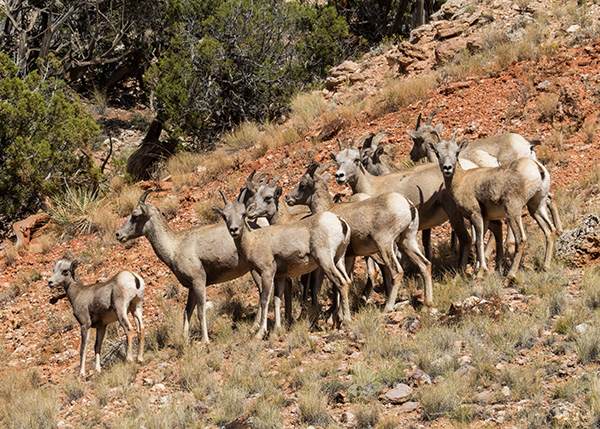 Bighorn sheep: a common sight in Bighorn Canyon.
Hiking
There are trails galore in the NRA. As frequent visitor John Thompson notes, "it's the kind of park that rewards you for getting out of your car."  He encounters falcons and goats rather than people on the trail, and describes the park as "your own little wonderland."  He recommends the spectacular Sullivan's Knob hike, which is "by far the best hike in the park, with the best views."
Another good option for a short-but-rewarding hike is Ranger's Delight.  For a more challenging trail, Upper Layout Creek offers a waterfall hike during spring runoff, in a mossy oasis. John notes that although the low visitation offers outstanding opportunities for solitude, trail markers are not always easily detected; purchase the $5 hiking guide available at the visitor centers.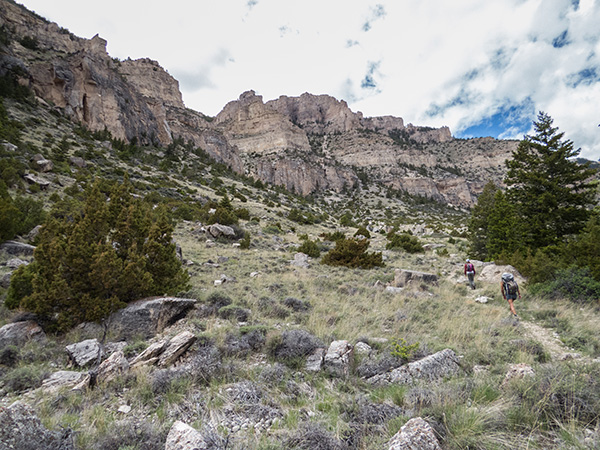 Stretch your boat-cramped legs with a hike.
When to Visit
May and June are ideal months to visit Bighorn Canyon, with bluebells and pasque flowers in bloom, and wild foals lounging in the lupines. Summer highs are in the 80s and 90s, sometimes peaking at over 100 degrees. Click here to plan your visit.
---
Three Days on the Road
Any itinerary will reveal the serene sagebrush heart of Montana's southeastern country, but some dig deeper than others. Here's one we followed last spring. —Mike England
Friday. Leave Bozeman early enough to make it to Billings with enough time to stock up on supplies for the weekend. The Base Camp is a great one-stop-shop for all gear needs. If you need to rent any camping supplies or watercrafts for the weekend, they have you covered. To fuel up before leaving town, swing by UberBrew for a tasty refreshment and a burger from the grill. From there, head south to Bridger (a half-hour south of Laurel) for an evening swim in the Clarks Fork of the Yellowstone. Fish your way upriver until dark, then camp on one of the many BLM parcels along Hwy. 72.
Saturday. Roll back to Bridger and head south on Hwy. 310. Move slowly and take in the austere, rural landscape. After breakfast in Lovell, WY, point the wheels north and trundle on into Bighorn Canyon. Ogle towering cliffs at the Devil Canyon Overlook, poke around roadside interpretive sites, then hike the Sykes Mountain Trail, a 4.6-mile climb to incredible views of Horseshoe Bend far below. Make lunch and cool off with a swim at Barry's Landing, then scan for hawks, wild horses, and bighorn sheep as you head back out the way you came. Slide through Lovell in late afternoon, up past Bridger, and then make a decision: up and around, through Billings and Hardin on paved roads; or directly east on mostly dirt, across the Crow Reservation and into Fort Smith. (If you choose the latter, be sure to gas up in Bridger, as that's the last gas station you're going to see for a while.) After a long day of activity, rest your head at Bighorn Fly & Tackle Shop. If you're inclined to wet a line—which you should—consider booking a fishing trip with one of their experienced guides.
Sunday. Explore the north end of the park, on foot or by boat, including the Three Mile Access Trail, an easy stroll along the river. If you're an angler, cast spinners above the dam on Bighorn Lake, and flies below on the fabled Bighorn River. On the river, expect crowds and a host of restrictions (hint: read the regs, carefully) as this stretch sees heavy pressure. Once you've had your fill, pack up and roll north to Hardin. Good restaurants exist here, but are hard to find; if you didn't get the skinny ahead of time from a Fort Smith local, continue on to Billings for supper. Then it's an easy 2.5-hour drive back to Bozeman, with a full belly and a fuller heart, having soaked in the summer splendor of southeast Montana.