Where to soak around southwest Montana.
Deep in a forested canyon, on the bank of a gurgling stream, a ceaseless flow of mineral water gushes up from the bowels of the earth, into a deep, narrow pool lined with rocks and downed timber. Mingling with the icy stream, the water in the pool is a warm, inviting 105 degrees.

I found this idyllic spring by accident, during a week-long backpacking trip into Yellowstone. It was late afternoon, a light snow had begun to fall, and I wasn't quite ready to set up camp. Scanning the woods, I noticed a patch of steam sifting through the trees. I investigated, and sure enough: a perfect little hot tub, engineered by Mother Nature herself. I dropped my pack, took off my clothes, and slipped in.

There's something undeniably therapeutic in a hot spring—people have used them for healing purposes since time immemorial—and I could feel my muscles loosening, the tension from a long day's hike dissolving into the steamy, soothing water. I leaned back, resting my head on a curved rock, and within a matter of seconds everything just sort of faded away. I felt absolutely, completely content.

I stayed in the little pool, not moving, for a very long time. The only sound was the gurgle of the stream and the soft patter of snow on the rocks. Even the onset of darkness couldn't budge me. Only when I noticed my pack and clothes buried in an inch of snow did I muster the ambition to rise, get dressed, and continue my search for a campsite.

That was ten years ago, and I'm not sure I could find that spot again. But no matter; the Montana-Wyoming region is a virtual wonderland of geothermal activity. The Bozeman area alone is home to at least a dozen hot springs, some developed into posh resorts, others as primitive as my little honey-hole in Yellowstone. Here's an overview of our favorite wintertime soaks.
Bozeman Hot Springs
Status: Developed
Access: Open to the public
Swimsuits: Required
Location: 8 miles west of Bozeman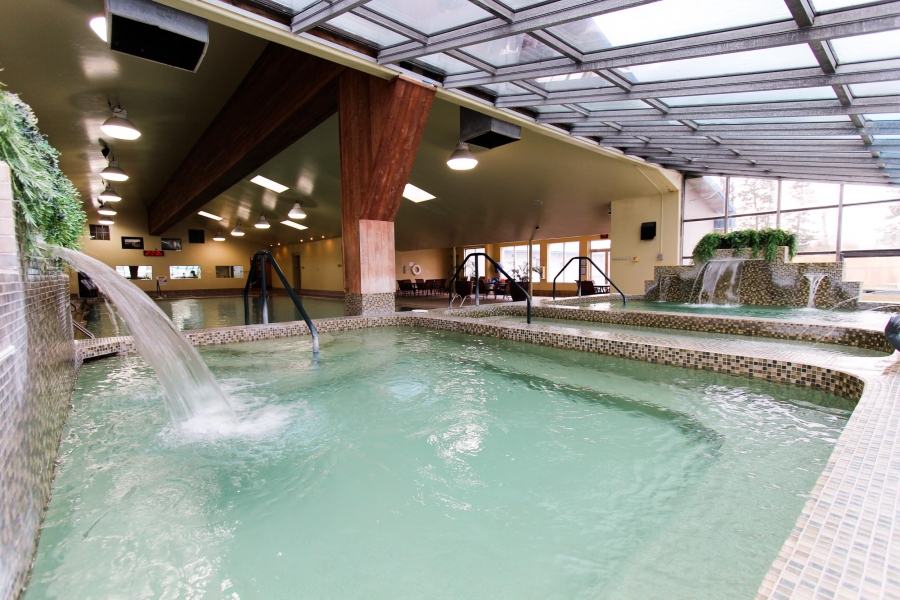 With an impressive range of new amenities, and its close proximity to both Bozeman (15 minutes from downtown) and Big Sky (35 minutes from the Village), Bozeman Hot Springs makes the best aprés-ski soaking spot in the area. The recently remodeled resort now includes three new pools, a full spa and massage center, two steam rooms, an enormous fitness gym, tanning rooms, a juice bar, and full daycare facilities. All the pools are tiled, a glass atrium opens up idyllic forest views to the west, and waterfalls spilling into the pools add to the surreal, tropical paradise effect. Seven individual pools offer a wide range of hot tubbing temperatures, from a brisk 58 degrees to a toasty 110 degrees. 

Originally billed as a therapeutic spa in the late 1800s, Bozeman Hot Springs still offers the best variety of soaking stations for the health-minded springs enthusiast. After a few miles on the treadmill, sit in the 110 degree pool and let the steam permeate your lungs. Then swim leisurely laps in the 90 degree outdoor pool, alternating between the hot and cold plunges. Or simply indulge your hedonistic desires and relax, letting the tightness from a long day's skiing slip away like mist in an early-morning breeze.

Bozeman Hot Springs is closed from sundown Friday to sundown Saturday; call 406-586-6492 for specific daytime hours.
Chico Hot Springs
Status: Developed
Access: Open to the public as well as to registered guests
Swimsuits: Required
Location: 22 miles south of Livingston
Chico is perhaps the most famous hot spring in Montana, and for good reason: with both Victorian refinement and Western hospitality, Chico makes every guest feel at home and every visit seem like a special treat. The atmosphere is warm, inviting, and extremely laid-back; movie stars, cowboys, and college kids often find themselves sharing the same pool on a Friday night. I once relaxed, half-asleep, while a local bartender, a schoolteacher, a Montana State congresswoman, and a famous actor all chatted away at the other end of the pool. 

Built in 1900, Chico Hot Springs quickly became one of southwest Montana's premier social centers. Still a popular destination after 100 years, Chico maintains two spring-fed pools: a large outdoor swimming area, kept at 96 degrees, and a sheltered, 10' x 30' soaking pool, maintained at a constant 104 degrees. In addition to soaking, guests can fish, horseback ride, shoot sporting clays, take dogsledding rides around the valley, or strap on cross-country skis and explore the rugged Absaroka Mountains behind the resort. And don't skip the chance to sample Chico's dinner fare – it's some of the best in the state. 

Chico is open seven days a week; hot spring hours are 6 a.m.-midnight. A full-service Bodyworks department offers massages and herbal wraps to complement your restorative soak. Call 406-333-4933; www.chicohotsprings.com.
Norris Hot Springs
Status: Developed
Access: Open to the public.
Swimsuits: Required
Location: 35 miles west of Bozeman
Norris is a toasty little gem of a spring, and it has more history – not to mention ribaldry – behind it than any other hot spring around. For almost two decades, Norris was the home of the famous "nudie nights," in-the-buff soaking extravaganzas that drew capacity crowds every week. In 1989, new owners lifted nearly all remaining restraints, and many a college kid (myself included) partook of the beer guzzling, chicken fighting, and downright craziness that marked Norris's latter days. The downside: cleaning schedules soon matched clothing restrictions (that is, there were none), and eventually most hygiene-minded soakers began to go elsewhere.

But in 1997, original owner Doris Zankowsky bought back the place, and immediately set to work restoring the spring's former charm. Within two years Doris had rebuilt the entire facility – walls, decking, bathhouses, even the pool itself. Norris Hot Springs is now clean, healthy, and inviting, and the atmosphere is family-oriented and relaxed. An artesian fountain sprays over the 30' x 40' pool, adding a surreal rainlike effect to the spring's open-air setting. The water temperature is a perfect 107 degrees.

Norris Hot Springs is open 10 a.m.-10 p.m., Tuesday through Sunday. There's no bar; BYOB (cans only). For more information, call 685-3303.

Boiling River
Status: Primitive
Access: Unrestricted (Yellowstone Park pass required)
Swimsuits: Technically required, but in the winter you can usually do whatever comes naturally
Location: 2 miles south of Gardiner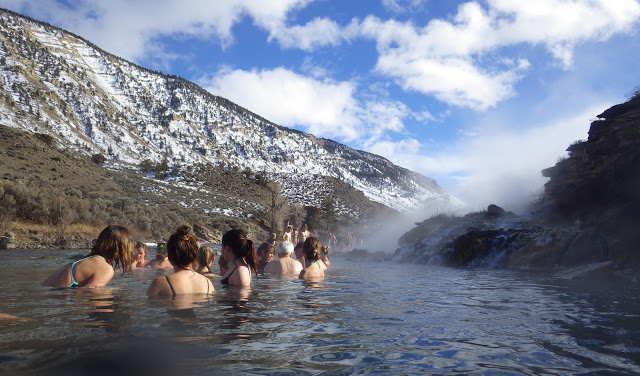 The Boiling River is often jam-packed in the summertime; but in winter it can be one of those places where you get the unshakable feeling that you're getting away with something. The rushing waters of the river, the pristine Yellowstone wilderness, the immense clouds of steam rising into the frigid air – all these factors converge to make the Boiling River a truly Arcadian escape from the stresses of the real world. Intense geothermal activity dumps steaming hot water into a fifty-yard stretch of the Gardner River, creating an enormous soaking area that ranges from 50 degrees all the way up to a sizzling 120 degrees. After a long day of cross-country skiing, dip into the Boiling River and let its soothing waters restore your cold, tired body. It being the off-season, you'll probably have the place to yourself – except, of course, for the Park's furry full-time residents, which are often seen grazing on the far bank.