Getting outfitted locally. 
Not only are Bozemanites lucky enough to have three cold, clean, trout-filled rivers within a half-hour's drive, but we can also get completely outfitted head to toe in locally produced fishing gear. Now, it may be true that not every part of every item is sourced, manufactured, and distributed from Gallatin County; but it still means something that so many fine brands have chosen to make this place their source of inspiration and testing ground for product development. Besides, who doesn't like supporting their neighbors? This spring, give these natives a try.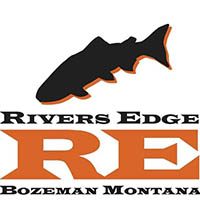 Fishing Chest Rig—FHF GEAR
Once essential, the fly-fishing vest no longer holds hegemony, thanks in large part to innovations like the FHF Gear Fishing Chest Rig. This compact container keeps crucial items close, and is loaded with features both subtle and significant, like the bear-spray canister attachment. $112; fhfgear.com. 
Catch & Release—BLUE RIBBON NETS
This handsome net comes in three wood finishes and two net materials, both of which are fish-safe. You can feel the quality craftsmanship as soon as you pick it up, and while it'll cost you, it'll also last you—you'll be proudly passing this on to your kids. $85-$135; blueribbonnets.net. 
4-Piece Graphite—TOM MORGAN RODSMITHS
Can an object both symbolize and demonstrate a philosophic ideal? Capture a heritage and allow a person to experience that heritage in a physical action? Can an aesthetically captivating work of art be functional? Yes, yes, and yes again. All this takes shape in a Tom Morgan rod. $1,500; tommorganrodsmiths.com. 
Vintage Series—406 FLY LINES
Designed for cane and glass but equally capable on faster-action rods, the Vintage Series from 406 Fly Lines gives you precise control and delicate placement. An AST dry-slick coating sheds dirt and other particles, giving you better floatation and smoother transfer through the guides. Double-taper and weight-forward options exist. $69; 406flylines.com. 
Mitten Scissor Clamp—DR. SLICK
My old fishing clamps were troublesome to use, especially when trying to quickly remove a hook from a large fish. The Mitten Scissor Clamp from Dr. Slick makes the process easy. The handle sets in the palm of your hand; with a simple squeeze, the spring-loaded clamp opens and then closes on the second squeeze. $23; drslick.com. 
G3 Guide Series—SIMMS
Simms is an industry stalwart, and their G3 Guide Waders are available in three styles: boot-foot with felt soles, boot-foot with Vibram soles, or stocking-foot. The boot-foot models provide added warmth and ease of use, while the stocking-foot opens up rivers that have a felt-sole ban. If you opt for the latter, pair it with the G3 Guide Boots, whose Vibram soles grip even the slimiest river rock. Waders, $550-$750; boots, $230; simmsfishing.com. 
SC Series—BOZEMAN REEL COMPANY
Inspired by the classic reels of the 19th century, an SC Series reel from Bozeman Reel Company should be your streamside companion. With the simple-to-use clicker drag system, a smooth retrieve, and ambidextrous setup, this reel's simplicity takes the guesswork out of fishing. $600 & up; bozemanreel.com. 
Romar—BREAKLINE OPTICS
Breakline Optics has created "Goldilocks Standard" sunglasses—their Romar frames with copper lenses are just right on a sunny day, and just right on a cloudy day. The NXT polarized lenses are durable, light, and provide great visibility in all conditions. Their slightly curved frames give your peepers full coverage on the river, and non-slip nose pads keep them tight to your beak. Breakline is based here in Bozeman and has a killer warranty to boot. $170; breaklineoptics.com. 
Gallatin—A.L. SWANSON
You'll feel guilty the first time you take A.L. Swanson's Gallatin fly box to the river. Not because of the internally mounted brass hinges, water-resistant finish, or replaceable rippled-foam inserts, but rather because you might drop this piece of art into the watery abyss. $198; alswanson.com.