Bryan Schaeffer uses illustration to get people outdoors.
Sintering is the process of bonding different particles into a solid mass by heat or pressure without melting to the point of liquefaction. Most of us in southwest Montana encounter sintering every winter below our skis: disparate snow types get compacted into a fast, well-bonded skiing surface. But illustrator Bryan Schaeffer, who founded media studio SINTR in 2011, likes the word to describe his creative process, too. We sat down to discuss his innovative approaches to visual communications, conservation, and bathing.
O/B: You've spent quite a bit of time in Washington State, tramping around the Cascades and winning Emmys. What made you decide to come back to Bozeman?
BS: I didn't have a glamorous epiphany. I was born in Bozeman Deaconess Hospital. By the time I finished high school, there was a saying: "Montana's greatest export is its youth." I went to school in Tacoma and spent 20 years in Seattle. It's a great place to live for a while and build a career, but skiing prompted me to come back to Bozeman. This place has great access to terrain and expert coaching. It's really hard to get out and ski in Seattle.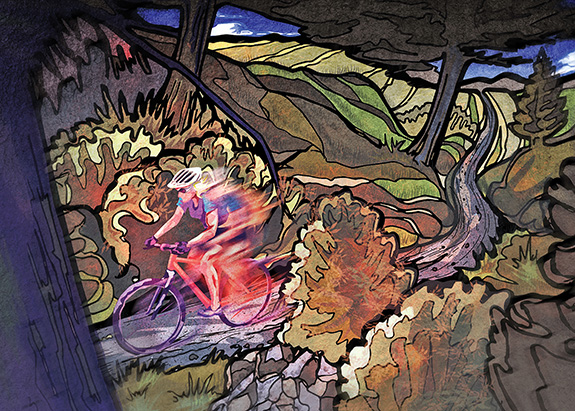 "Wall of Death" 
O/B: You've done illustration work for hiking websites, backcountry safety videos, and other outdoor-interest media. How does conservation intersect with your artistic interests?
BS: So much of the outdoor industry is aspirational, as in only extreme athletes or people who are part of a club can get out there. I want to actively engage audiences in my work, as in you go to these places, you write your congressperson about conservation issues, you get involved in preserving this ecosystem. If people get outside, they'll become advocates for our shared public lands. They can engage themselves, I just need to be authentic.
I'd go hiking with my twin daughters and wouldn't see many people on some of these trails, and think, "If no one shows up at this trailhead, it's going to get logged, it's going to go away." But if people see some guy out there with his kids in a twin backpack, maybe they'll think to themselves, "I can do that."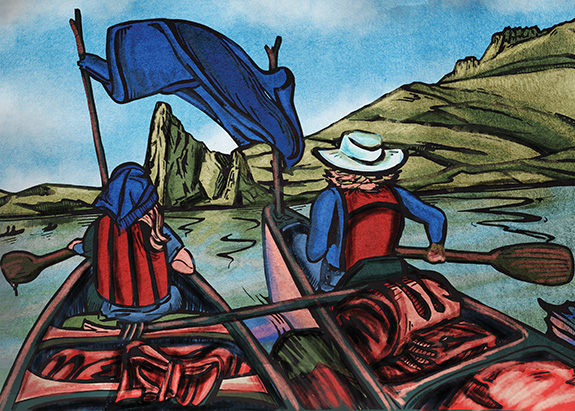 "Missouri River Citadel" 
O/B: How does "sintering" describe what you do, creatively speaking?
BS: When I tell people about "SINTR," there's a whole lot of confusion––"What? 'Centaur?' 'Sinner?'" Sintering is a process where particles like snow are combined into a solid by heating without melting. I'm a skier, so I understand sintering when the snow sets up. It's a perfect metaphor for what I do in communications. I get stacks and stacks of material and am asked to make it understandable and cohesive in video. We sinter information to make it connect with audiences.
O/B: It seems like you use illustration and animation to engage your audience in a way that other mediums cannot. What's the advantage?
BS: The thing that I like about illustration is that it's imaginative. You can imagine yourself in a place. People will see an image or video and think, "Oh, I've been there," and they'll create a story in their mind about what's going on. All you need is an image and, with a few tricks, people fill in the context for themselves and find a unique way to associate with it. We have these miracles in nature, and illustration can remind us that that is our reality, not a separate one.
Animation is a compelling way to draw attention where you want it. Social media is so influencer-based. People want to see an interesting persona, someone they can follow. I'm not that guy. I want to empower people to do their own thing.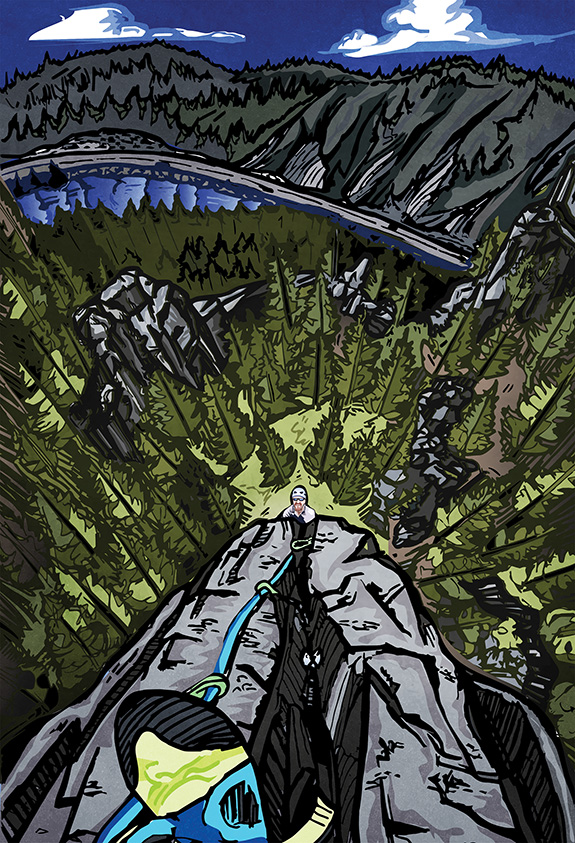 "Spare Rib"
O/B: Your art and your business are facilitated, directly or indirectly, by the tech sphere. How can the digital world further preservation of the natural world?
BS: That's something I've struggled with. The outdoors are my passion, but I do a lot of work for technology companies. My next illustration project is going to try to engage families and give them permission to go out and explore our wild places. I'm interested in using analog media, even coloring books for adults, and fusing that with augmented reality to give people a sense of some of these recreation areas and their unique features. It's a way to educate people about our stewardship of outdoor places and how to keep them healthy.
O/B: What's a good weekend look like?
BS: I go to bed pretty early on the weekend. I like to get up early and go for a long Nordic ski or a climb or a mountain bike ride and come back and soak in the tub and read Outside Bozeman. That's the advantage of print over an iPad––you can read it in the tub. Hot water is rejuvenating. And I eat a lot of food.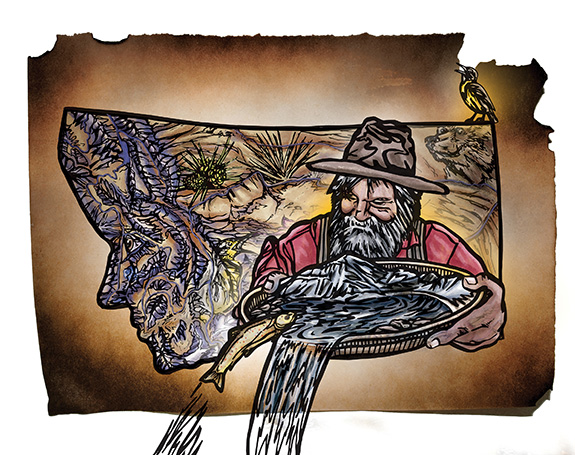 "Discover Montana Treasures"